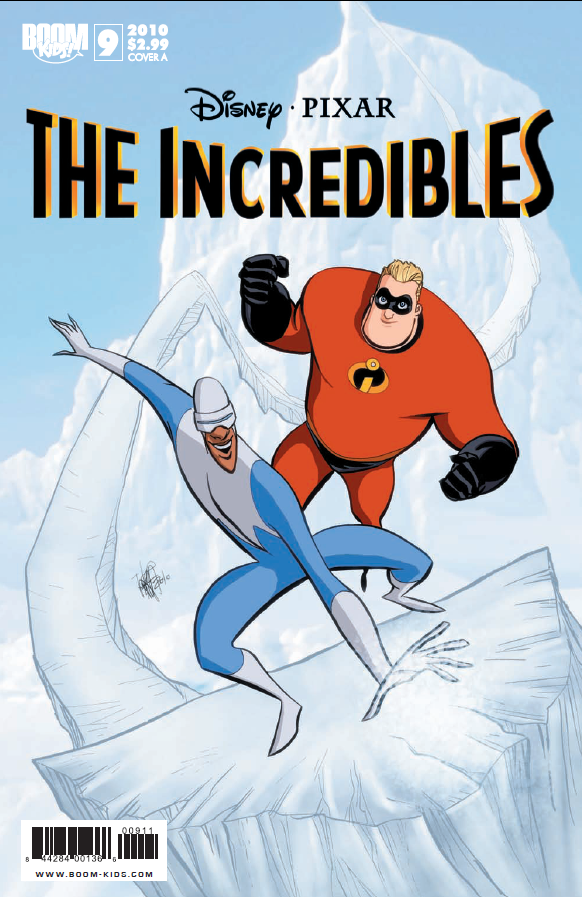 Issue: The Incredibles #9
Release Date: May 19, 2010
Writer: Landry Walker
Artist: Marcio Takara
Colors: Andrew Dalhouse
Letterer: Troy Peteri
Covers A & B: Marcio Takara (Colors: Andrew Dalhouse)
Publisher: Boom! Kids
Chronicling the continuing adventures of the Incredibles, writer Landry Walker and artist Marcio Takara (with colorist Andrew Dalhouse) have constructed a pretty solid story. The artwork was quite attractive, although it leaned towards Kim Possible a bit in a few places. The writing was pretty good as well.
There's plenty of action (there's a whole page which is nothing but "Look out!" "SKOOM!" "KA-POW!" "KA-POW!" "KA-POW!" "KA-POW!"), and loads of unanswered questions (Where is Xerek? Why are Ms. Incredible and Mirage working together? How does Bomb Voyage fit into all of this? What's up with Violet's boyfriend Xander? Who's the mysterious villian that continues to avoid Mr. Incredible?).
I can't speak for the previous eight issues (I haven't read them yet), but this is a girl-driven title. Ms. Incredible and Mirage's adventure really drives the story. And Violet's teenaged angst is just enough to get the point across without turning into a "very special episode of Blossom." When we peek in on the male superheroes, they aren't really doing anything. Mr. Incredible postures and boldly announces that he'll stop evil-doers, Frozone has three word balloons the whole issue, and Dash is your stereotypical boy who loves to be a superhero. Fortunately, the boys haven't yet been reduced to pure comic relief. But honestly, there're not enough comics aimed at young girls.
For a kid's title, this is great stuff. All the main characters from the movie get an appearance and the pacing of the story is quite impressive. If you liked the movie (and, let's face it, we all did), you'll probably enjoy the fifteen-minute diversion to read this issue.
Rating: 4 / 5 Stars