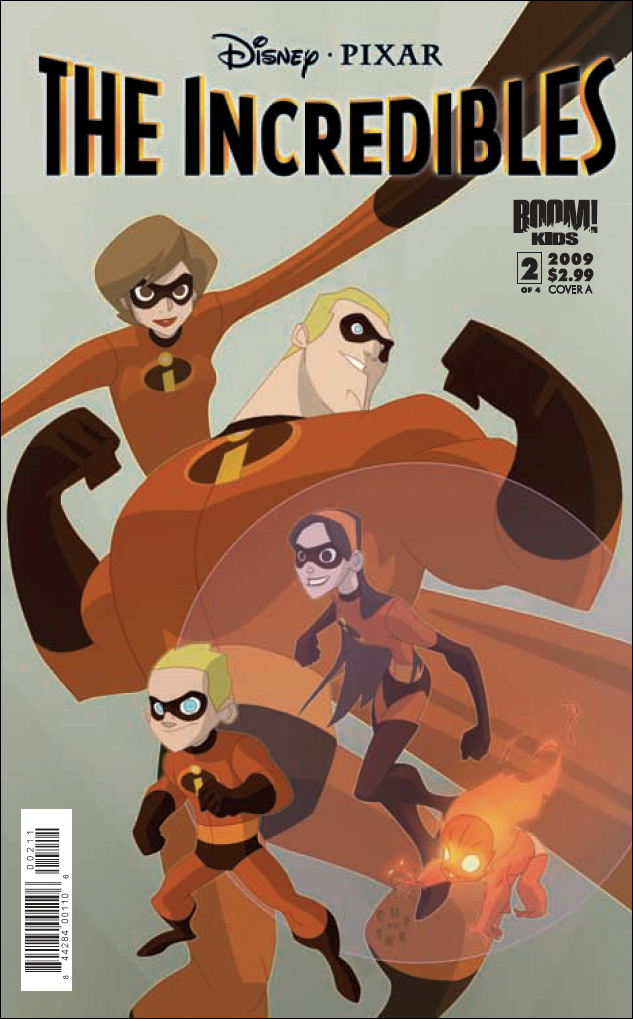 REVIEW: The Incredibles #2
Release Date: 20 May 2009
Writer: Mark Waid
Artist: Marcio Takara
Cover: Tom Scioli
Colours: Andrew Dalhouse
Letterer: Jose Macasocal, Jr.
Publisher: BOOM! Studios
The Parr family is back in this action packed 4-part story!  Adjusting as well as can be expected to having the entire family work together as a crime fighting, superhero team, the Parrs are suddenly hit with two crises: Making friends with the new (and normal) neighbours and Mr. Incredible losing his powers.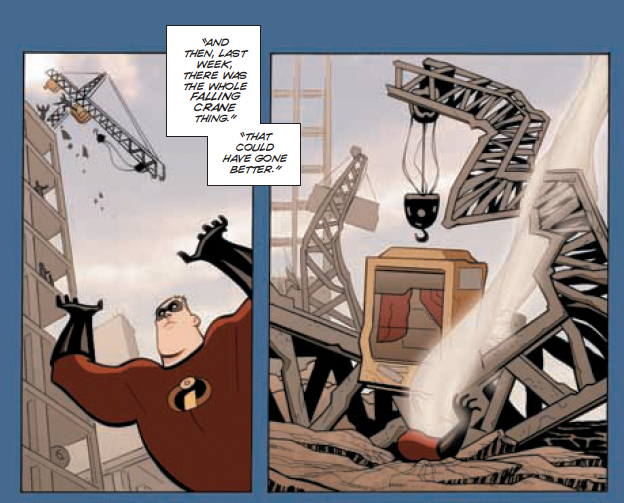 It seems that there isn't a genre Mark Waid can't write in.  Not only does he keep the voice of each character true to what was established in the movie, he makes this story fun and entertaining for kids and adults who are just larger versions of the kids they once were.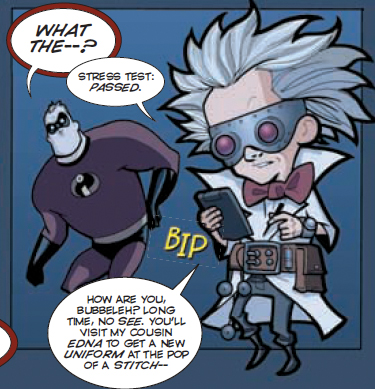 So the main problem everyone's dealing with in this story is that Mr. Incredible has essentially become powerless.  The man who found himself having a hard enough time pretending to be normal in the movie is now actually normal, and no one knows why (not even Edna Mode's cousin, and he's a doctor to the supers).  Of course, most of the issue has Mr. Incredible doing everything he can to keep this from his family.  Even when they're called to help a bus full of children, he'd rather keep that bit of useful information to himself (good thing the rest of the family is there to cover for him).  While this is going on, the Parrs have new neighbours that are trying to make nice with them by giving them cookies and cakes and season skybox tickets to sporting events.  It's become a huge juggling act for the family!  Helen Parr may want the family to become friends with said neighbours, but I don't trust strangers trying to make me eat their food stuffs.  My guess is that it's the cookies that are making Mr. Incredible powerless.  I mean, who knows what you're getting when you chow down on other people's food, right?  And I'm not just talking about the stray pet hairs or funky old person smell that creeps into baked goods.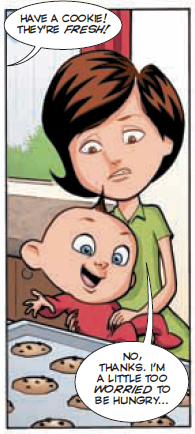 The story's a fast, easy read, with solid writing, and it doesn't pretend to be more than it is.  The art is stellar and matches the Pixar animation of the movie in aces.  It's a nice change of pace from all the serious, heavy subject matter in the comics I've been reading lately.  Overall, it's good, clean fun for the whole family to enjoy and an outstanding title to use as a gateway into the world of comics for kids.