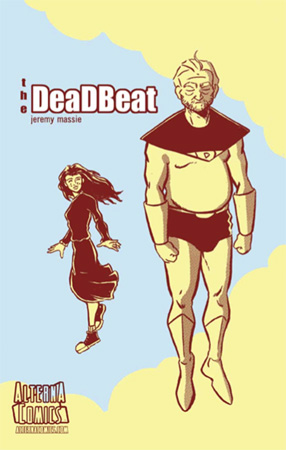 Issue: The Deadbeat
Release Date: June 2009
Writer/Creator: Jeremy Massie
Artist: Jeremy Massie
Publisher: Alterna Comics
When Jason, the Managing Editor of Fandomania, sent out a request to review The Deadbeat, a graphic novel from Alterna Comics about a deadbeat dad who's also a superhero, I had to jump on the chance.  I, too, am the product of a fatherless home and, while my father doesn't have awesome super powers, he is a deadbeat, so I can relate to the subject matter a little more than some might.
The comic's concept is actually quit unique and interesting: The Deadbeat (as I'm going to call him since the actual character name is never revealed) is an aging super hero who seems to spend more of his time hitting the bars than hitting criminals in the face. During a rainy night of drunken Yoo-hoo (mmm, Yoo-Hoo) consumption he's confronted by a young woman named Vera claiming to be his long-lost daughter.  Throughout the comic, Deadbeat and Vera spend a lot of time catching up on lost time and uncovering the events which made Deadbeat, well, a deadbeat.
As I read though the 113-page collection of short mini comics written by Jeremy Massie, and drawn by who the heck knows, as it doesn't list an artist anywhere in the book (I'm going to assume also Jeremy) one thing kept popping up in my mind: "Why don't I care more?"

It's not that the story itself is bad; more so underwhelming. Maybe I just expected more from a story about a super hero deadbeat dad trying to rekindle a relationship with his long lost daughter, but I think with a concept like "superhero deadbeat dad," expecting a little more drama plot and character development isn't too much to ask. Vera at times doesn't even seem to understand why she's there. While reading, I kept asking myself, "Why did Vera even bother contacting her dad? Did she want to confront him? Rekindle a relationship? Someone please tell me so I can make some freaking sense of what's going on and actually give a crap!"  Her motive is never clear, and throughout the comic she flip-flops from curious daughter to psycho bitch more than a bipolar John Kerry. It left me feeling a little confused until I eventually just stopped trying to make sense of it.
A part of me just wished it was more detailed and gritty. It's almost like the author wanted to discuss a controversial topic but was afraid to actually commit to it and go all out. Things are hinted at, but that's the problem.  The exposition and character development are (for the most part) glanced over like an instruction manual that comes with a lamp. To be fair; I'm sure if it had the subject matter and content of my dreams the comic would read more like Watchmen and come in a nice child-resistant plastic bag — which is something I'm sure the author didn't want.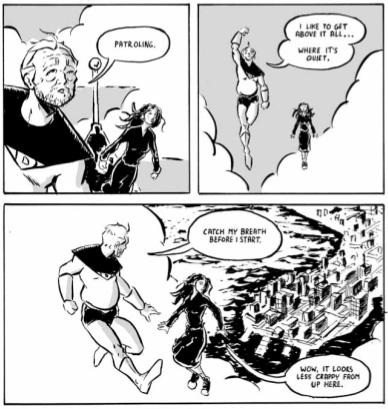 Even with the above nit-picky complaints, I still enjoyed The Deadbeat. It has original premises I think a lot of readers can associate with, considering the divorce rate in America is around 40%. The art is simple but well executed, and I'm happy to say Mr. Massie isn't a practitioner of "Where the hell am I?" syndrome, an artistic disorder where artists fails to draw backgrounds for 80% of the comic's panels.
The Deadbeat graphic novel was intended to compile four mini comics, and it does so very well. If you're looking for super detailed characters and drawn out stories that need 110+ issues to explain, then this might not be for you; however, if you're looking for a short sweet comic with a good heart, moral, and a point of view that's seldom explored in comics then check out The Deadbeat. You could spend 6 dollars on a lot worse (Wrath of the Titans, for example *Shudder*.)  Just make sure that 6 dollars isn't coming out of any child support payments.
Rating: 3 / 5 Stars