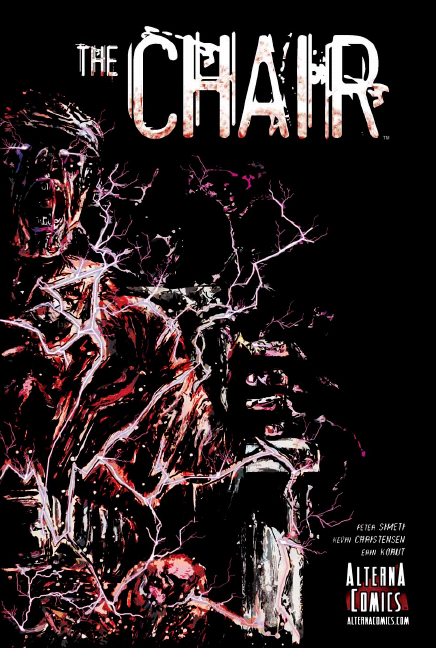 Issue: The Chair
Release Date: August 2008
Writer/Creator: Peter Simeti
Pencils: Kevin Christensen
Gray Tones: Peter Simeti
Cover: Kevin Christensen (Colors: Peter Simeti)
Letters: Peter Simeti
Publisher: Alterna Comics
Wow, they weren't kidding when they said for mature readers 17+. The Chair was dark, and I don't just mean visually. The whole thing is done entirely in black and white, a heck of a lot more black than white, with a touch of gray thrown in for good measure. The darkness really pulls you into the story, and you start to feel like the prisoner sitting alone in his dark cell.
It starts with one lonely death row prisoner telling us, the reader, how he's innocent of the crimes for which he's been convicted. That's what they all say. We commiserate with him as he talks about the other prisoners around him and the horrible things they've done, all the while claiming their innocence. Then he tells us his own story, what he was accused of and how he was wrongfully convicted. We also get a peek into his day to day life as a prisoner, and that's when things start to get weird.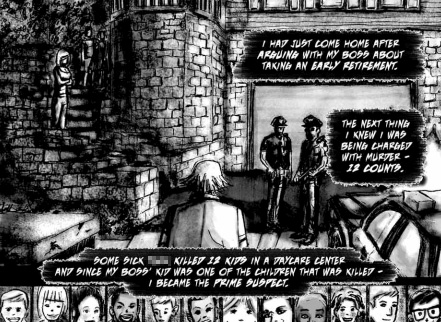 We get introduced one by one to some of the other residents of death row. At the same time, we get a view into life at the prison. Guards who do icky things to the food, prisoners allowed to roam the hallways together with no restraints, electrified bars and floors… This doesn't seem to be a normal prison, and I would know. I've watched more true crime TV and documentaries about prison life than any one person should. Then the guards start killing prisoners; and not a nice quick death either in most cases. Something is definitely wrong here.
The storyline is dark and twisted, so much so that several times I was tempted to just stop reading. Imagine the parts of Oz that made your skin crawl and your stomach turn and then multiply that by fifty or so. Yeah, that dark. It's also rather confusing and hard to follow, but I trudged on, and I'm glad I did.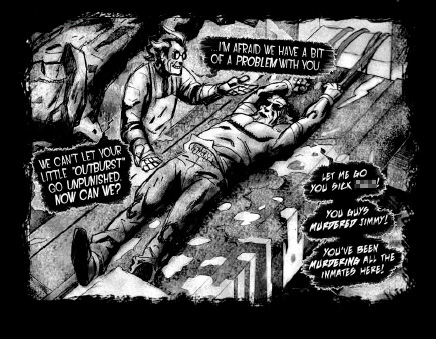 There's a twist, and it's a biggie, that makes all the darkness you've waded through to get to it worthwhile and a lot of the confusion gets cleared up with an "Oh" moment. Even then, I still didn't see the end coming. No, it doesn't get any less dark, but it makes a heck of a lot more sense.
Sure, I could have done without a lot of the gory details (and I love the Saw movies, people!) but overall, The Chair was interesting and intriguing and I was impressed by its ability to keep the plot twists hidden until the right moment. If you can stomach the ick and deal with the desire to shudder to make it through until the end, it's worth the read.
Rated: 3 / 5 Stars