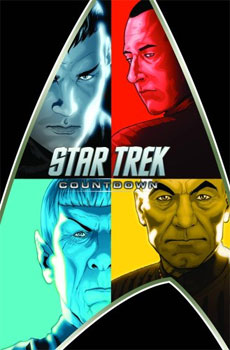 Release Date: April 7, 2009
Story: Roberto Orci and Alex Kurtzman
Writer: Mike Johnson and Tim Jones
Artist: David Messina
Color Art: Giovanna Niro
Original Series Editors: Andy Schmidt and Scott Dunbier
Letterers: Chris Mowry, Robert Robbins, and Neil Uyetake
Publisher: IDW
Contains no spoilers to the movie or the trade paperback
"Okay, people, listen up.  We have the toys and the collectibles. We've even got a deal with Burger King. It's good stuff, but it all seems so hollow.  Isn't there something more we could do for the fans? This is a cultural phenomenon. Think, people, think!  Wait, I've got it.  How about a trade paperback that will serve as a prequel to the movie, and as an origin story for the villain, and it can tie up some loose ends from the Next Generation series?"
"Dude, you totally nailed it!  That is so logical it makes my pointy ears tingle."
The brainstorming session between JJ Abrams and his screenplay writers Roberto Orci and Alex Kurtzman, if there was one, may not have gone down exactly like that, but it sure seems that way.   Countdown bills itself as the "official movie prequel," and, aside from some quibbling about the definition of prequel and sequel (it did come out before the movie, after all), I admit it almost achieves those objectives.  If Star Trek Generations was the movie that handed the baton from the original cast to the Next Generation cast, then this is the book that hands that baton from the Next Generation cast to a new cast, playing, um… the old characters.
What about Voyager, you ask.  What about Deep Space 9 and Enterprise?  Obviously, they never got a baton to begin with, so screw them.  Unless you count Worf. He went from Next Generation to Deep Space 9, so he's kind of like a baton, but he'd probably kill me where I stand for calling him a baton, so no bone for him either.
But back to Countdown.  It's obvious that Orci and Kurtzman, the writers of the movie screenplay, and Countdown's story creators, fell in love with Star Trek through the Next Generation characters.  Just in case you didn't get it on your own from the subtext, they come out and say it in the afterward.  It's actually a nice touch and does add value to the book, although such a terse statement (two paragraphs) is definitely not enough to provide full satisfaction to the reader.
And that is the primary stumbling block of this effort.  Weighing in at 98 pages, the graphic novel cannot hope to explore the depth and breadth of issues raised within its covers.  What happened to Data? How did Picard get his new job? Why is Worf, um, how do I say this without a spoiler? Why is he doing what he is now doing?  If you are a Next Generation fan, you are probably gnashing your teeth as you read this, because they sound like really interesting questions, and you'd really like to know the answers, and providing an answer to each one of those questions could serve as an entire graphic novel in its own right.  Of course, with so many questions opened but not explored, fans have an excellent prequel not only to the upcoming movie, but also, if anyone decides to pursue it, to an ongoing comic book exploration of the continuing adventures of the new captain and crew of the Enterprise E.  But on its own weight, Countdown will be a source of frustration if fans want satisfying answers to those questions in this single 98 page volume.
On the other hand, Countdown masterfully achieves its primary objective, which is to provide a back-story for Nero, the villain of both the graphic novel and the movie.  He is truly a sympathetic character, with all three dimensions hanging out in the wind for the reader to savor.   He's even got a loving relationship with a pregnant wife, man! How does a family man (albeit a Romulan family man) go from sympathetic, stand-up guy to evil, kill Captain Kirk at all costs villainy?  Exploring that question is Countdown's primary purpose, and it achieves that purpose quite well.  It's quite possible that, when they see the movie, those who have read Countdown will appreciate Nero more than those who haven't. Granted, I haven't seen the movie yet, and my (somewhat) successful attempt to remain ignorant of the movie's plot means I can't speak with absolute authority. But it's a good bet.
The color art provides the strongest visual element, providing depth and character on a consistent basis.  The composition and penciling – although they have their moments, such as when the Remans attack, or any of the exterior shots in outer space – for the most part is rather pedantic. Nevertheless, the glossy heavy stock of the pages gives a satisfying heft to the novel.  Also, each section contains a portrait of one of the main Countdown characters on one side, and a photo of one of the Star Trek movie actors on the other, which adds a nice touch.  Overall, the writing is strong, and the artwork is competent enough not to detract from the story.