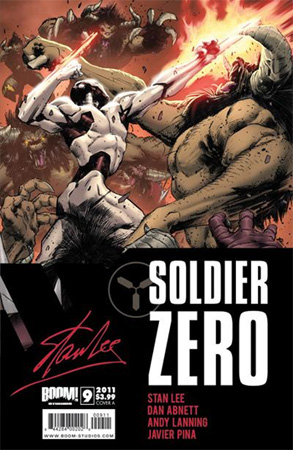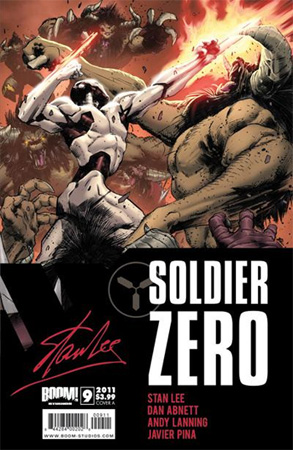 Issue: Soldier Zero #9
Release Date: June 15, 2011
Creator: Stan Lee
Writers: Dan Abnett and Andy Lanning
Artist: Javier Pina and Ramon Bachs
Colors: Archie Van Buren
Letters: Ed Dukeshire
Cover A & C: Trevor Hairsine (Colors: Archie Van Buren)
Cover B: Kalman Andrasofszky
Publisher: BOOM! Studios
Last issue, we saw a lot of action. This issue, not so much. This issue has a lot of what they refer to in the business as exposition. The characters sit around and talk about background information. This is usually done in a motel room, or in a car, or, if the writer is really lazy, in a restaurant.
Some people think exposition is inherently bad. If you are sitting there "telling" the reader what you think he should know instead of "showing" the reader what's going on, then you are a bad storyteller, and we'll hit you on the nose with a rolled up newspaper. Bad. BAD!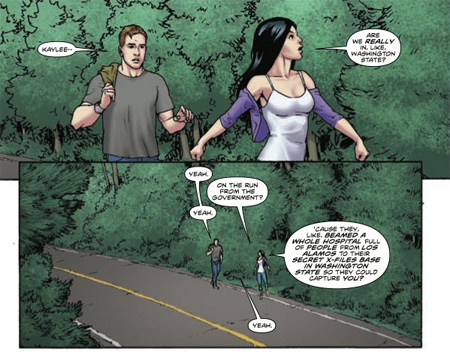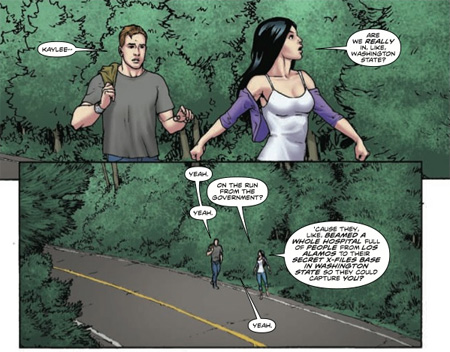 But I don't think that way. Exposition, if done right, can still entertain. Eureka, for example, is great at that. Shakespeare did it too, but back in the day they called it soliloquy, so nobody complained. The key to entertaining exposition is that you have to get something else going on to distract us from the fact that you are basically dumping a bunch of information in our lap. For example, have the characters get into an argument. Or maybe the bad guy talks about his evil plans (which is boring), but he does it while our heroes are suspended by a fraying rope, over a lava pit, with man-eating pigeons flying overhead (which is exciting).
But back to our review: in this issue our hero Stewart has more or less gained control of the Soldier Zero alien soldier suit thingy. He and Kaylee have escaped to a back road somewhere in Washington state, and Stewart doesn't want to activate the suit again, lest the bad guys hone in on the suit's signal and find them.
In the subsequent walking and stopping in a restaurant and driving in a car and looking for a motel to stay the night, our hero and his companion have a perfect chance to review the facts for any new reader: Stewart is an honorably discharged paralyzed marine (injured in Afghanistan), he found an alien suit that turned out to be alive and took over his body because it's symbiotic. With the alien's powers, Stewart can walk and/or turn into a super powered soldier. But the alien soldier suit has a bunch of intergalactic aliens after him because it knows a secret that will ruin everyone's day.


The United Stated government doesn't like alien technology that they can't control, so they are after Stewart. There is also some sort of private interest corporation that has collected a bunch of alien technology. Their agent, Application Nine, helped Stewart escape the government agents in the previous issue.
There is also a scene between Stewart's love interest and the head government agent. She reveals that she basically doesn't know anything. Also, Kaylee is a college reporter who will stop at nothing to get the story.
So it's lame we wasted a whole issue with exposition, but we had to do that in order to get the new readers up to speed. Some new aliens attack at the end of this issue, so the next issue — "Learning Curve Part II" — should be a good one and make this issue totally worth it.
Rating: 2.5 / 5 Stars