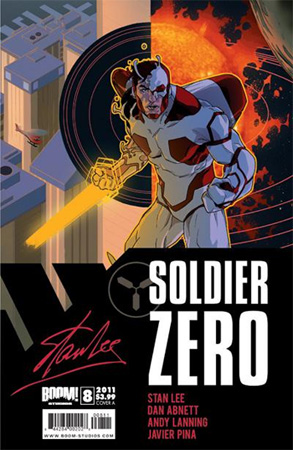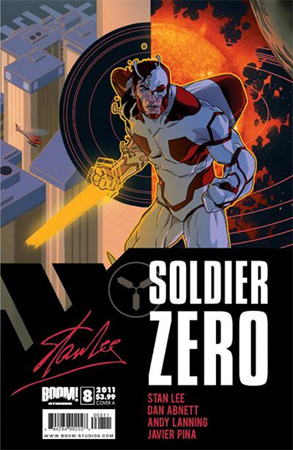 Issue: Soldier Zero #8
Release Date: May 18, 2011
Creator: Stan Lee
Writers: Dan Abnett and Andy Lanning
Artist: Javier Pina
Colors: Archie Van Buren
Letters: Ed Dukeshire
Cover A & C: Kalman Andrasofsky
Cover B: Mitch Gerads
Publisher: BOOM! Studios
A lot of people seem to think Stan Lee is phoning it in with Soldier Zero. But it's kind of obvious: he's totally phoning it in. The real question: is he so good that, even if he's phoning it in, Soldier Zero is still a good comic? The answer is a resounding yes!
Like George Lucas, Stan Lee's success means expectations are higher for everything Stan Lee produces. Soldier Zero doesn't compare to Spider-Man, for example, or the Fantastic Four (at least not yet), but it's got potential. Like George Lucas, Stan Lee has his share of Jar-Jar Binks moments. And in previous issues the dialog is a bit forced. But the kinks are working themselves out. Overall, this is good, solid story telling.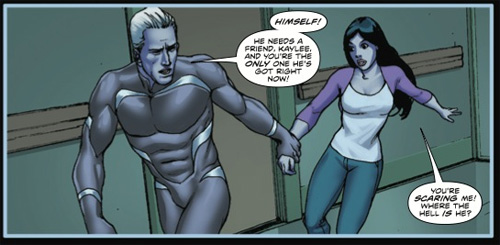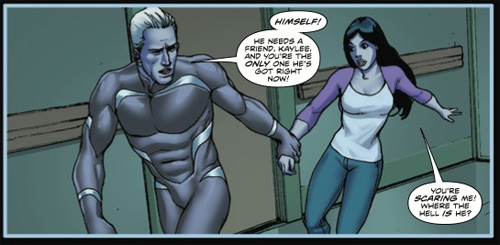 In this issue, the Clowns have wiped the hospital, which means they teleported it into a secret underground lair. They've been sent into the hospital to track down Stewart. Stewart and Application Nine are trying to sneak out of the hospital when Stewart spots Kaylee in suspended animation. This triggers Soldier Zero, and he goes crazy, taking out Clowns left and right.
Application Nine awakens Kaylee, and together they talk down Stewart. As we learned from last issue, there is going to be a battle for control between Stewart and the Soldier Zero suit. The stronger will maintain control (the emotionally stronger, that is). And then we'll find out why Soldier Zero ended up on Earth.
The next issue is called "Learning Curve," so we'll probably be learning more about the backstory of the suit.