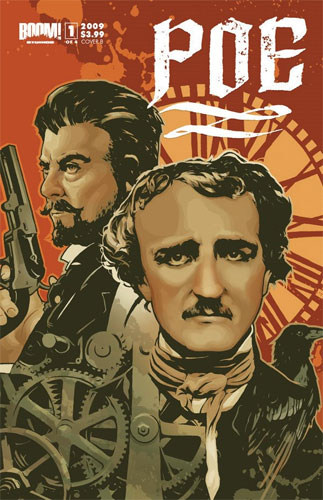 REVIEW: POE #1
Writer: J. Barton Mitchell
Artist: Dean Kotz
Covers: Declan Shalvey, Jeffery Spokes
Publisher: BOOM! Studios
BOOM! Studios was kind enough to give Fandomania an advanced copy of the first issue of their newest 4 issue miniseries, Poe, and Fandomania was crazy enough to let me review it.  Advanced copies of comics?  Oh, how I have dreamed of this day!
Edgar Allan Poe is best known as the father of modern horror storytelling, but not many realize that he also created the detective genre (Poe's detective, C. Auguste Dupin, first appeared in 1841, about 46 years before Sir Arthur Conan Doyle's legendary Sherlock Holmes).  What this miniseries does is "reveal" the real life events in Poe's life that inspired his writings.  Kind of like Shakespeare in Love, only with more mystery, horror, dead bodies and less making with the kissy face.
I'm a HUGE Edgar Allan Poe fan, so if I hadn't been at the "Pee My Pants" level of excitement from getting an advance copy of a comic, the mere mention of the subject matter totally would have had me there in a heartbeat.  So it's a good thing I ended up enjoying this first issue a lot.
The story starts after Poe's wife, Virginia, has died.  The death of what is essentially his world has sent Poe into a downward spiral head first.  It ends him up in an asylum for the mentally disturbed (which he gets kicked out of), causes him to start seeing death echoes (a ghostly version of a section of video stuck on loop), and worse yet he loses his words and can't write.  Being kicked out of the Nut House leads him to tag along with his brother, William.  As it turns out, William is a constable in Baltimore working a very strange string of murders, and while the younger Poe may be crazy he helps William by being heedful to things missed by those with less observant eyes.
The writing is very good.  When I started reading it, I was worried it was going to turn into a From Hell knock-off.  It has that feel to it; possibly because it happens during the same era of history and the sound of the dialogue is similar (not to mention the whole serial killer thing).  At the same time, once William was introduced, it reminded me of a Victorian Era episode of Supernatural.  The William and Edgar set up in this comic has a certain Dean and Sam Winchester feel.  I happen to be a big fan of the Winchester dynamic, so if the brotherly relationship in Poe continues in this way, I'll be a fan of the Poe brothers as well.
The art definitely helps set the tone and period of the story.  It has a nice old timey feel to it and doesn't go into the "too flashy" or "too crappy" ends of the spectrum.  Essentially, it does what art in a comic should do – doesn't detract from the story, but helps bring the reader into the world the writer is trying to set up.
If you like dark, detective, supernatural stories, this one's worth checking out.  But don't just take my word for it; here's the first ten pages BOOM! is letting us post for you to preview!