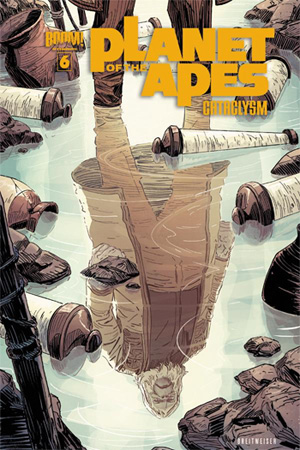 So here we are at Planet of the Apes: Cataclysm issue 6. Did you think we'd make it this far? I'm enjoying this series, but these apes are nuts (or should I say: BECAUSE these apes are nuts?). And it just keeps getting worse for these poor self righteous creatures. I was sure they would have annihilated each other by now. Not that the humans are much better. Actually, I don't know if you can call them humans, what with their mental powers and death worship and junk.
Note: This recap may contain spoilers!
Anyway, the good news is that we have made it all the way to issue six. This issue starts off with something completely different. Actually it starts with an ape beating the snot out of a traveler on some deserted road in the Mountains overlooking a pristine valley, presumably to mug him, which is not so different than the craziness we've been enjoying so far. But then after that, it starts with something completely different. Far away from Ape City, we witness a little deal making between honest apes. Milo is trying to get supplies for Ape City. He and the ape from this pristine town in the Valley are talking about how destitute Ape City is since the disaster.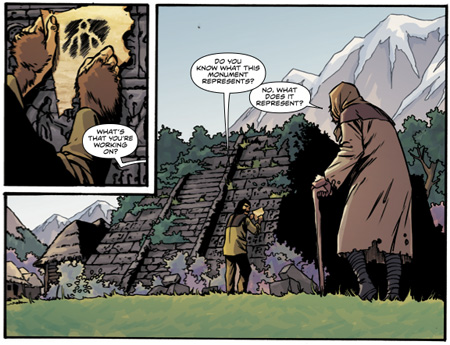 But it appears there is something strange about this town called Painted Valley. For example, the ancient hieroglyphics show gorillas instead of chimps, even though the entire town consists only of chimps (which is weird itself). Then, there is something about the crops that just doesn't seem right. Plus, the water to irrigate the fields all comes from a single source — a cave.
I've learned something after watching the movies and reading BOOM!'s treatment of the POTA universe: Caves are bad.
Meanwhile, at the Ape City refugee camp, gorillas are having a little too much fun conscripting people — including children — to do construction and repair work. Also, Zaius gets a lecture on being more receptive to the emotional damage that the citizens of Ape City are experiencing, instead of appearing so aloof and detached and scientific.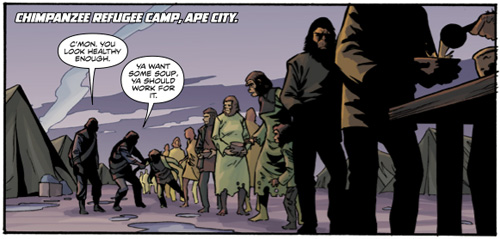 At nightfall in Painted Valley, Milo's team decides to sneak out of their hotel room and investigate the mysterious cave (without Milo, of course). Something is definitely afoot, considering all the mind tricks that they are seeing. They make it through the hallucinations, expecting to find some sort of hallucinogenic plant or something at the source of water. Instead, they find horribly deformed creatures that do not look pleased to have been discovered. As I said, when it comes to POTA, caves are bad.
This is another one of those-not-much-action-in-order-to-set-up-the-payoff-later issues. I complained about the same thing last time, so you already know how I feel about it. But just in case you don't know how I feel, I'll say that it's pretty good but not that great and you have to be careful not to overdo it. The series overall is fantastic. But I'm hoping for some action in the next issue — maybe a battle between apes and telekinetic humans or something.
Rating: 3 / 5 Stars