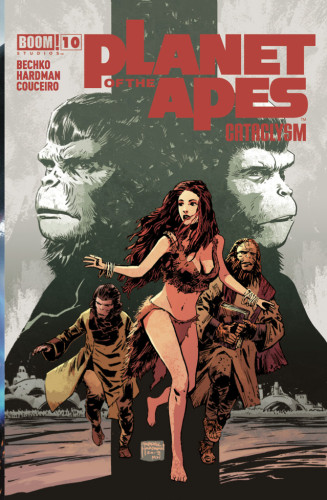 Poor Cornelius. The further this story progresses, the more he gets sucked into a wasp's nest. Or stumbles into a wasp's nest. Or maybe he's poking a stick in it. Whatever the metaphor, each issue pushes the dude closer to the center of the catastrophe, whether he likes it or not.
Note: This recap may contain spoilers!
We start this installment with Cornelius witnessing a presentation from a one-eyed Ape. Actually, the patch is an affectation, fashioned after Aleron, the Ape that these people idolize. Apparently, he formed some kind of Utopian commune in the forbidden zone in which humans and apes all got along really well. But then the leaders of Ape City tracked down the Utopian settlement, massacred almost everyone including Aleron, and now the Chimp with the fake patch is the last survivor. Actually, he and and the talking human he helped escape and raised as his own are the last two survivors. But she's a human, so she doesn't really count.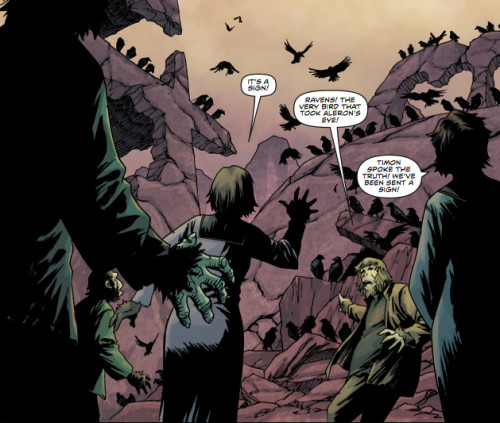 Meanwhile, in Ape City, Zaius is getting all worked up about the fact that all these Chimps are going around with a patch on their eye (the legend is that a raven poke out Aleron's eye, and after that he had some kind of prophet vision power). So Zaius visits his old friend Timon, who is the Chimp preaching all this stuff, and reminds Timon that he was there when Aleron died, and he knows that really happened. He knows the role Timon really played (I haven't been keeping up with the POTA special comics, but I suspect this all played out over in that series, and I suspect Timon was some kind of coward or something). Zaius warns Timon to stop causing trouble.
Of course Timon ignores the warning, so Zaius sends in a death squad, which beats the snot out of Timon's followers and kills the talking human. Meanwhile, Cadmus has been released from jail and is now preaching to the masses that the Chimps must stop causing trouble and go back to their labor camps and happily work away like slaves. His sudden conversion to docile doormat has his former agitators very suspicious. So, there's renewed talk of an uprising.