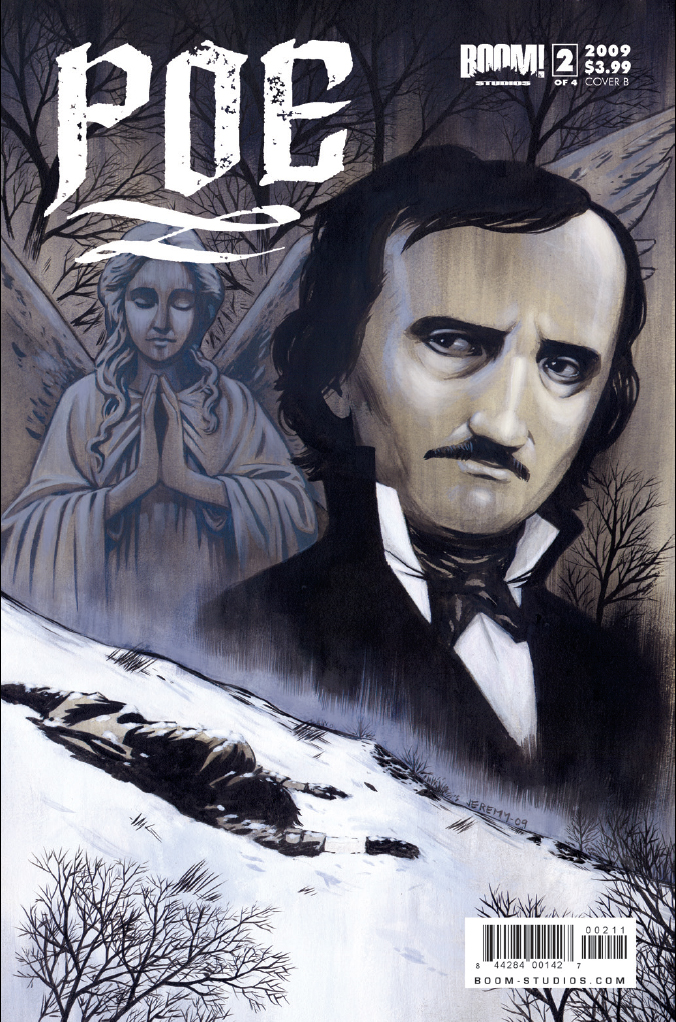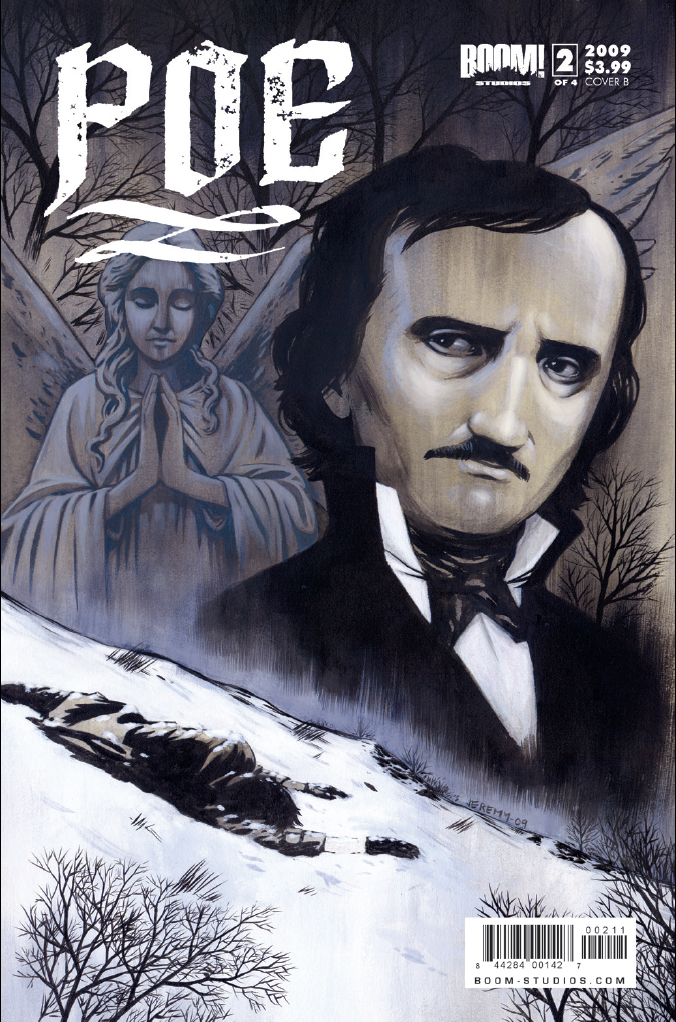 REVIEW: Poe #2
Release Date: August 19, 2009
Writer(s): J. Barton Mitchell
Artist(s): Dean Kotz
Cover(s): Declan Shalvey and Digikore Studios, Jeremy Forson
Colors: Digikore Studios
Letterer: James Dashiell
Publisher: BOOM! Studios
Have you ever wondered how writers come up with the stories they write? Then, brother, this comic is for you. Poe is all about how Edgar Allen Poe came up with the characters and situations he created for his tales of terror. In this issue, the plot thickens as he and his brother William get one step closer to solving the string of murders that have been happening in their town.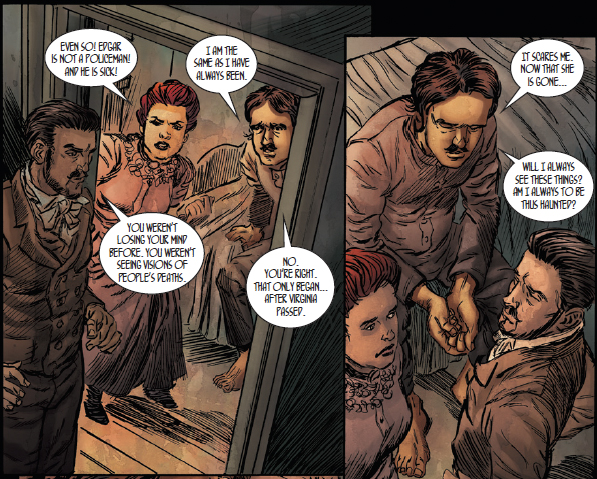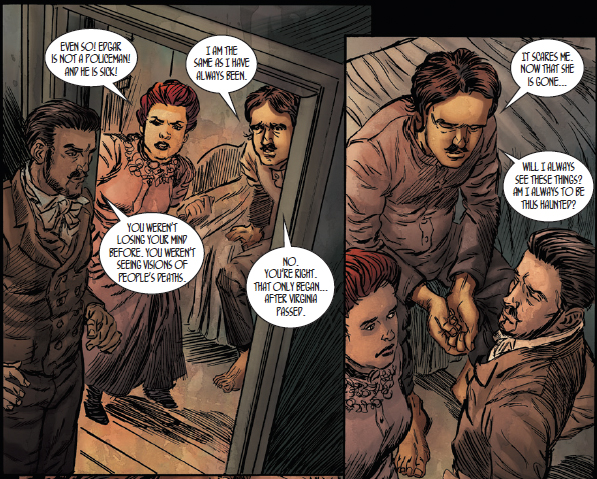 Picking up where issue one left off, issue two continues to reveal all the sources of Poe's greatest works of literary horror. They quickly figure out who the serial killer is, how he's doing all the killing, and what his end game is. Well, Edgar is the one who figures it all out. William's just pretty useless and Keystone Cop-ish at this point (which I'm hoping will change before the end of the series).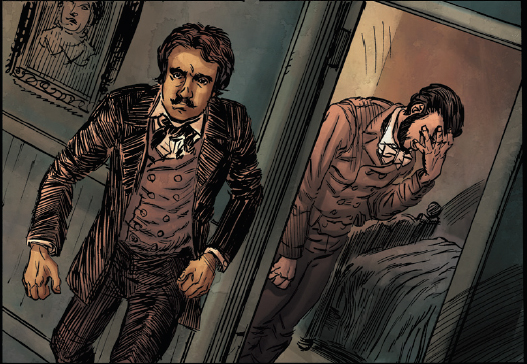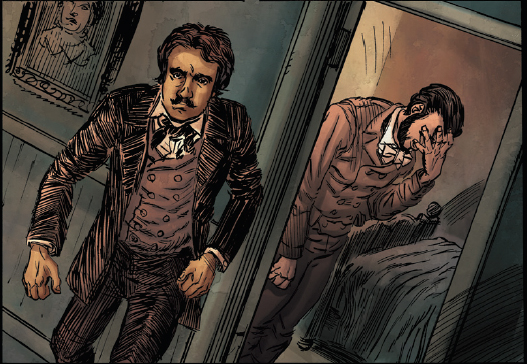 While Edgar has deduced and accepted that some seriously supernatural business is going down, William is still very much of the "That could never happen" mindset. Worst cop ever or just unwilling to believe in the paranormal? It's anyone's guess at this point. What is very clear is that Edgar has found himself in a situation to do what's right for his community as a whole, or he could be completely selfish and let Roderick Usher finish what he's started so that Edgar can also reap the benefits.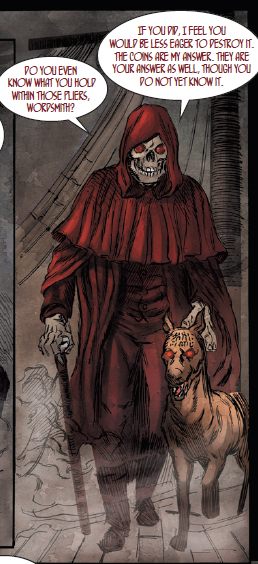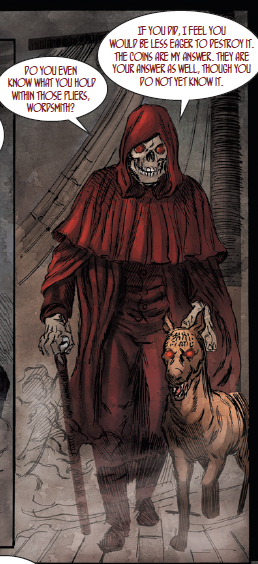 The interesting thing about this issue was the reveal of who the Big Bad was and what he was up to. I'm really enjoying the magic/supernatural/mythology aspect of this comic, so the revelation that the coins are the pieces of silver given to Judas, and that they can be used to bring people back from the dead, was a very nice and interesting twist for me. Of course, there's a price to using the coins for this, because there's always a price for bring someone back from the dead.
My only problem is with this issue was William. Even after a golem tries to kill them, he's still all harumph about Edgar knowing what's going on. I mean, it's an animated mound of clay, William. Come on already, and get with the program. Even more noggin-scratching was at the end, when "The Red Death" (aka Roderick Usher) basically tells them what the coins are and what they can be used for, William still doesn't seem to get it. I guess it could be sibling rivalry, but man up already if you really want to stop the murders.
Other than that, solid second issue. If they keep going in the same direction as the twist with the Judas coins, I've no doubt this miniseries will be an entertaining read start to finish.