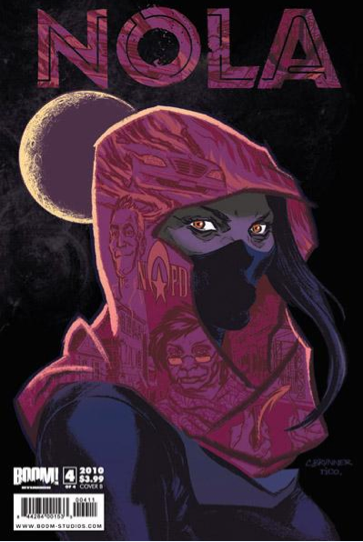 Issue: NOLA #4
Release Date: March 3, 2010
Creator & Story: Chris Gorak
Script: Pierluigi Cothran
Artist: Damian Couceiro
Colors: Juan Manuel Tumburús
Letterer: Johnny Lowe
Cover A: Erik Jones
Cover B: Chris Brunner (Colors: Rico Renzi)
Editor: Bryce Carlson
Publisher: BOOM! Studios
NOLA #4 displays the same level of potential as the rest of the series and, likewise, is similarly disappointing. The NOLA series tells the story of Nola Thomas, a young woman searching for revenge in New Orleans in the aftermath of Hurricane Katrina. After an attempt on her life lands Nola in the hospital just prior to the events of the series's first issue, Nola is left for dead as the hospital staff evacuates in preparation for the storm.
Miraculously, Nola is able to survive both the severe burns that she obtained during the car accident that threatened her life as well as the fury of the hurricane that tears her city of New Orleans apart shortly after she awakens in the hospital. Hell bent on exacting revenge upon those that betrayed her and tried to take her life, Nola spends the first three issues of the series searching for the responsible parties, killing anyone that gets in her way.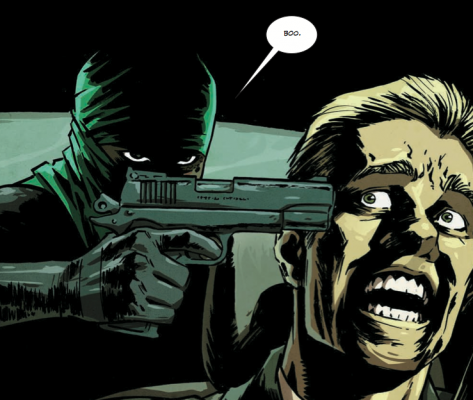 NOLA #4 delivers the level of gruesome violence that one might expect of a revenge story — something that is lacking in previous issues — and for that reason Damian Couceiro's art is particularly noteworthy in this issue, as is evident from the illustrations included here. Although NOLA #4 gives readers the violence and gore that was missing from the rest of the series, the last chapter in the story fails to rectify the two-dimensional nature of the series's protagonist. Motivated by revenge — not only against the men who tried to kill her, but against those responsible for her father's death as well — Nola remains nothing more than a drawing on the page with little reason for readers to empathize with her.
Unfortunately, it seems that Nola's story suffers from its miniseries format; perhaps, if Gorak had more issues to work with, he could've provided some of the exposition necessary for readers to relate to his anti-heroine. It's a sad thing to see a story with such an interesting setting — post-Katrina New Orleans, in this case — fall flat because it was squeezed into four issues, and both the setting and Nola Thomas's character arguably would benefit from some additional action and back story.
A final note about NOLA #4: I cannot let it go without saying that the cover (Cover B) created by illustrator Chris Brunner and colorist Rico Renzi for this issue is particularly impressive. If you do decide to pick up a copy of this comic book, I highly recommend that you opt for Cover B (pictured above) if possible.
Rating: 3 / 5 Stars