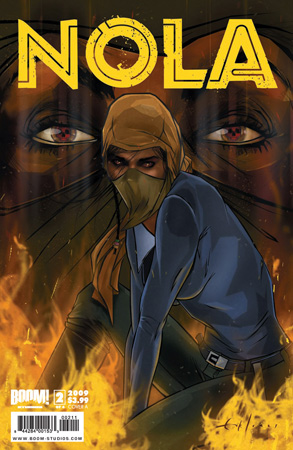 Issue: NOLA #2
Release Date: December 16, 2009
Creator & Story: Chris Gorak
Script: Pierluigi Cothran
Artist: Damian Couceiro
Colors: Juan Manuel Tumburús
Letterer: Johnny Lowe
Cover A: Erik Jones
Cover B: Chris Brunner (Colors: Rico Renzi)
Editor: Bryce Carlson
Publisher: BOOM! Studios
After reading the first issue of Boom! Studios's comic series NOLA, it seemed as though some background on the series's protagonist, a New Orleans resident named Nola Thomas, was in order. Well, ask and you shall receive. Issue #2 of the four-part comic miniseries gives readers a firsthand look at what happens to Nola Thomas leading up to Hurricane Katrina and also provides some clues as to why our heroine is hell-bent on revenge at any cost, no matter how bloody it may be.
The first issue of Chris Gorak's new series, which is illustrated by Damian Couceiro, followed a young woman named Nola Thomas as she tried to make her way around the hurricane-ravaged city of New Orleans after waking up in an abandoned hospital. Although NOLA #1 makes it very clear that Nola is not your average hurricane survivor, readers were given virtually no explanation as to how Nola ended up in the hospital in the first place, why she was left there during the Katrina evacuation, and what accounted for the seemingly drastic change in Nola's personality between her life pre- and post-Katrina.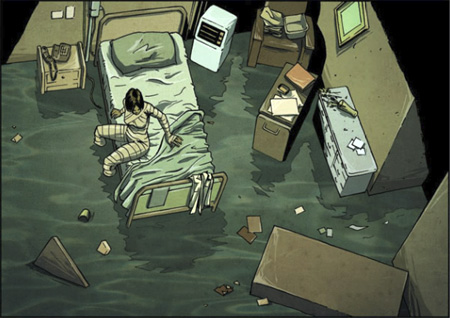 The second issue of NOLA opens with a flashback to the horrific car accident and subsequent explosion that landed our protagonist in the ICU at one of New Orleans's major hospitals. Miraculously, Nola manages to survive, only to wake up alone in a hospital flooded with water. Making her way out of the hospital and through the flooded streets of New Orleans, Nola returns home to find nothing but destruction, forcing her to flee the city like so many others did. After she returns to the city, Nola tries to check on her best friend, Cinda, and ends up in an altercation with the police. This is one of several times that NOLA #2 illustrates how things truly were for people in New Orleans after Hurricane Katrina. Police officers like the ones Nola encounters while looking for Cinda were not uncommon, and beating and imprisoning an obviously injured citizen who fails to obey their orders was not by any means outside the realm of possibility.
In NOLA #2, readers get a much clearer look at Nola Thomas's motivations, thus making it much easier to relate to her. Chances are that if you were in a bad car accident, were blown up and permanently disfigured, then abandoned in your hospital bed during a massive flood only to wake up and discover that you'd lost a family member and your home was destroyed, you might want revenge against someone, too. Add to that a vindictive, married ex-boyfriend who wants you to disappear and has connections to various city institutions — including hospitals — and you can end up with a serious threat on your hands.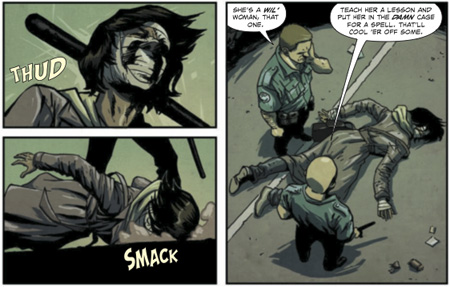 Couceiro's illustrations are one of the best things about the NOLA series thus far. The series's art displays the attention to detail that characterizes so many of Boom! Studios's comics while maintaining an acceptable balance of sexy and realistic when it comes to its female characters. The colors used by Juan Manuel Tumburús are befitting of a before and after disaster tale; the scenes that take place in present-day New Orleans as Nola tries to make her way around the city are darker and more monochromatic, while the pre-Katrina events depicted in the series are much more colorful and vibrant. NOLA #2 is a definite improvement over the series's first issue, allowing readers to feel a bit more grounded about the events unfolding before them.
For more information on NOLA or to purchase a copy of NOLA #2, head over to Boom! Studios's official Web site where you can also get your hands on a copy of NOLA #1 and various other Boom! comic books.