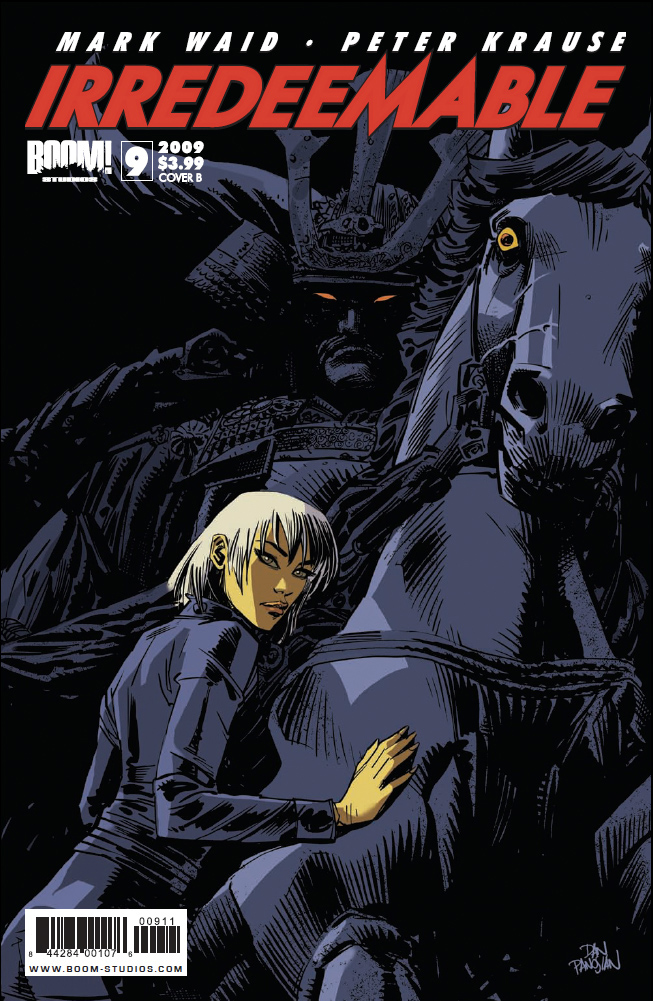 Issue: Irredeemable #9
Release Date: December 23, 2009
Writer(s): Mark Waid
Artist(s): Peter Krause
Cover(s): Javier Pulido, Dan Panosian, Jeffrey Spokes
Colors: Andrew Dalhouse
Letterer: Ed Dukeshire
Publisher: BOOM! Studios
More back story on the Paradigm, Encanta's part in the disappearance of Modeus, some weirdo military get together, and the official meltdown of Cary. This issue was all over the place with a lot of crazy business happening in it.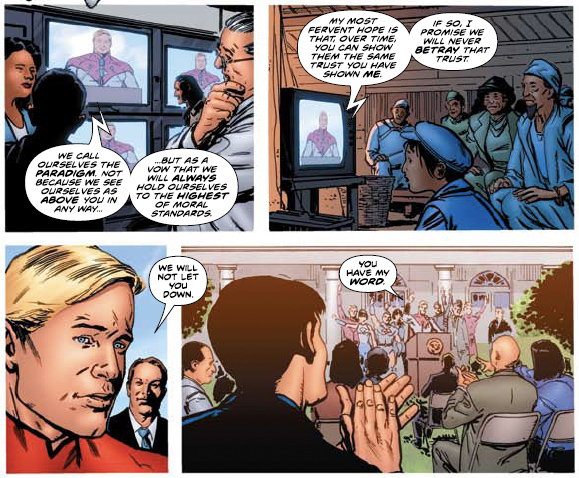 As with most things of this nature, the Paradigm was started with the best intentions. The members came together to help protect the world. We all know where that lead (pretty much the brink of global destruction). Because no matter how much super power they have, at the end of the day the members of the Paradigm are still human — a bunch of humans that are capable of doing good or bad just like the rest of humanity (granted, the super powers up the ante). Too bad it looks like the Plutonian isn't the only supe that's heading off the deep end as this story goes along.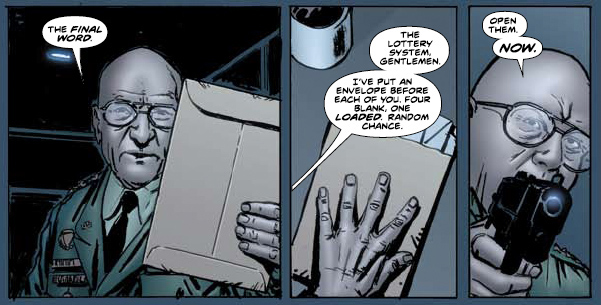 One of the stranger things that happened in this issue was this little cut scene of a bunch of old and crusty military guys talking about some Top Secret Double Probation thing they had in place in case things went bad with the super powers (Tony, in particular). I have no idea what this was all about, I don't remember anything that happened ever having come up in the other issues, so I'm not sure what I think about it. It was weird, introduced a potentially new character, but it kind of left me slack-jawed and saying, "Huh?" Have to wait for future issues to see where this subplot leads.
What was left of the Paradigm is barely holding together, as Qubit runs off with Encanta (to save her from death at Cary's hands — Bette totally egging him on). Qubit figures out why the Modeusbot led him to Encanta (she was the one who helped Modeus disappear), but she couldn't tell him where he went. THAT reveal was a "holy crap, didn't see that one coming" moment. Also, Encanta can't catch a break to save her life! If she's not getting twistedly sexed up by Tony, getting throttled by Gilgamos, shot by Bette, or melted by Cary, apparently she's getting turned into a Cyberman by Qubit. Girl needs a vacation after this, is all I'm saying.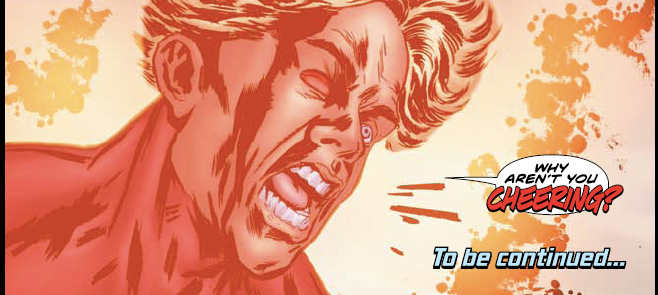 The rest of the group gets orchestra seating to the beginning of Cary's total meltdown. Wow. He totally let that small victory over Tony go to his head. Let's be honest: all he did was slow Tony down for a minute or two. He didn't really wound him or anything like that, so I'm not sure where the sudden his attitude suddenly came from unless you chalk it up to him losing his brain. I mean, he's referring to himself as "The Survivor" now instead of Charybdis and gets all hurt when everyone else doesn't share his enthusiasm for his "plan." And by plan, I mean gloating to about five people that make up what's left of the Press.
Surprisingly, I found myself not as into this issue as I have been in the previous ones. It could just be because it's at that certain point in the story where things are shifting and you really aren't sure what's going to happen or where that shift is heading. I'm also still wondering how Incorruptible fits into the story, and for some reason that military thing just threw me off. I do not get what that was all about. I still say pick it up. This is one of the best series out there, and I'm eager to see where it's going.
Rating: 3.5 / 5 Stars