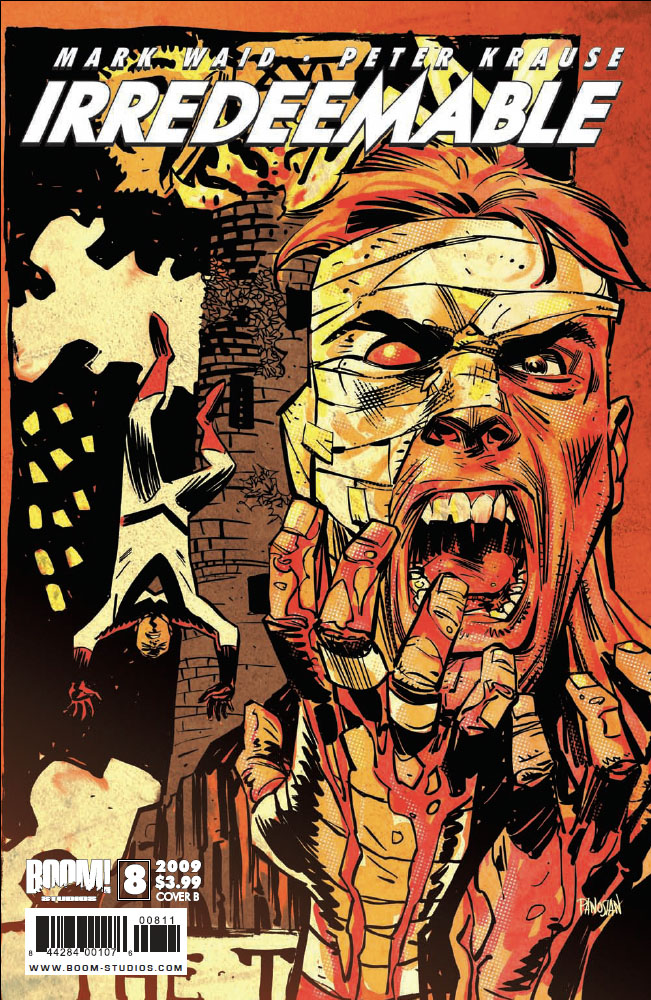 Issue: Irredeemable #8
Release Date: November 18, 2009
Writer(s): Mark Waid
Artist(s): Peter Krause
Cover(s): Gene Ha and Matthew Wilson, Dan Panosian, Jeffrey Spokes
Colors: Andrew Dalhouse
Letterer: Ed Dukshire
Publisher: BOOM! Studios
Ho. Lee. Crap. There's some pretty crazy stuff going down in this issue.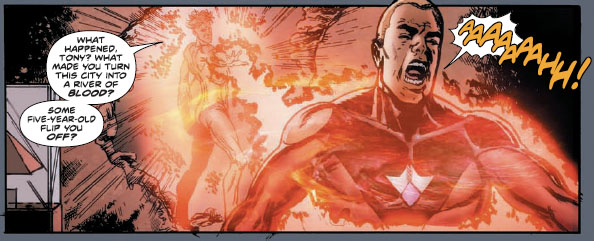 A majority of it is Cary holding his own against Tony. Dude is bringing the pain in this issue in a serious way. He kicks Tony's tuckus all over town, demanding to know why Tony went all crazy and killed everyone. By the end of this round, it seems pretty clear that Cary needed his twin to keep him in check with the powers; he's gone a bit power hungry and takes over the Paradigm when the group finds him and Tony going at it. I actually thought he might let out a "MWAHAHAHAHA" mad scientist laugh at the end. I'm starting to reconsider having Cary on my favorite character list, now.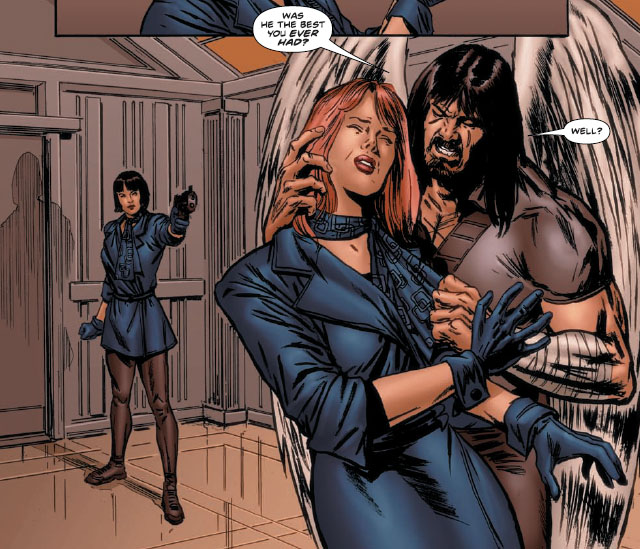 Speaking of heroes maybe being villains, Bette and Gilgamos are certainly looking that way too. Especially Bette. While Gilgamos takes his anger for his two-timing hussy wife out on Encanta (I bet she's wondering how she ended up having the rotten luck of being Bette's stand-in for everyone), Bette's actually in the background chambering some kind of magic bullet into her gun. Who she planned on ganking, we don't know at this point since everyone else busts in on them to reveal that the Modeusbot isn't there. All we do know is the Bette + Gilgamos = Cuckoo for Cocoa Puffs.
Tony also tells Cary (while he's getting his face rearranged) why he went crazy. Maybe. I don't know if I buy this reason or not, but it all goes back to Samsara finding out about Tony being responsible for the virus that killed all those kids. Losing Samsara's trust, and possibly the admiration of everyone on the planet, totally sends the mighty Plutonian on a Godzilla-sized tanty that started in Sky City and leads us to where we are today in the story. Blondie's got serious "issues" of the Mommy and Daddy kind, methinks.
Like I said, so much crazy stuff going down in this issue that it would have left me stroking my beard in deep thought if I had a beard. Which I don't. So I just scratched my head and made a "WTF" face (especially at that Bette stuff — what the heck were she and Tony in to, anyway?!). I mean, at least three of the "good guys" are teetering on that raggedy edge separating "good" from "bad" at this point, and you don't know who to root for, let alone what story is true about why Tony went bonkers. One thing's for sure — this title keeps you guessing.
Rating: 4 / 5 Stars
BOOM! Studios provided this issue to Fandomania for review.