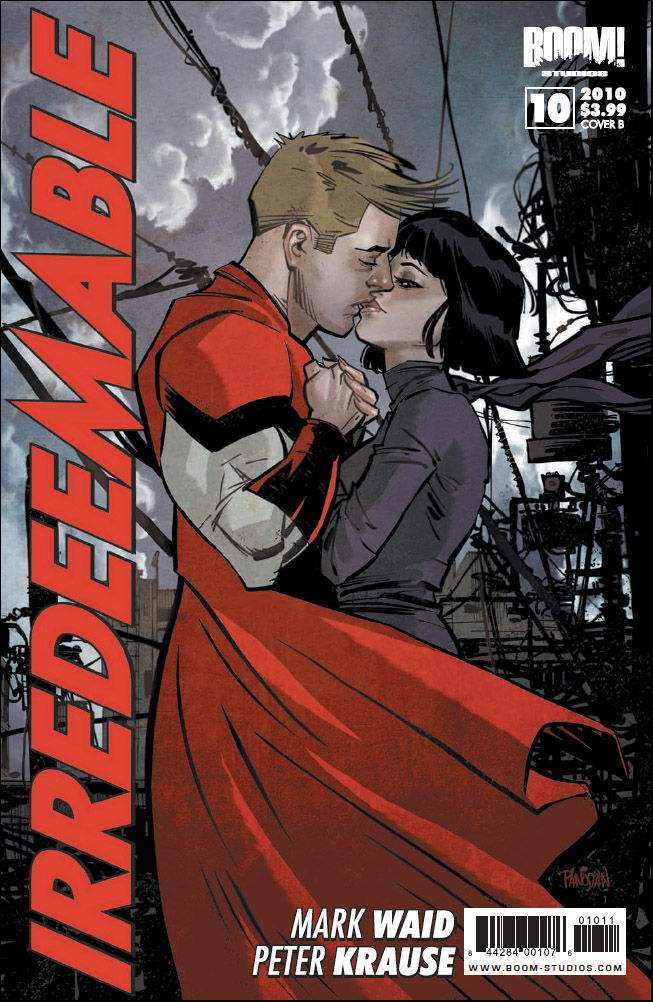 Issue: Irredeemable #10
Release Date: January 27, 2010
Writer: Mark Waid
Artist(s): Peter Krause (pg. 5-8, 13-19); Diego Barreto (pg. 1-4, 9-12, 20-22)
Cover(s): Paul Azaceta with Nick Fillardi, Dan Panosian, Jeffrey Spokes
Colorist: Andrew Dalhouse
Letterer: Ed Dukeshire
Publisher: BOOM! Studios
The Plutonian is still on the loose and still cranky with the world. The Paradigm has completely fallen apart due to lies and secrets. Oh, and Modeus is hiding out in the dead-but-not-dead body of Samsara and is hitting up convenient stores with Tony. I have a feeling things are about to get even more crazy than they had been the previous nine issues.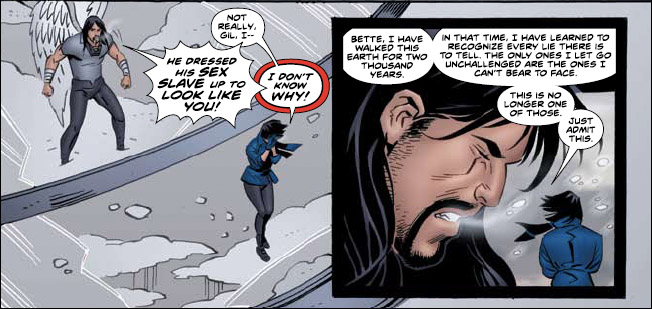 So. This issue just had some weird setup stuff happening. Not weird in that it was a weird place to have a lull in action, but weird in that people are frakked up in the head. Dude.
Bette still won't admit what exactly she and Tony were up to in his Citadel, and why that would cause Tony to dress his sex slave(s) in her clothing. I can understand lying and keeping secrets up to a point. Usually, that point is reached when the person(s) you've been keeping things from finds out about it. I can't figure out why she's trying to keep the lie alive and it is really aggravating and I wish she'd just die already.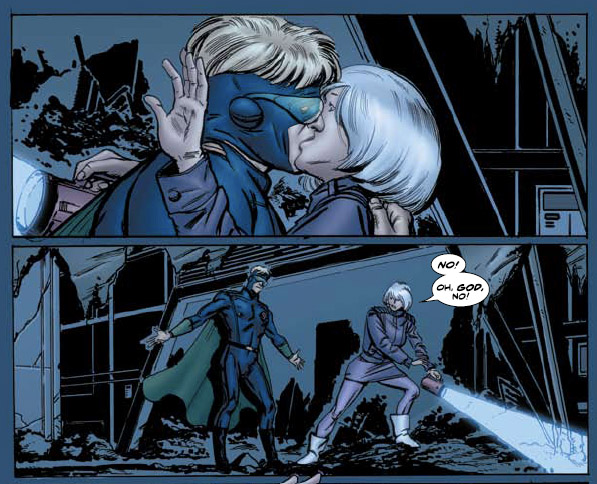 And the weird just kept on coming! Cary (now going by the name "The Survivor") totally makes a pass on Kaidan. His dead twin brother's wife. While they search through the wreckage of The Paradigm HQ for Scylla's body. Some dudes just don't have good timing nor common decency. What goes through your brain to think that your sister-in-law is totally down with sucking face with you days after her husband, your brother, was just killed? Cuckoo for Cocoa Puffs.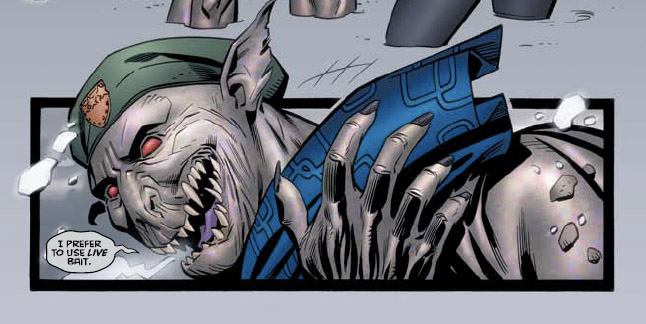 Then there was that weird demon guy those government dudes summoned back in one of the earlier issues showing up again. It's implied the The Paradigm knows who this guy is and that they took care of him once before; however, with a good chunk of the team dead and the rest putting the "fun" in "dysfunctional," demon guy is probably going to go through them no problem. He decides to use Bette as bait (presumably for Tony), but a scuffle with Gilgamos ensues. To keep the demon guy from killing Gil, Bette finally admits that she was sexing it up with Tony, but that turns out not to be the real secret she's keeping.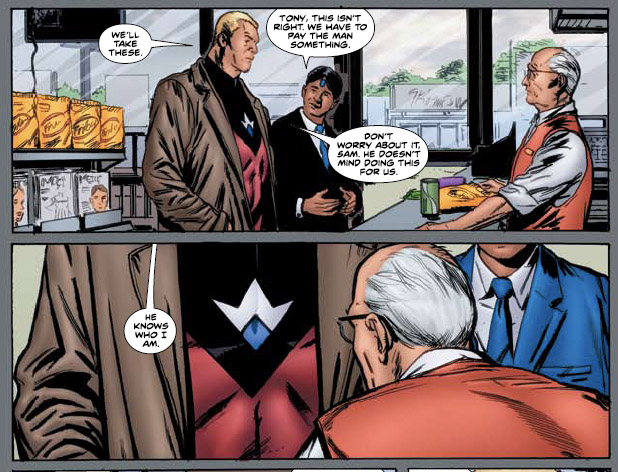 Meanwhile, Tony's divulging childhood memories to Modeus!Samsara. Dude had a messed up childhood, and he probably needed to unload some of that WAY before this point, but come on. He has to know that the Samsara he's chillaxing with isn't really Samsara. I mean, if my BFF lobotomized me I'd like to think I wouldn't be hitting up the nearest 7-11 with him for a Slurpee and a pack of gum. Granted, I'd be lobotomized, but that's besides the point. I supposed making it so that Tony can still be surprised and not already knowing everything makes for a more interesting read.
Rating: 3 / 5 Stars