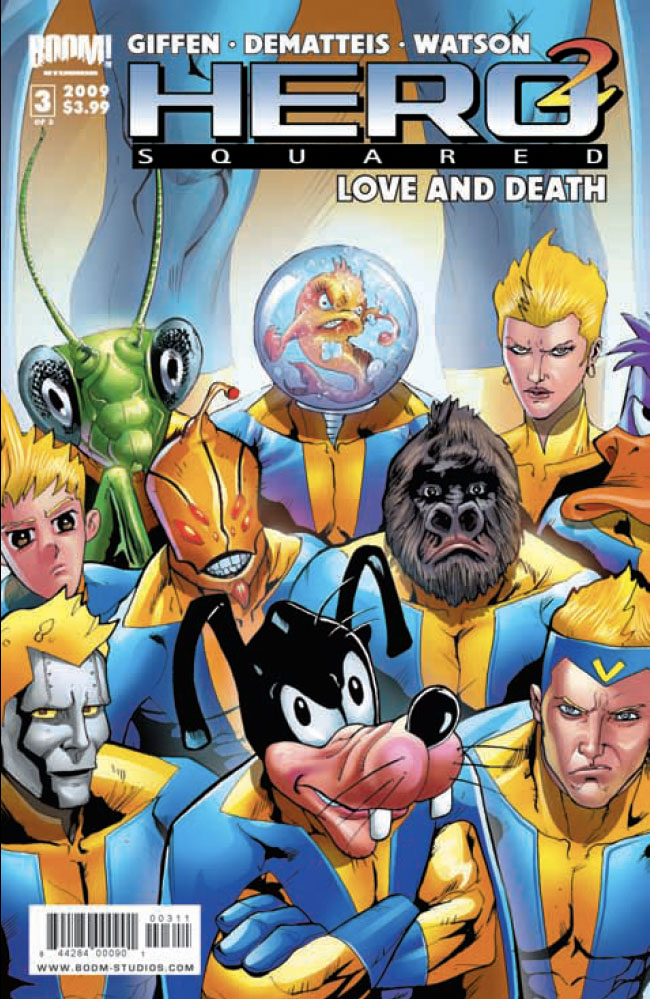 REVIEW: Hero Squared: Love & Death #3 – The End of The End
Release Date: 27 May 2009
Writers: Keith Giffen and J.M. Dematteis
Artist: Nathan Watson
Colours: Digikore Studios
Letterer: Ed Dukshire
Publisher: BOOM! Studios
It's the finale! The swan song! The end of the end! Maybe. It's issue 3 in the supposed last chapter of Hero Squared! There's love, there's death, there's destruction, there's the multiverse folding in on itself, there's … group therapy? Yep, the conclusion to this LOLZ filled series has a little bit of everything in it, just to make sure they didn't miss anything the first time around.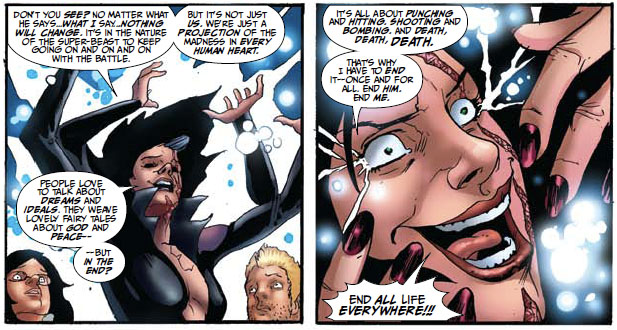 When Milo, his alternate self Captain Valour (a super hero), his ex-g/f Stephie, and her alternate self Caliginous (a super villain who's also Cap't Valour's ex-g/f – you still with me?) are in the middle of a group therapy session, Caliginous totally loses her marbles and proceeds to try and kill everyone/thing in the entire multiverse. As one is wont to do when they're a woman scorned. Obviously. However, this wouldn't be subtitled Love & Death if there wasn't a bit of loving in the issue.
And that's where the story falls flat on its ass for me.

I know, *shock* and *gasp* at the sight of the woman with a chunk of permafrost where her heart should be, but this series had been aces with me until those last few pages. The writing was so sharp and funny and biting and snarky. Then the ending comes around, and it was like the guys writing it either got tired of the story line or really thought this wasn't the type of ending that's so overdone it's like gnawing on a piece of leather that once may have been a steak. Maybe I'm missing the complete point of having the series end this way, I don't know. Feel free to let me know if I am because I don't like having the potential end of this amazing series leaving me like this.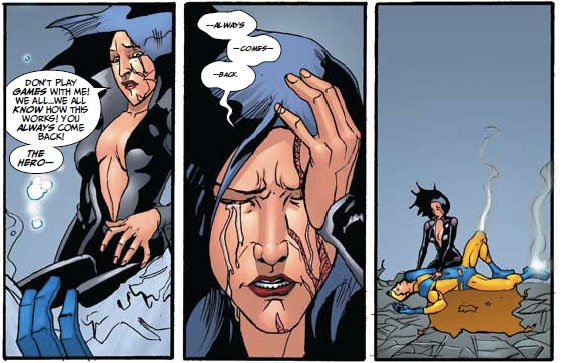 That's not to say there weren't moments where you knew things were going to happen but they still had an affect on you. Everything with Milo and Stephie and their alternate selves was a great read. It was very dynamic and the dialogue is smart. Speaking of the four characters, even though they're essentially the same person, you're never confused by which one is Milo and which is Captain Valour (and the same for Stephie and Caliginous). Yet you can tell they're the same person, so hats off to Nathan Watson for pulling that one off.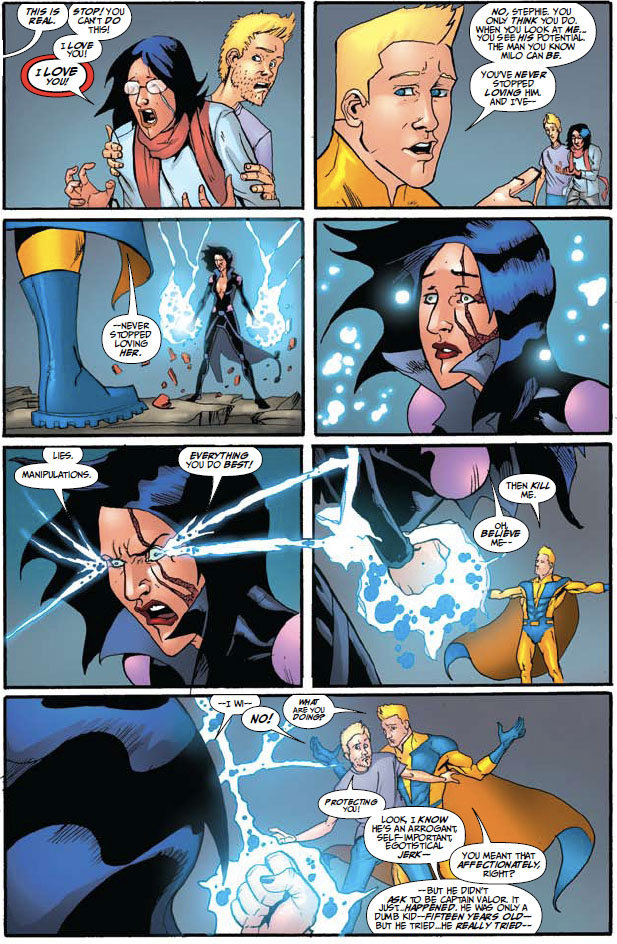 Personally, I'm really hoping the clever description for this issue on BOOM!'s website is correct and this isn't the end of what has been an amazingly clever series.