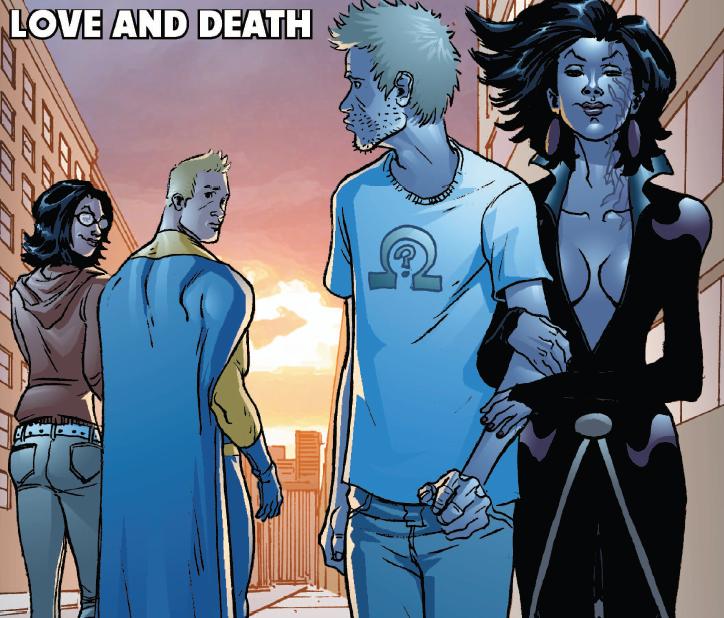 Milo lives in a world where female supervillains have sex with the "average Joe," fanboys steal the costumes of "inordinately mockable" superheroes with cliché monikers like "Captain Valor," and comic book characters are actual beings living in an alternate universe. What's Milo's greatest concern? The havoc wreaked on his personal life when his alternate universe self, a superhero who goes by "Captain Valor," and his girlfriend's alternate universe counterpart, a supervillain known as "Caligious," are transported into his own world after the destruction of their own.
The result is a soap opera of love, pain, and fear that ultimately leads Milo, his girlfriend Stephie, and their counterparts Captain Valor and Caligious to one of the most difficult obstacles any of them may have faced: a group therapy session with Milo's therapist, Dr. Tolstoy. Hero2 Squared: Love and Death is the third (and supposedly final) installment in the Hero2 Squared series from our friends over at Boom! Studios. Written by J.M. DeMatteis (Seekers into the Mystery, Planetary Brigade) and Keith Giffen (Planetary Brigade, Cthulhu Tales) with art by Joe Abraham (Cthulhu Tales: Tainted, Zombie Tales), Hero Squared: Love and Death is hilariously entertaining, mocking the classic comic book superhero genre without taking itself too seriously.
The Major Players

Milo: The antihero of Hero Squared. Milo is an average guy in his mid-twenties: interested in comic books and women, fearful of commitment, and haunted by the skeletons in his closet. When comic book character Captain Valor shows up on Milo's doorstep, his life is turned upside down.
Eustace, a.k.a. Captain Valor: A one-dimensional "superhero" from another universe, hell-bent on the destruction of his ex-girlfriend, Caligious. Self righteous and bullheaded, Captain Valor has a contentious relationship with his counterpart, Milo, after he falls in love with Milo's girlfriend, Stephie (Caligious's double in Milo's universe).
Stephie: Milo's ex-girlfriend. Stephie and Milo dated until Captain Valor — the alternate universe version of Milo — was transported into their lives. When Milo steps out on Stephie with Caligious, Stephie finds herself falling for Milo's otherworldly self, Captain Valor.
Caligious, a.k.a Stephie: A female "supervillain" from an alternate universe who claims to be misunderstood. Difficult to trust, Caligious has two very distinct sides to her personality: Stephie, the wounded, vulnerable girl that Captain Valor once loved and Milo is determined to save, and Caligious.
Although some might view this comic book as hokey, especially after other iterations of Captain Valor begin to show up, including a giant dog version of Valor, Hero Squared is definitely worth reading. Given the amount of exposition given in this 89-page TPB, it isn't necessary to read the first two volumes of Hero Squared in order to follow, and enjoy, Love and Death. Hero Squared: Love and Death hit shelves July 8, 2009. Head over to Boom! Studios' Web site to order your copy today!