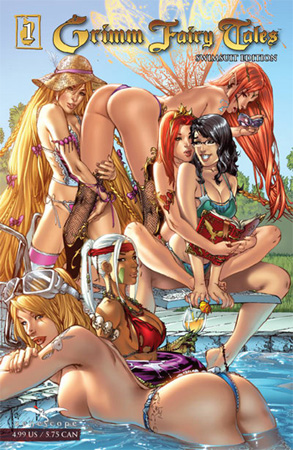 Issue: Grimm Fairy Tales: Swimsuit Edition #1
Release Date: July 21, 2010
Artists: Eric Basaldua, Al Rio, Daniel Leister, Nei Ruffino, Tim Seeley, and more
"Pool Party at the Rock Hard Hotel"
Writer: Joe Brusha
Artist: Altercomics Studios
Colors: Andrew Elder
Letterer: Bernie Lee
Cover A: EBAS (Colors: Nei Ruffino)
Cover B: Mike Debalfo (Colors: Jose Cano)
Publisher: Zenescope Entertainment
Independent comic book publisher Zenescope Entertainment has released the first ever Grimm Fairy Tales swimsuit issue, featuring pin-ups and spreads of the leading ladies of the Grimm universe as they swim, sunbathe, and frolic in the summer heat.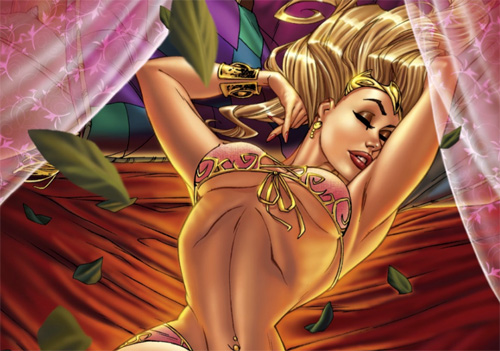 The Grimm Fairy Tales: Swimsuit Edition #1 includes more than twenty-five of these beautiful one- and two-page illustrations that feature fairytale favorites like Ariel, Little Red Riding Hood and Tinkerbell as well as Grimm regulars like Sela Mathers, Belinda, and Calie Liddle. In addition, the swimsuit special includes the never before released 11-page Grimm Fairy Tales short "Pool Party at the Rock Hard Hotel," written by Joe Brusha and illustrated by Altercomics Studios.
A lot of the complaints that I hear about Zenescope's comic books center on the way that female characters are illustrated: they all have tiny waists, large breasts, long legs, perfect hair and teeth, six-pack abdominals, etc. In other words, Zenescope's women are not realistic, nor are they anatomically correct (like Mattel's Barbie, they probably wouldn't be able to support their own weight if they existed in the real world). Personally, I don't have a problem with this type of illustration (they are comic books, after all). In fact, I admire the consistency of illustration style that exists across Zenescope's various series, especially when different artists are involved.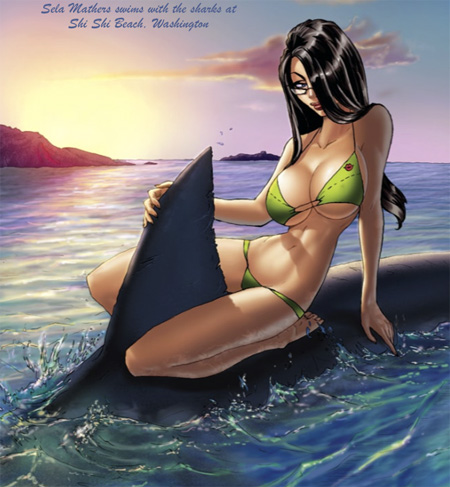 Grimm Fairy Tales: Swimsuit Edition #1 is a fantastic example of the publisher's ability not only to recruit talented comic book illustrators and colorists, but to find talent capable of reproducing the company's signature style in creative, unique ways. The 48-page book features the work of more than twenty of the comic industry's greatest illustrators and colorists, including Hack/Slash creator Tim Seeley, colorist Sanju Nivangune, Gen13 and DV8 artist Al Rio, and comic artist Jeff Zornow.
Although there are more than twenty-five different pin-ups and spreads in Swimsuit Edition #1, several of the illustrations really stand apart from the others, particularly those that feature a character only seen once in this issue. My personal favorites are "The Wicked Stepmother and her very happy mirror" (Tim Seeley and Sanju Nivangune), an illustration of the evil queen from the Snow White fairytale as she stands before her magic mirror in nothing more than some very skimpy underwear and her crown; "Sela Mathers swims with the sharks at Shi Shi Beach, Washington" (Julia Senecal and Sanju Nivangune), which depicts the Grimm Fairy Tales character astride the dorsal fin of a giant shark, clad in a barely-there lime green bikini; "Sweet dreams… xoxo, Sleeping Beauty" (Khary Randolph and Sanju Nivangune), a classic pin-up style two-page spread that features the blonde beauty poised coyly on a satiny bedspread; and "Belle 'Beauty' and the Beast take a stroll on Poipu Beach, Hawaii" (Al Rio and Sanju Nivangune), an illustration of a Beast straight out of Greek mythology walking down the beach with Belle balanced on his shoulder.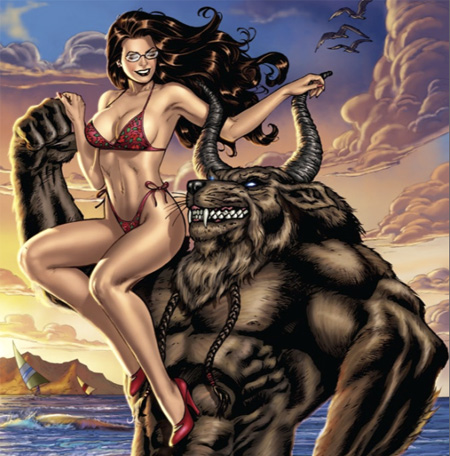 The Grimm Fairy Tales: Swimsuit Edition #1 is pretty much what you would expect of a swimsuit issue of a Zenescope comic book: hot babes in tiny bikinis (or no clothes at all). Is that a bad thing? Not necessarily. The swimsuit special allows readers normally preoccupied by the visual aspect of a Grimm universe comic to focus entirely on the visual representation of the characters without the "distraction" of a storyline.
Rating: 4 / 5 Stars