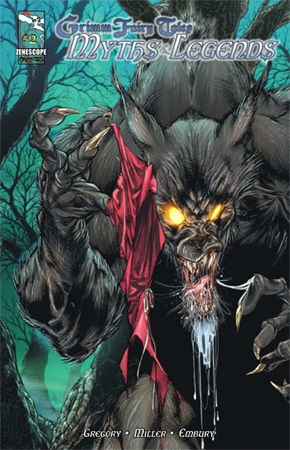 Issue: Grimm Fairy Tales: Myths & Legends #2
Writer: Raven Gregory
Artwork: David Miller
Colors: Jason Embury
Letters: Jim Campbell
Cover A: Angel Medina
Cover B: Eric Basaldua & Nei Ruffino
Original Release: March 2, 2011
Publisher: Zenescope Entertainment
Last week, Zenescope Entertainment released the second issue of its most recent Grimm Fairy Tales spinoff series, Myths & Legends. In the first issue, readers were introduced to Britney, the pretty female protagonist who works at the Sidewell treatment facility for screw-up, mentally unstable, rich teenagers. Grimm Fairy Tales: Myths & Legends #1 closed with the gruesome death of one of the treatment center's night staff, and Myths & Legends #2 picks up the next morning as the day staff, including Britney, are arriving for work and after police have arrived to investigate the incident.
As a result of the brutal attack (and the facility head's stinginess), the patients at Sidewell are confined to the building and not permitted to go outdoors. The facility staff and local sheriff's department seem confident that keeping everyone inside will prevent any further animal-related incidents, and the fact that a dangerous storm is heading in the direction of the treatment center seems like a good sign that they're making the right decision. But staying inside the building is only a good idea if nothing has had a chance to get inside…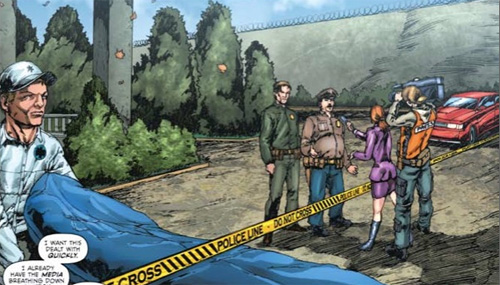 Of course, no one at the Sidewell facility considers the idea that the "animal" that attacked one of their coworkers could get into the building, never mind thinking to check the building to make sure it isn't inside already. With the recent death, the impending storm, and restricted mobility both the staff and the patients at the treatment center are on edge. In fact, Britney and her coworkers are so busy dealing with patients like Annie, an abused foster child with compulsive self-mutilation tendencies who attacks an orderly because he won't allow her to go outside, that they don't even notice as staff members begin to go missing, one by one.
In my experience, the original Grimm Fairy Tales series isn't a particularly bloody or violent one. Its Myths & Legends counterpart, however, certainly doesn't shy away from graphic blood and gore, which took me by surprise at first. It was a pleasant surprise for me, but I've read numerous gory comic books and as a result the kind of images seen in this comic don't upset me in the least. But for those readers familiar with Zenescope's other Grimm Fairy Tales related series, the gruesome scenes of death and dismemberment depicted in Myths & Legends #2 might be a bit startling, so it's good to keep this in mind when you're deciding if you want to read the series (this one's definitely not for kids).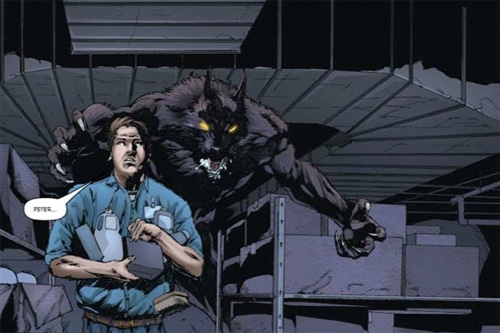 The second issue of Myths & Legends follows in the footsteps of the first, displaying the same fantastic illustrations, vibrant colors, and well executed writing as its predecessor, providing a good indication that this spinoff will continue to be a worthwhile read. The series's creative team, composed of writer Raven Gregory, artist David Miller, colorist Jason Embury, and editor Ralph Tedesco, works extremely well together to produce a plot-driven, rather than an illustration-driven, comic book series that nevertheless features the type of striking, provocative artwork that Zenescope Entertainment is known for. After reading a lot of Zenescope comics, I am most impressed by the substance present in each issue of Myths & Legends thus far. If the rest of the series remains as strong as the first two issues, then Zenescope Entertainment has another winner on its hands, and I know I can't wait to see what comes next.
Rating: 4 / 5 Stars