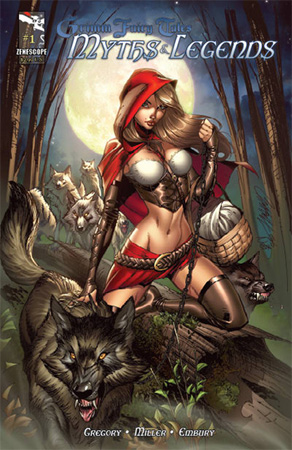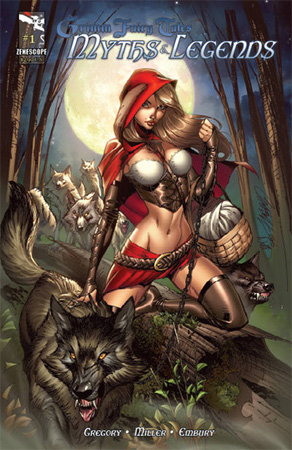 Issue: Grimm Fairy Tales: Myths & Legends #1
Writer: Raven Gregory
Artwork: David Miller
Colors: Jason Embury
Letters: Jim Campbell
Cover A: J. Scott Campbell & Nei Ruffino
Cover B: Eric Basaldua & Nei Ruffino
Cover C: Mike DeBalfo & Nei Ruffino
Editor: Ralph Tedesco
Original Release: January 19, 2011
Publisher: Zenescope Entertainment
Last week, Zenescope Entertainment released the second issue in its latest Grimm Fairy Tales spinoff series, Grimm Fairy Tales: Myths & Legends. Before I tell you what I think of issue #2, though, let's take a look at the series's first issue, which hit shelves in mid-January of this year.
Back in December I had the opportunity to speak with writer Raven Gregory, the mastermind behind this new Grimm Fairy Tales spin-off series. At that time, Gregory told us that the first story arc of the Myths & Legends series would deal with the old "Little Red Riding Hood" fairytale, but promised a new spin on the familiar story. If Myths & Legends #1 is anything to judge by, then Gregory certainly wasn't lying about breathing new life into the old fairytales; in the inaugural issue of the publisher's new series readers are (re)introduced to Britney, the heroine from the first issue of the original Grimm Fairy Tales comic series. In Myths & Legends #1, strange and violent things begin happening at the treatment center for wealthy, privileged, screw-up teenagers where Britney works.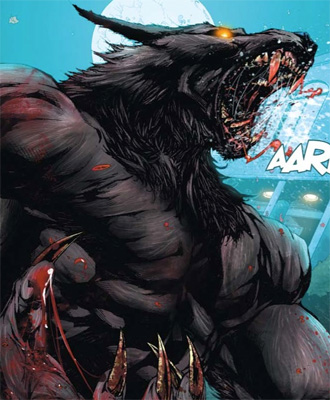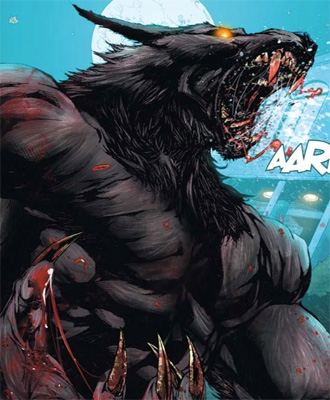 Readers who have seen the various versions of this issue already know about the "big bad wolf", and as in the brilliantly illustrated covers this depiction of the infamous fairytale creature is a far cry from the PG "monster" you may be used to seeing. Like other beings from Myst and the realms beyond, the Myths & Legends wolf is a nightmarish creature with massive jaws and devastating claws, capable of shredding a person (and/or a chain link fence) with little more than a swipe of an oversized paw. Unbeknownst to our protagonist, the wolf has hunted her down and will stop at nothing until it finds and destroys her.
Grimm Fairy Tales: Myths & Legends #1 boasts more than a killer (pun intended) villain: the teenagers living in the treatment center where Britney works remind me of characters from other comic book series like Mark Waid's Irredeemable. The patients in the center are young, attractive (with only one exception: a binge eater), and completely spoiled. Each one has a different psychological and/or social problem, and for a group of supporting characters they provide a very intriguing and entertaining backdrop for the issue's main storyline.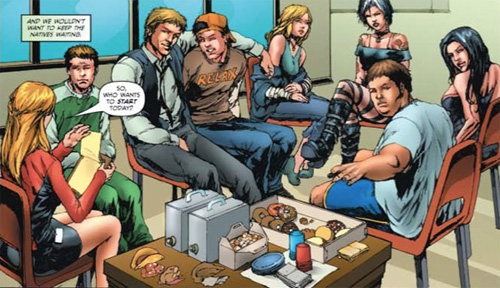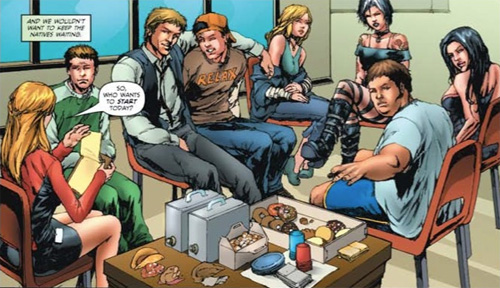 Series writer Raven Gregory did a fantastic job with Grimm Fairy Tales: Myths & Legends #1, especially with regard to how the issue is structured. Readers are introduced to each of the troubled teenagers that Britney works with through a combination of narrative exposition and excerpts from patient case files. By the close of the issue, the reader has a sense of each of these supporting characters, as well as of Britney and her colleagues and the trajectory of the story. At that point, the issue provides a more in-depth look at each of the files that readers saw in bits and pieces throughout Myths & Legends #1.
Although I've enjoyed the majority of the Grimm Fairy Tales spinoff series I've read, many of them feel a bit like throw-away series due to the fact that they're only four or five issues long. Keeping in mind that Myths & Legends was slated to be an ongoing series from the start, I was optimistic about the spinoff, but still unsure quite what to expect. After reading the first issue, however, I'm really excited to see where Myths & Legends goes in the next few issues. As always, the illustrations are gorgeously rendered, and the storyline for this issue is strong. I think keeping Raven Gregory in the writing seat for this series is going to prove an excellent move by Zenescope overall, and I'm looking forward to seeing what's in story for Britney and her patients.
Rating: 4.5 / 5 Stars