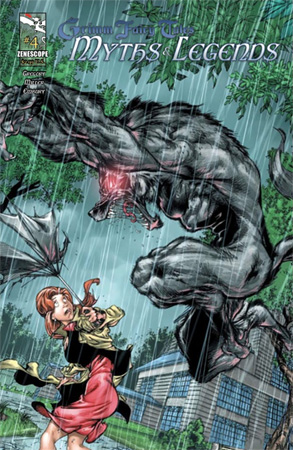 Issue: Grimm Fairy Tales: Myths & Legends #4
Writer: Raven Gregory
Artwork: David Miller
Colors: Jason Embury
Letters: Jim Campbell
Cover A: Angel Medina & Milen Parvanov
Cover B: Al Rio & Jose Cano
Cover C: Al Rio & Jose Cano
Cover D (Zenescope Exclusive): Nei Ruffino
Cover E (Dynamic Forces Exclusive): Angel Medina
Publisher: Zenescope Entertainment
The fourth issue of Zenescope Entertainment's newest ongoing comic book series, Grimm Fairy Tales: Myths & Legends, features what definitely is my favorite cover from the series to date. Cover A, created by illustrators Angel Medina and Milen Parvanov, depicts the monster that is stalking Britney and the staff and patients of the Sidewell facility in the werewolf-like shape it often takes when terrorizing its victims. For those of you that are unfamiliar with depictions of the beast released thus far, this version of the creature looks like the werewolf version of Arnold Schwarzenegger at the peak of his bodybuilding days — an unusual way to depict the type of "big bad wolf" that I believe the series's creators are going for with the illustrations to date.
Grimm Fairy Tales: Myths & Legends #4 opens by giving readers a glimpse into Britney's childhood and some explanation as to why she has always felt like an outcast among her peers, even from a very young age. With each new issue, Myths & Legends gives readers a little more information on the series's protagonist that will help them to understand the motivation behind her present-day thoughts, feelings and decisions. After the walk down memory lane, Myths & Legends #4 returns to the horrifying events currently taking place at the Sidewell facility, where the body count continues to rise as a supernatural monster hunts Britney, her coworkers, and the hospital's troubled inhabitants.
It isn't until they discover the twisted, battered remains of the cars that filled Sidewell's parking lot that the true gravity of their situation begins to sink in and Britney and the other people stranded at the facility realize that they might have to brave the elements and make a run for it on foot through the dense woods that surround Sidewell in order to survive. As one plan after another falls through and everyone at Sidewell becomes increasingly desperate, the beast responsible for all of the gruesome deaths finally reveals itself to Britney and some of the patients. The creature is able to shift its shape to take on the appearance of anyone, making it a very dangerous enemy for the dwindling group of people it is stalking as none of them can tell whether they are standing next to a friend or colleague or a creature about to rip them from stem to stern.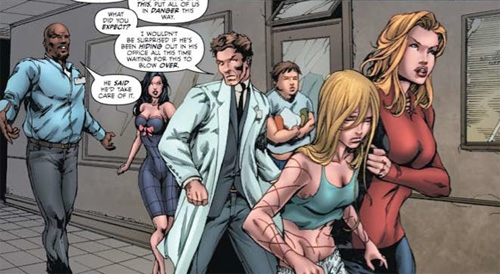 At this point in the series, it looks as though no one is going to make it out of Sidewell alive except maybe Britney (I can't imagine that she'd be killed within the first five issues, anyway), but I'm certainly not complaining about the number of deaths or the blood and gore seen in the series thus far. Writer Raven Gregory is doing a fantastic job with the series, and each of the artists and colorists that have contributed thus far have brought his story to life in vibrant colors and the type of stylized illustrations we've all come to expect and love from Zenescope Entertainment comics. The way that the first four issues of the series are structured is sure to pique readers' interest and make them invested in uncovering what exactly this monster is and why it has come for Britney in the first place.
Whether you're new to the Grimm Fairy Tales universe or you've been reading Myths & Legends since it was first released, I recommend keeping an eye on this series. There is a great deal of potential with this storyline and group of characters, and I think that this is going to follow in Grimm Fairy Tales's footsteps in terms of becoming better and better with each subsequent issue.
Rating: 3.5 / 5 Stars