Issue: Grimm Fairy Tales #59
Writer: James Patrick
Artwork: Carlos Granda
Colors: Studio Cirque
Letters: Bernie Lee
Cover A: Pasquale Qualano & Sanju Nivangune
Cover B: Steven Cummings & Studio Cirque
Cover C (Philly-Comic Con Exclusive): Franchesco
Publisher: Zenescope Entertainment
At the end of Grimm Fairy Tales #58, Orcus presented the citizens of Tallus with an offer: he and his army will spare the lives of the city's children if the citizens deliver Sela Mathers and her companions, Bolder and Blake, to Orcus and his men. As readers have seen in previous issues, Sela does not have enough control over her magical abilities to rescue herself and her friends without killing all of the innocent citizens that threaten them; fortunately, Tallus's High Priestess, Druanna, seems to be on Sela's side. In an unprecedented display of power, Druanna stops the angry mob from slaying our heroine on the spot, instead tasking Tallus's somewhat pathetic king with the responsibility of deciding whether or not to accept Orcus's offer.
Grimm Fairy Tales #59 provides readers with a more in-depth look at the King of Tallus, who spent his youth acting like a "selfish and entitled ass", as his father once told him. The King's background as a spoiled playboy has not prepared him for the role he must play now in deciding the fate of other human beings, and he is wracked with self-pity and guilt over his impending decision. The King has Sela, Blake, and Bolder locked away in the castle's dungeon while he meditates on Orcus's offer, but the entire deliberation proves moot when Druanna steps in to save Sela, who she views as the city's savior.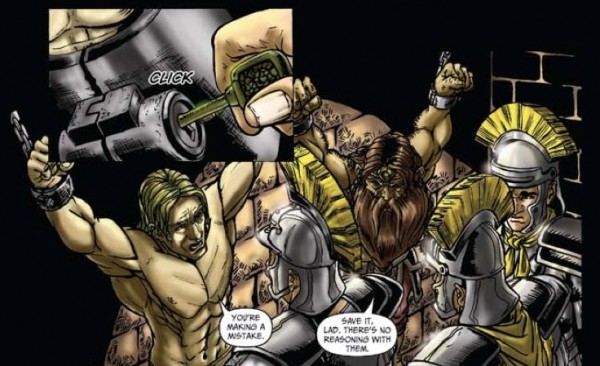 While Druanna displays for the first time the full extent of her powers — simultaneously confirming Bolder's suspicions about who this High Priestess really is — her actions also reveal how weak she has become over the years. Even the large luxurious garden that the Priestess created in Tallus cannot provide her with enough energy to sustain the full extent of her powers, and Druanna's exertion leaves the city of Tallus and its citizens with no one but their pathetic excuse for a King and the very individuals that they tried to kill for protection as Orcus orders his army to attack.
As those of you familiar with my reviews of the past several issues of Grimm Fairy Tales already know, my prediction that Zenescope would draw out the events leading up to the inevitable good-vs.-evil war that will take place when Orcus and his army attack Tallus seems to be correct, as we're now looking forward to the release of the series's sixtieth issue and the battle has yet to begin. To be cliché, however, I have to remind those of you that may be getting antsy that "All good things come to those who wait" because I'm pretty sure that the battle for Tallus is going to prove the most epic of the Grimm Fairy Tales universe to date. Whether the battle will span more than one issue or whether it will be as bloody as some of the series's spin-off comics are I cannot say, but I do have my fingers crossed that Sela and the rest of our heroes will be spilling a great deal of monster blood before the seventieth issue.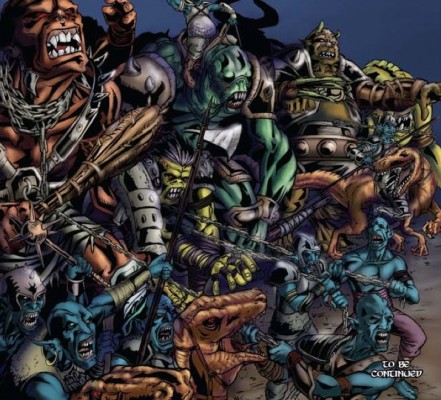 Regardless of how the battle for Tallus turns out, however, readers can rest assured that Grimm Fairy Tales will continue to be a fantastic read as Zenescope's summer crossover event, The Dream Eater Saga, spills over into this series in issues #63 and #64. While the ongoing nature of the Grimm Fairy Tales series indicates that at least one of our heroes will survive the battle at Tallus, there's no telling yet who will make it out alive to be a part of The Dream Eater Saga or how the Dream Eater, Baba Yaga, and the other characters involved in the twelve-issue crossover series will play out.
I've been reading the Grimm Fairy Tales series since the release of issue #40 during the summer of 2009, and in my opinion this series has only continued to improve over the past several years (I have to admit that I was not sold on these comics when I first began to read them, especially given the controversy that the illustration style can incite among readers and reviewers alike). Now Grimm Fairy Tales is building up to what may be the most far-reaching events in the series yet, and I am confident that it will be both shocking and entertaining. Even if you are not a regular reader I recommend that those of you that enjoy comic books start paying attention to Grimm Fairy Tales (if you need some help in understanding the various important characters, locales, etc. in the series then pick up a copy of Grimm Fairy Tales Presents: The Dream Eater Saga Prelude, which contains character biographies, explanations of each of the power realms, and descriptions of the various classes and factions that exist in the Grimm Fairy Tales universe) very soon if you haven't already.
Rating: 3.5 / 5 Stars