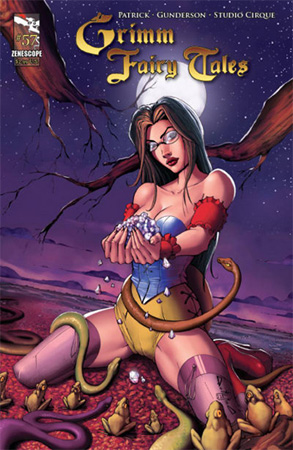 Issue: Grimm Fairy Tales #57: Diamonds and Toads
Writer: James Patrick
Artwork: Jordan Gunderson, John Toledo
Colors: Studio Cirque, Jeff Balke
Letters: Bernie Lee
Cover: Pasquale Qualano, Studio Cirque
Release Date: March 2011
Publisher: Zenescope Entertainment
After finally besting the Goblin Queen in Grimm Fairy Tales #56, Sela and her dwarf companion Bolder return to Blake, Realm Knight of Wonderland and one of the last remaining members of the High Council, to decide what to do next. Although she held up her end of the bargain with Morrigan (Death) and managed to outdo the Goblin Queen, Sela's quest to save her husband, Erik, by finding his soul and returning it to his lifeless body is far from over.
Reunited with Blake, Sela expresses her desire to travel to the city of Tallus, where she hopes to find the High Priestess — an individual that may be able to aid her in her quest for Erik's soul. Blake is also determined to reach Tallus, but for a different reason: the dark force that plagues the fairy tale realm of Myst is lead by Orcus, an evil being that wishes to regain control over the realm and exact revenge upon all those who cast him out. Taking Tallus is the key to gaining control of Myst, and Blake intends not only to reach the city before Orcus and his army, but to make a stand there in an effort to stop the inevitable onslaught.

Meanwhile, Orcus is faced with two tasks: first, to orchestrate his attack on the city of Tallus, and second, to placate his second-in-command, Gruel, long enough to carry out the attack. Gruel became Orcus's servant when his own master, the shape-shifting wizard Morgarzera, was killed in an attempt on Sela's life, and the wizard's pupil is growing impatient waiting to exact his revenge upon those responsible for his master's death.
Grimm Fairy Tales #57 presents readers with the classic fairy tale "Diamonds and Toads", which is revealed to be Gruel's origin story. At one time an insolent and lazy young boy, a terrible curse and Gruel's violent and corrupt actions over the years caused him to mutate into the hideous, vengeful beast that now serves Orcus and his army. Personally, I've never heard the "Diamonds and Toads" tale before, but it has all the characteristics of other traditional fairy tales that I am familiar with, so I'll take Zenescope Entertainment and writer James Patrick's word that it really is a "classic fairy tale".
The line art for issue #57 is provided by Jordan Gunderson and John Toledo with colors by series regular Studio Cirque as well as Jeff Balke, all of whom do an excellent job maintaining the visual continuity of the series's characters both in style and vibrancy. The bold colors displayed in Grimm Fairy Tales #57 is characteristic of many of the comic book series published by Zenescope Entertainment, and it's my favorite aspect of this particular series. Whether viewed electronically or in either single-issue or trade paperback format, the illustrations provided by artists like Gunderson and Toledo pop off of the pages (or screen) when presented in the bright, bold color scheme provided by Studio Cirque and Jeff Balke.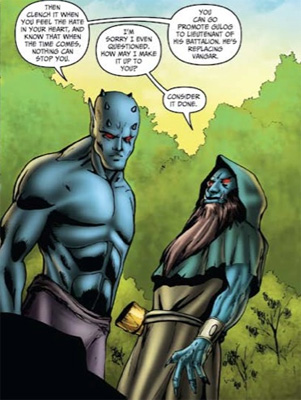 Those of you that have read any of my previous Grimm Fairy Tales reviews likely are aware of my affinity for longer single-issue comic books, but as I've alluded before the series's writers seem to be packing a bit more into each installment as Grimm Fairy Tales nears its sixtieth issue. While I maintain that purchasing the collected volumes of this series is better than buying it on an issue-by-issue basis, I want to be sure that our readers know that this is a worthwhile series, regardless of how you choose to read it.
On an interesting side note, I want to point out that I've finally figured out why Orcus and the dark army seem so familiar to me (and perhaps to some of you, as well): the bulging muscles, blue skin, and bald head of Orcus and many of his soldiers and scouts resembles the appearance of the character Panthro from the popular 1980s animated television series Thundercats! Whether the similarity is intentional or accidental, it's one that I approve of and applaud the series creators for introducing.
Overall, Grimm Fairy Tales #57 is a solid issue that provides both character and story development, setting the stage for what is likely to be a battle of epic proportions between the forces of good and evil for the fate of the fairy tale realm. Whether the High Priestess will be able to help Sela and the fate of Myst's most grandiose city remains to be seen, making the next few issues of Grimm Fairy Tales must-read installments for old and new fans alike.
Rating: 3.5 / 5 Stars