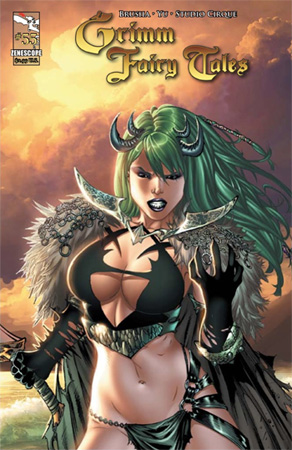 Issue: Grimm Fairy Tales #55: The Goblin Queen
Writer: Joe Brusha
Artwork: Dafu Yu
Colors: Studio Cirque
Letters: Bernie Lee
Cover A: Eric Basaldua & Nei Ruffino
Cover B: Pasquale Qualano & Tom Smith
Cover C (Zenescope Exclusive): Ejay Russell & Studio Cirque
Cover D (Greenville Comics Exclusive): Scott Blair & Studio Cirque
Editor: Ralph Tedesco
Original Release: February 16, 2011
Publisher: Zenescope Entertainment
Grimm Fairy Tales #54: The Grateful Beasts ends with Sela and her companion, Bolder, being led into the presence of the Goblin Queen, who seems intent on feeding the pair to her minions. The next issue in the series, Grimm Fairy Tales #55: The Goblin Queen, opens as Sela and Bolder draw on the Goblin Queen and her "pets" (read: weird little green goblins), who proceed to attack them.
Unfortunately for the goblins, Sela's patience is worn thin after several encounters with orcs and she unleashes the full measure of her power on the creepy little goblins, killing many of them and impressing their Queen. When Sela's exertion proves too much for her, Bolder tries to reason with the Goblin Queen to no avail and the pair are taken prisoner.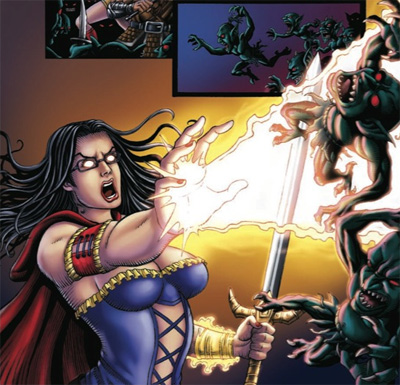 Nearby, where the Dark One's army is camped, a high-ranking servant named Gruel mourns his master, a powerful shapeshifter that lost his life in an effort to kill Sela several issues ago. Gruel is surprised to learn that his master had refused a powerful gift from the leader of the Dark One's army — a gift that bestows immense power upon the holder. Driven by vengeance, Gruel accepts the shadow dragon claw and swears revenge against Sela, trading the last of his humanity for ultimate power.
In true fairytale fashion, Sela awakens to find herself burdened with three new tasks, in addition to the one she came to Myst to complete for Death. The Goblin Queen agrees to spare Sela's life if she completes the desired tasks, leaving the series's heroine little choice if she wishes to return to Death and reunite her husband's soul with his lifeless body (the ultimate goal of her seemingly endless quest). Although each task seems impossible, Sela completes the first two with the help of the animals that she saved in the last issue. When the Goblin Queen presents Sela and Bolder with their final task, it seems that the pair may finally have met their match… but we'll have to wait until Grimm Fairy Tales #56 is released to find out for sure.
In my opinion, the Goblin Queen is the most intriguing character introduced in the series in quite some time and Grimm Fairy Tales #55 benefits greatly from fact that she appears so much throughout this issue, rather than making a cameo appearance and then disappearing as some characters do. Of course, it doesn't hurt that the Goblin Queen is smokin' hot, either.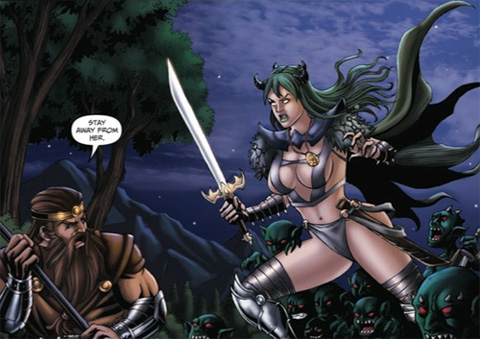 Grimm Fairy Tales #55 features artwork by Dafu Yu, and given my assessment of the artwork in the previous issue, I have to conclude that it was Tess Fowler's contributions to the line art of issue #54 that I didn't care for because I love the visual style and overall feel of issue #55. The Goblin Queen's "pets" are really well done, eliciting the type of creepy feeling that only tiny, red-eyed, green goblins with sharp little claws can. The issue's cliffhanger ending indicates that we'll be seeing more of these little guys in issue #56, but it's not clear whether the Goblin Queen will stick around to see her minions' handiwork. Personally, I wouldn't mind seeing a few more issues feature this character, but I doubt she'll make it into more than the next one, if that.
Of course, Grimm Fairy Tales #55 is just as short as any of its predecessors, but the subject matter and illustrations lead me to be a bit more understanding than I otherwise might be (or maybe I'm finally getting used to the series's pace?). While I still recommend reading the TPB volumes of this series over individual issues, this is one that I would splurge on if you have an extra $2.99 laying around.
Rating: 4 / 5 Stars