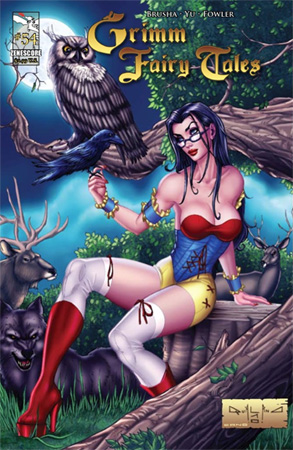 Issue: Grimm Fairy Tales #54: The Grateful Beasts
Writer: Joe Brusha
Artwork: Dafu Yu & Tess Fowler
Colors: Andrew Elder
Letters: Bernie Lee
Cover A: Pasquale Qualano & Jose Cano
Cover B (Winter Wonderland Exclusive): Ryan Hawkins
Editor: Ralph Tedesco
Original Release: December 22, 2010
Publisher: Zenescope Entertainment
In issue #54 of Zenescope Entertainment's Grimm Fairy Tales, Sela remains trapped in the fairy tale realm of Myst. Accompanied by a friendly dwarf, Sela sets off in search of an ancient key. Before the pair has traveled very far, they come across a horde of orcs setting fire to the forest and killing or destroying anything they come across. Fueled by the remnants of a nightmare in which she relived the horde attacking her and Erik when she was still pregnant, Sela loses control and attacks the orcs, unleashing years of pent up anger on them.
Meanwhile, the new leader of the Dark One's army discovers the death of a high-ranking and powerful ally that Sela killed in a previous issue of Grimm Fairy Tales and swears revenge on Sela. Even now, with Sela so close, the Dark One's servants are unaware of how much her power has grown and what a threat she poses to their plan to take over first Myst, and then the realms beyond. Ironically, Sela is also unaware of the extent of her powers, only discovering them when she barrels headlong into a pile of orcs or another equally dangerous obstacle.
In what could be seen as homage to the Little Red Riding Hood fairytale, Sela dons a red hooded cape as she ventures into the snowy passes of Myst's mountains. Somewhat predictably, she and her dwarf companion happen across a wolf tied to some trees and after freeing the creature are led to the Goblin Queen — a powerful being that could act as a great ally, or a terrible enemy.
As with every issue of Grimm Fairy Tales, #54 will leave readers wanting more; not necessarily because the story is so compelling or unique, but simply because each issue is so short and moves rather slowly. For this reason I always suggest the collected volumes of the series to new readers, because they compile a number of issues into a single book so that readers don't have to wait as long between issues to find out what's happening to Sela.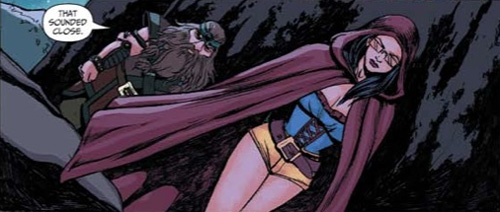 The visual presence of Sela and the other characters in Grimm Fairy Tales is well established, although the artists and colorists used for the series often change from issue to issue. In Grimm Fairy Tales #54, Dafu Yu and Tess Fowler provide the line art with colors by Andrew Elder. Personally, I like the way some of the other artists that frequently work on the series illustrate its characters, but I can't complain too much when I come across an issue that doesn't strike me visually given the continuity that the series displays (as opposed to some ongoing series that feature numerous artists in which the way the characters are drawn differs greatly based on the style of the individuals involved).
Overall, Grimm Fairy Tales #54 is a standard example of what Zenescope's longest-running series has to offer readers. If you can pick up the TPB volumes of the series then I highly recommend checking it out, and for those of you that have been reading the series on an ongoing basis I can assure you that you're going to like what this issue has to offer, especially if you've acclimated to the amount of the storyline offered in each issue.
Rating: 3 / 5 Stars