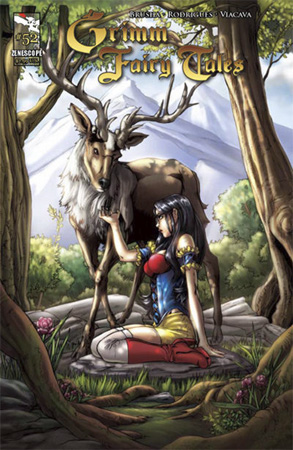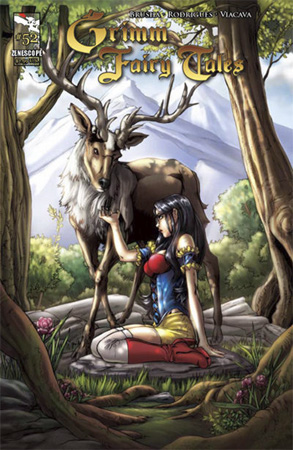 Issue: Grimm Fairy Tales #52: The Golden Stag
Release Date: November 3, 2010
Writer: Joe Brusha
Artist: Roberto Viacava
Colors: Studio Cirque
Letterer: Bernie Lee
Cover A: Steven Cummings
Cover B: Pasquale Qualano (Long Beach Comic Con "Day of the Dead" Exclusive Variant)
Publisher: Zenescope Entertainment
Grimm Fairy Tales #52 brings readers the second half of the Glass Coffin subplot that began in the previous issue. Sela and Blake receive an unexpected, and unwelcome, visitor who has an intriguing proposition for Sela that may allow her to retrieve Erik's soul and reunite it with his lifeless body. Hoping that she can do just that, Sela ventures into the magical realm of Myst, where the forces of evil are wreaking havoc on the realm's peaceful beings.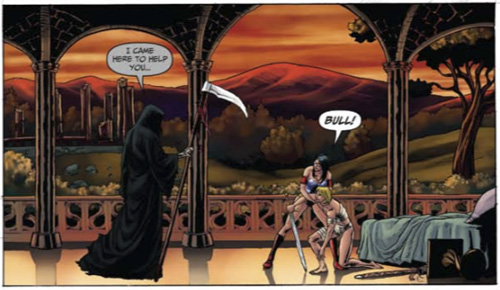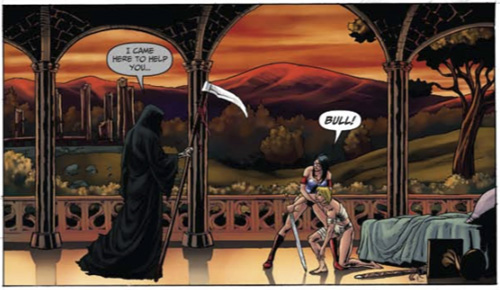 Story
The fifty-second installment of the Grimm Fairy Tales series tells what is essentially a new story — namely, the continuation of Sela's journey — using elements of classic fairy tale stories as a foundation. The problem with this particular issue of Grimm Fairy Tales isn't the story itself, but rather the interaction between the characters. Arguably, Sela is the main protagonist of the main Grimm Fairy Tales series (although the storylines deviate from her exploits from time to time), yet for some reason Sela's companions continue to treat her as though she's completely incompetent.
It's understandable that a character like Blake would want to protect Sela and caution her against returning to Myst, but the way he expresses his feelings to our heroine feels contrived and repetitive. Perhaps the most succinct example of Blake's thinly veiled lack of confidence occurs just before Sela leaves for Myst:
Blake: And Sela…
Sela: Yes?
Blake: If you see Morgarzera don't try to fight him… just run.
Sela: Thanks for the vote of confidence, Blake. Please try to hide your surprise when I make it back in one piece.
Blake laughs.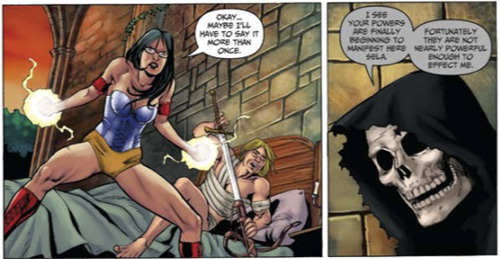 I know that the women of the Grimm Fairy Tales series look like they just walked out of an animated pinup calendar (you can't deny that Sela's usual attire isn't the most practical for traversing the realms of reality and taking on monsters and other evil creatures), but Sela is a relatively intelligent young woman with some very interesting magical powers. The fact that friends like Blake (who is bandaged up and on crutches, barely able to walk after his last battle with the evil horde) continue to treat our protagonist like an impulsive child who doesn't know any better is beginning to grate on my nerves.
Oddly enough, the only character in Grimm Fairy Tales #52 that has any confidence in Sela is Death. Granted, the infamous reaper has ulterior motives for asking Sela to help him and a realistic sense of the danger that she faces in Myst, but it's undeniable that he believes that she has a chance of coming back "in one piece," as Sela says. As far as portrayals of Death go, I thoroughly enjoy Viacava's depiction of the age-old character.
Illustrations
Grimm Fairy Tales #52 conforms to the visual style that Zenescope readers have come to know and love since the company's inception in 2005. This of course means that the women are busty and scantily clad, the colors are vibrant, and there is strong continuity in the representation of the characters. The Grimm Fairy Tales comics present images in a style that I refer to as "realistic cartoon" — i.e. a stylized realism that allows humans to look distinctly human and other, non-human beings to exist alongside regular people without looking out of place.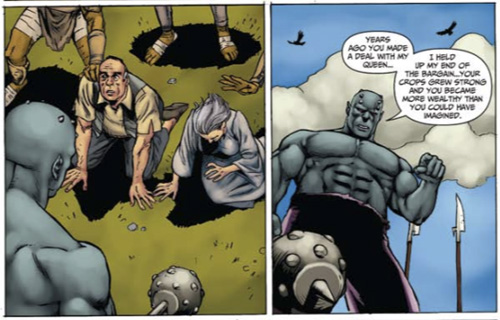 Overall
As usual, Grimm Fairy Tales provides readers with a beautifully illustrated comic book issue that contains only a small amount of the overall story. Readers who are unfamiliar with the series may feel disappointed when they reach the end of the issue, but those of us who have followed the series for some time now are used to the pace and won't be disappointed with the length and content of issue #52. Ultimately, Zenescope has an excellent series on their hands with the Grimm Fairy Tales stories and its spin-off series, and breaking the story into smaller pieces for publishing is more genius than annoying when considered from a marketing perspective. Although they may have to wait a bit longer, readers who favor reading more of the story in one sitting inevitably will be drawn to the series collected volumes, while those who cannot wait to see what happens next will jump at the new issues whenever they are released.
Rating: 3 / 5 Stars