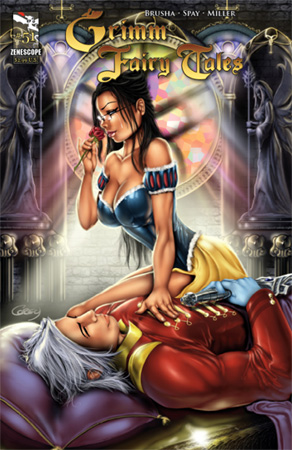 Issue: Grimm Fairy Tales #51
Publication Date: October 6, 2010
Created and Story By: Joe Brusha and Ralph Tedesco
Writer: Joe Brusha
Artist: Anthony Spay & David Miller
Colors: Tom Smith
Cover A: Corey Knaebel
Cover B: Mike DeBalfo & Sanju Nivanguane (NYCC '10 Exclusive "Belinda" Variant)
Cover C: Mike DeBalfo & Sanju Nivanguane (NYCC '10 Exclusive "Sela" Variant)
Cover D: Mike DeBalfo & Nei Ruffino (Zenescope Exclusive "Snake" Variant)
Publisher: Zenescope Entertainment
My biggest complaint about Zenescope Entertainment's Grimm Fairy Tales series is the length of each individual issue. Despite running approximately 25 pages, each issue of this series contains only a small amount of the overall story, making development of the series's overarching themes crawl at a snail's pace. Of course, granting more page real estate to images, rather than text and dialogue bubbles, allows Zenescope to highlight the exceptional talent of its myriad comic book artists, but the question remains as to whether such artistic decisions hurt the sale of individual issues.

Of course, individual issue sales is not a concern for Grimm Fairy Tales #51: "The Glass Coffin, Part 1," which features four unique, collectible variant covers. In addition to the issue's standard cover, illustrated by Corey Knaebel, Grimm Fairy Tales #51 is also available with two special collector's edition NYCC '10 covers: a "Belinda Football" variant (only 500 copies available) and a "Sela Football" variant cover (only 500 copies available), both illustrated by Mike DeBalfo and Danju Nivanguane. The fourth variant cover available is a Zenescope "Sela Snake" variant (only 500 copies available) by Mike DeBalfo and Nei Ruffino, and while the standard issue runs at an affordable $2.99, each of the special edition variant cover versions are sold by Zenescope for $14.99 (and significantly more than that from other vendors). Also available from Zenescope are two limited edition 13"x19" archival art prints, one Issue #51 featuring Sela and a NYCC '10 featuring Belinda. Only 100 of each of these prints are available and they can be purchased from the publisher for $40.00 per print.
In the aftermath of the great battle in Grimm Fairy Tales #50, Sela finds herself trapped in the fairy tale realm of Myst. In addition to the very real possibility that she will never be able to return to Earth, Sela is more lonely than she has ever been. As if that were not enough, Sela also is the only one capable of bringing Prince Erik back from beyond the gates of Death's realm. Just as Sela readies herself to embark to Death's realm in search of Prince Erik, she is faced with yet another foe: a dangerous king with an illogical vendetta against the raven-haired beauty. This king has served the "Dark Master" for ages, doing his bidding and waiting to be rewarded with his own kingdom and land on Earth. Now that Sela and her friends have destroyed all the portals between Myst and Earth, however, the king must wait longer and in the meantime he has decides to take out his anger on Sela.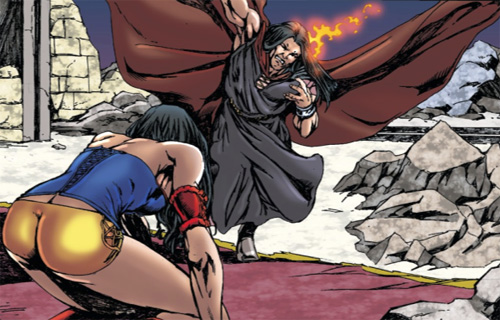 Per usual, the illustrations in Grimm Fairy Tales #51 are outstanding and, gripes about the story's length aside, the issue is well-done. The majority of the issue focuses on Sela's new enemy and familiarizing the reader with his place among the Dark Master's followers, and as a result the trajectory for the next few issues holds a great deal of potential. Grimm Fairy Tales #51 and #52 are both available directly from Zenescope Entertainment and wherever comic books are sold. In addition, a special Halloween issue of Grimm Fairy Tales is also available from the publisher: Grimm Fairy Tales Halloween Special #2, complete with four different, and very sexy, covers from artists Al Rio & Jose Cano (Cover A), Erik Jones (Cover B), Eric Basaldua (Special Edition Long Beach Comic Con Cover C), and Mike DeBalfo (Zenescope Exclusive Cover D).
For those of you who enjoy this glimpse into Sela's predicament, Grimm Fairy Tales #52: The Glass Coffin, part 2 pits Sela against servants of the Dark Horde as she travels to Death's realm in search of Prince Erik's soul. With the help of new allies, Sela will face some of the most horrific creatures she has ever seen on her quest to save the man she once loved.
Rating: 3.5 / 5 Stars