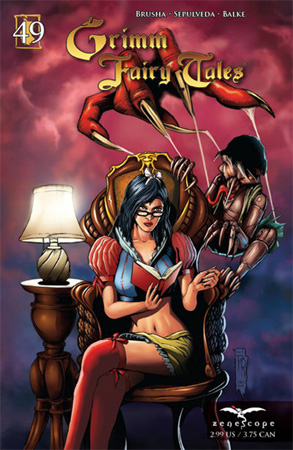 Issue: Grimm Fairy Tales #49
Writer: Joe Brusha
Artist: Claudio Sepulveda
Colors: Jeff Balke
Letterer: Bernie Lee
Cover A: Paul Roper (Colors: Studio Cirque)
Cover B: Steven Cummings (Colors: DJ Mackinnon)
Publisher: Zenescope Entertainment
Issue #49 of Zenescope Entertainment's Grimm Fairy Tales series delves into the history of portals between the various realms in the Grimm universe as series regular Sela Mathers is once again pulled into the fairytale realm known as Myst.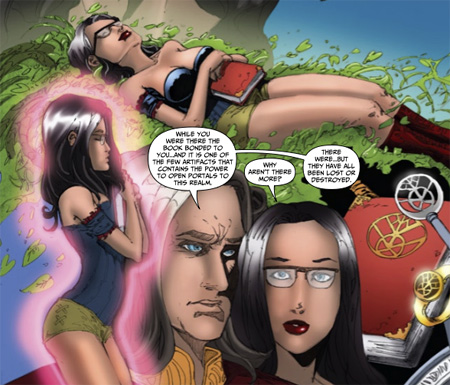 For centuries Sela has used her magical book as a gateway between the fairytale realm and Earth, harnessing its power and magical creatures to teach her lessons. Now Sela finds herself an unwilling participant in an imminent war that threatens to spill beyond the fairytale realm and destroy the Earth. Reunited with her former lover, Erik, Sela must determine the fate of the portals that exist between Myst and Earth, a decision that could save, or doom, the human race.
Grimm Fairy Tales #49 continues a story that began much earlier in the series, and may not be the best read for someone unfamiliar with the existing players and plots, but for those already invested in the Grimm universe the surprise twists in issue #49 will leave you with a burning desire to know what happens in the forthcoming 50th milestone issue of the Grimm Fairy Tales series. As always, the artwork in Grimm #49 is very well done and the illustrations of Sela and the other recurring characters are consistent with their portrayal previous issues of the series.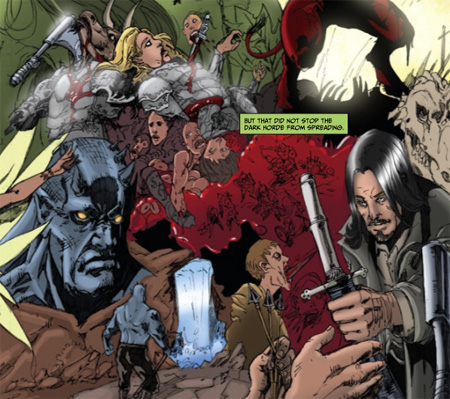 What I found most interesting about this installment of the Grimm Fairy Tale series is how much some of the panels and terminology used to describe the spread of the Dark Horde remind me of other stories, particularly the Xbox 360 game Dragon Age: Origins and the Lord of the Rings movies. Perhaps it simply has to do with the term "Dark Horde" and the Elven bowmen featured in this issue, but the parallels were apparent enough to immediately catch my notice.
That is not to say, however, that Grimm Fairy Tales #49 is a rip-off of either of these popular franchises; rather, the series stands well on its own two feet and will provide interested readers with a solid chapter in the Grimm story. Issue #49 of the Grimm Fairy Tales series seamlessly integrates war, death, fairies, unicorns, betrayal, love, and magic while providing additional background information on both Sela and her connection to the portals between realms.
Rating: 3.5 / 5 Stars