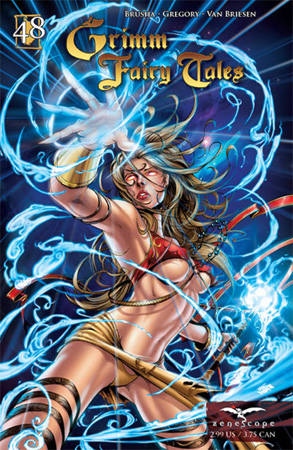 Issue: Grimm Fairy Tales #47
Writer: Joe Brusha
Artist: Shawn Van Briesen
Colors: Studio Cirque
Letterer: Bernie Lee
Cover A: Mike DeBalfo (Colors: Studio Cirque)
Cover B: Franchesco!
Publisher: Zenescope Entertainment
True to form, Zenescope's Grimm Fairy Tales #48 has the same brightly colored, scantily-clad, large-busted female protagonists that the company's comics are best known for, this time bringing back several characters featured in previous issues of the Grimm Fairy Tales series.
In issue #48, readers are reintroduced to an attractive blonde named Samantha. After accidentally killing a man named Richard Delroy and becoming involved in a life-and-death battle between two exceptionally powerful women, Sela and Belinda, Samantha finds herself trapped between Earth and what is known as "Myst," or the "fairytale realm." In this issue, readers will travel with Samantha as she tries to find her way home, traversing a barren wasteland of snow and ice and facing some monstrous creatures along the way.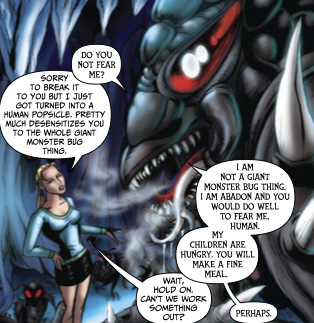 The realism of Zenescope's illustrations is by far the best quality of the majority of the company's comic book series, and the Grimm Fairy Tales line is no exception. Granted, any woman that tried to live in the real world with the same anatomical structure and proportions as Zenescope's saucy leading ladies would probably find herself unable to stand or walk upright (or would at least suffer from some significant back pain), but if we overlook that issue for a moment we can focus instead on how closely the series' illustrations resemble the living, breathing human beings that we interact with on a daily basis (when compared to various other popular comic book illustration styles, that is).
The way that Zenescope's illustrators employ colorful, comic-style drawing while maintaining the realism of the characters they create is the saving grace for many of the company's comic book series. Grimm Fairy Tales #48 is an excellent example of the type of storylines that can leave those readers not obsessed with the characters' giant jugs and tight behinds feeling ambivalent about the series as a whole.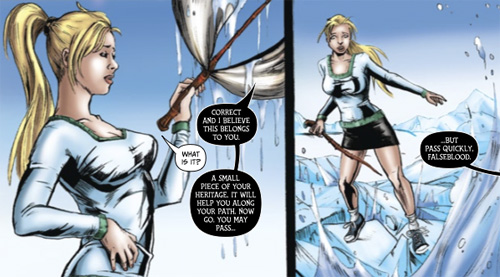 In other words, if someone were to hand you a copy of Grimm Fairy Tales #48, you probably would take the few minutes necessary and read the comic book, if only to peruse the either enticing or enraging (depending on your viewpoint) illustrations within. You might even be motivated to read the comic based on your interest to see whether the issue features a more adult take on fairy tales that you remember from your own childhood. Would anyone other than a die-hard Grimm Fairy Tales fan actively seek out this issue? In my opinion, probably not.
Ultimately, Grimm Fairy Tales #48 is worth a read if you happen across a copy in a comic book store or at a friend's house. The story is forgettable, but the illustrations are well-worth a peek as long as you aren't an ultra-feminist who will be offended by the stereotypical and idealistic way female characters are illustrated. It's unclear whether the comic book market is still dominated by adolescent males, but it seems as though Zenescope has targeted that particular audience for many, if not all, of its comic book series. Consider yourself warned.
Rating: 2.5 / 5 Stars