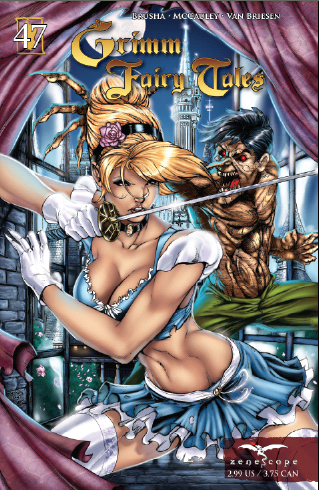 Issue: Grimm Fairy Tales #47
Writer: Joe Brusha
Artist: John Teledo
Cover: Mike Debalfo
Publisher: Zenescope Entertainment
I didn't know what to expect when I volunteered to review Grimm Fairy Tales Issue #47. Being a mother, I've seen more than my fair share of sugarcoated, happily-ever-after fairy tales that teach little girls that the world is a magical place and their Prince Charming is out there. This was not one of these fairy tales, and for that I am thankful.
Instead of a perfectly dressed and polite princess as the main character, I got a barely dressed and quite shapely warrior who doesn't mind it when her clothes are drenched in blood. Though I don't know her background, having never read an issue before, Cindy and her sword, appropriately named Carnage, interested me immediately.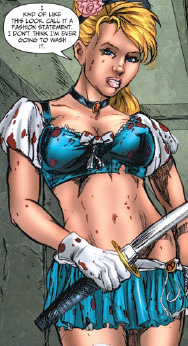 Her strength was tested in battle against an elite fighting unit of hideous demons as she quickly proved herself, slaughtering them all in less than eight seconds, much to the surprise of the men watching. The action is beautifully drawn, giving the feel of actually being present for the battle. I could hear the clash of the blades and feel the droplets of metallic orange blood rain down as dismembered limbs fell to the floor.
Having passed her test, Cindy is then told a short story called "The Lord's Animals and the Devil's Animals," which details how the devil gained his power to change and influence the Lord's creatures, while at the same time witnessing one such transformation. The story strikes a chord with Orcus, who had been watching from the shadows, and we the readers are treated to another tale, this one from his memory.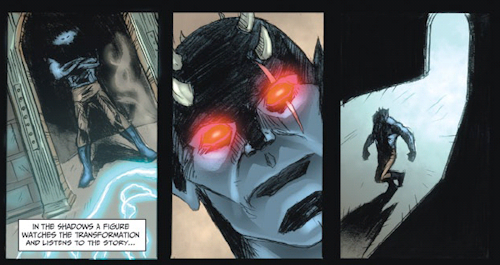 The main fairy tale of the issue is called "The Seven Ravens." It is set in a distant part of the Realm of Myst, and features Orcus, a demon king, and his queen, an evil goddess who is also scantily clad and blessed with perfectly drawn curves.
Now, it seems like most of society has forgotten the original purpose of their beloved fairy tales, to teach a lesson by scaring children into doing what they're told. Fear is a wonderful motivator and fairy tales were once the perfect way to teach that fear. "Don't go into the woods or the big bad wolf will eat you" worked so much better than "don't go into the woods or you might get lost."
There is a lesson behind each story, and in Grimm Fairy Tales #47, the lesson is "Don't make deals without reading the fine print." The evil goddess comes to a peasant whose crops will not grow and offers her help for a price. She asks only for seven flowers, and rather than questioning that which seems too good to be true, the peasant accepts her terms and promises to give her what she asks when the time comes. His decision was not wise, as he learns when she comes to collect.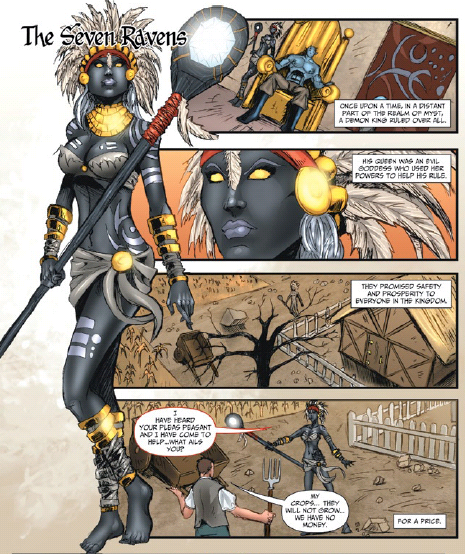 It was great to see a fairy tale told with the original violence and gore intact. The use of stories to further the main plotline is interesting and I really enjoyed them. The images are incredible and draw you right into the tale, leaving you curious and eager for more. Why is Orcus watching from the shadows, and how is he connected to the others? What does Cindy have to do with it? I have so many questions that I can't wait to have answered in the coming issues!