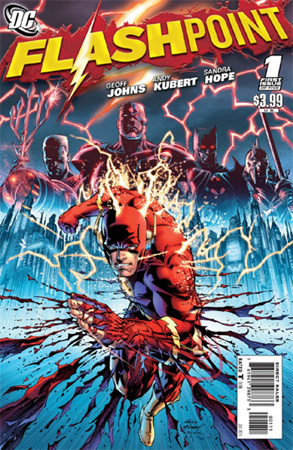 Issue: Flashpoint #1
Release Date: May 11, 2011
Writer: Geoff Johns
Art: Andy Kubert
Inks: Sandra Hope
Colors: Alex Sinclair
Letters: Nick J. Napolitano
Publisher: DC Comics
With the first issue of Flashpoint, Geoff Johns probably has more to do than in any other issue that follows it during the course of the event this summer. The first issue has to set up the premise, introduce a new world and a whole set of new-but-familiar characters, and most of all, it has to keep the readers interested enough so that they'll keep reading and come back for the next issue.
Probably wisely, Johns doesn't bombard us with an info-dump about the new world that we find ourselves in. Instead, we spend most of our time with Cyborg, Batman and, of course, Barry Allen. As far as Cyborg and Batman are aware, they have been living in this altered timeline for all of their lives but Barry is the only person that knows that anything has changed. Barry is our POV character so, apart from a introductory monologue from an unknown character, the story begins with Barry waking up in this brave new world.
Barry wakes up and initially nothing seems different, but that changes almost immediately when Barry hears strange names like "Miss Alchemy" and "Citizen Cold" who is apparently a hero of Central City. But things get even stranger when Barry finds that he has no Flash-ring, that he has no speed and most surprisingly of all, his mother appears to still be alive. With no small amount of confusion, Barry tries to get some details out of his mother and finds out that she has never heard of Superman, The Flash or the Justice League, but she has heard of The Batman. Or given the altered nature of reality, maybe that should be a Batman.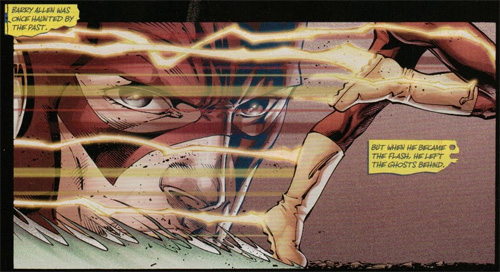 When we first come across Batman, he seems to be very much the Batman that we've always known, albeit with a couple of small costume changes. The view of Gotham City that we're given, though, suggests that Batman's world might have changed more than Batman has. The next couple of pages show that this isn't the Batman that we know. The "real" Batman doesn't kill. This Batman does. Or at least we see him try to kill; Cyborg arrives to save Batman's intended victim just in the nick of time. Batman and Cyborg talk a little bit about Batman's practices before Cyborg produces a holographic representation of a group — some heroes, some not so much — who are willing to put aside their vast differences and band together to defeat two of the biggest villains of this world if Batman agrees to stand with them and help them plan.
Remember during the first Terminator movie, when Reese and Sarah are in the car, being chased by the Terminator and, during the chase, Kyle dumps a huge amount of information on Sarah and on us? But because there was so much going on in the scene, it didn't feel like an info-dump. This whole can't-we-all-just-get-along scene with Batman and Cyborg and the hologram army works in much the same way, though admittedly it's not as frenetic. In the space of a few pages, we learn of allegiances and rivalries, we learn something of the history of the world of Flashpoint and we have to assume that in this world, Cyborg and Batman are The World's Finest. But Batman won't lead this army or even join them. He feels that what they have planned won't work purely due to the players involved. Talking to each other as holograms is one thing, but if this would-be army met each other face to face, there would be too much bad blood to actually get anything accomplished. It looks like Cyborg's plan to take down Aquaman and Wonder Woman isn't going to happen.
Barry goes to see Iris to see if she can help him make any sense of what's happening. But when he sees that Iris isn't his Iris and that he's changed along with the rest of the world, he decides that the only course of action is to go to see Batman, in his mother's car. Just before Barry asks for the car, we see our only glimpse of who we assume is Reverse Flash. A displaced speech bubble surrounded by red energy says how nice it is to see Mrs. Allen alive and well before a Reverse Flash-looking blur speeds by.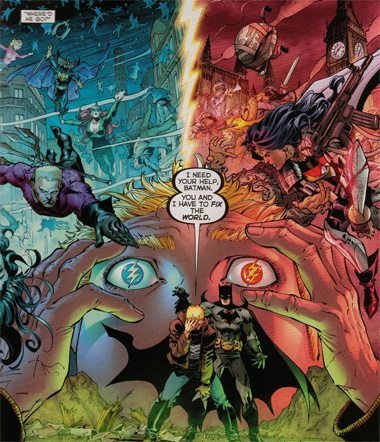 When he arrives at Wayne Manor, it is just like Batman, the same and different. The Manor is run down and unloved and Alfred is nowhere to be seen, but the entrance to the Batcave is just where it should be and when he gets down to the cave, Barry sees that it's barely recognisable as the Batcave. There's a couple of tables to facilitate working on utility belts and a gun in a display case from that fateful night as well as a Wayne family portrait and a map of Gotham. There's nothing else there except for emptiness.
Batman finds Barry in the cave and throws him around a bit as Barry begs Batman to remember the real world. It's only here that we find out that the narrator at the start of the issue was actually Batman and that Batman… isn't Batman. Bruce Wayne is dead, this is Thomas Wayne.
Overall, I think that this was a great issue and a great introduction to the World Of Flashpoint. Johns did a wonderful job of giving us information while all at the same time keeping information from us. My biggest question is not about who the villain actually is, but about the changes to the timeline. I want to know (and I probably will eventually find out) if this new world is due to a change of one event or if many events have been altered separately. Is there one linchpin event that, when undone, changes the entire fabric of the universe? Or is this world made up of a million little changes?
One thing is for sure: I can't wait to find out!