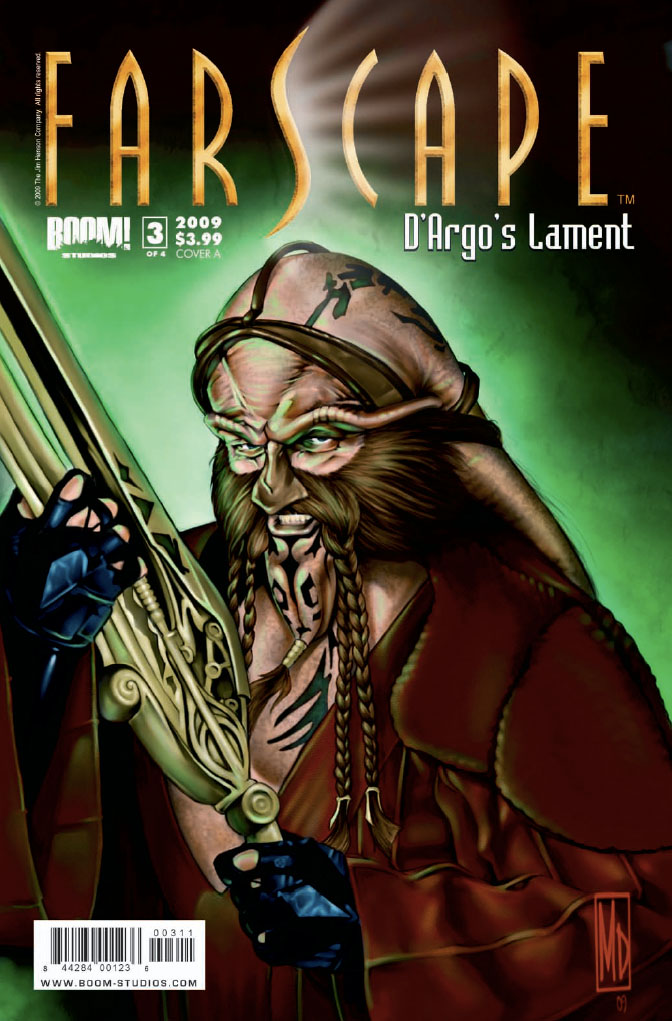 Review: Farscape: D'Argo's Lament #3
Release Date: 24 June 2009
Writer(s): Keith R.A. DeCandido
Artist(s): Neil Edwards, Juan Castro (inker)
Cover(s): Michael Dipascale, Will Sliney
Colours: Andrew Dalhouse
Letterer: Ed Dukeshire
Publisher: BOOM! Studios
The jig is up when Jool and D'Argo find out that the real Luxan general everyone was waiting for finally shows up. Esseret quickly makes a deal with him, leaving D'Argo the only option of making a deal with Kitrap to win the stalemate if he wants to get that frelling orujna oil that only seems to come from this one moon. Will he take the offer and fight the other Luxan, or will he turn tail and run?

This issue was boring, for me. It's the second to the last issue in the miniseries, and I expected something exciting to happen in it, at least towards the end to carry some tension over to the final issue. Nope. This entire issue is basically all flashback.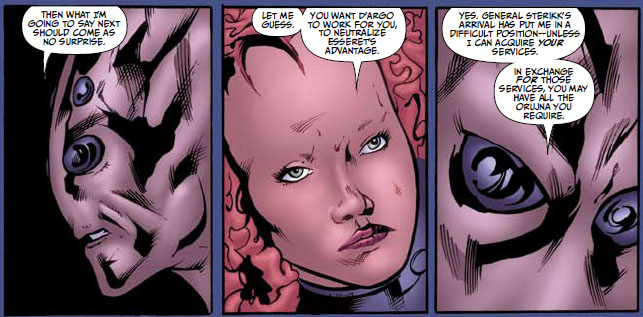 ********** Spoiler Alert **********
So Sterikk, the Luxan general that was initially hired, is the general that D'Argo tattooed himself to impersonate in order to save the real general from being captured and tortured by the enemy. While what he did wasn't "legal", so to speak, it was an admirable thing for a soldier to do for his commanding officer. This created what D'Argo thinks of as a bond between the two of them. His deception was also the last act he did as a member of the Luxan army (he met his late wife at the enclave where he was taken to be healed). Obviously, this creates a problem for D'Argo. If he doesn't make the deal with Kitrap, they don't get the oil for Moya and she basically sloughs off her skin until she dies. If he does make the deal, he has to either defeat or kill this general he looks up to and shares a bond with. Of course, Jool does not see the problem since Sterikk is taking money to sway a stalemate between Tweeddle Dee and Tweeddle Dumb.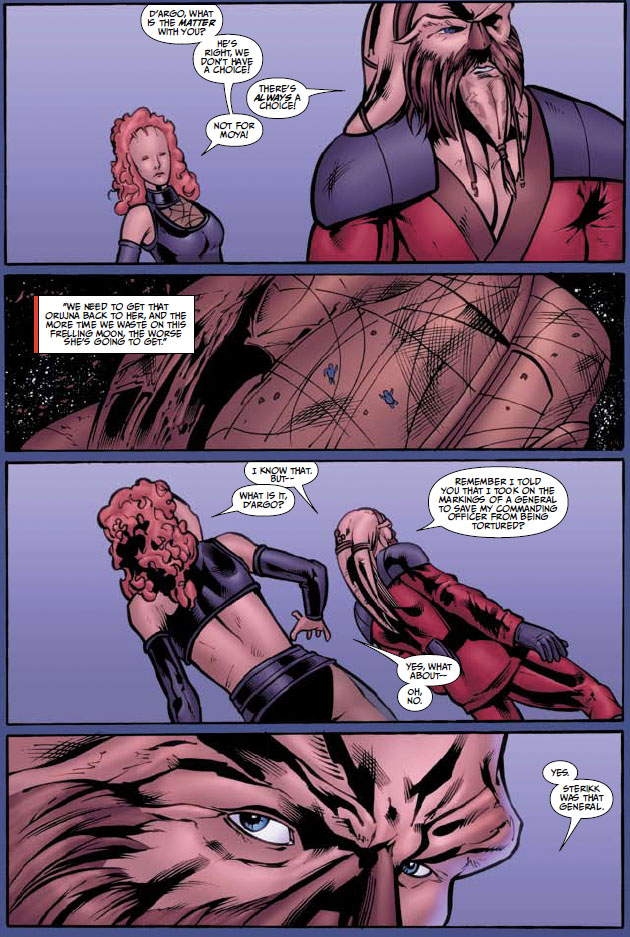 Here's my problem: since this story is set in the same timeline as the original series, anyone who watched the show knows that Moya doesn't die around the time of this story (neither do Jool or D'Argo, for that matter). Where's the tension, what's at stake here, and why would you take the pace to a stand still practically right before you end the story? For me, I think this is where a four issue series doesn't work. I have a feeling that, when all four are read together in a TPB, the pacing wouldn't be an issue. When reading them a single issue at a time, over four months or so, putting on the brakes for some back story right before the end kills the momentum for me. Also, there were a couple of panels where there was a close-up of Jool touching D'Argo's hand and I'm wondering if that was supposed to indicate some kind of feelings on her part? I wasn't clear on why that was highlighted because I don't remember them having a romantic interest in each other (maybe someone can clarify this for me?).
I'm still wondering how they're going to wrap this up, but after this issue my interest isn't at the level it was at the start.