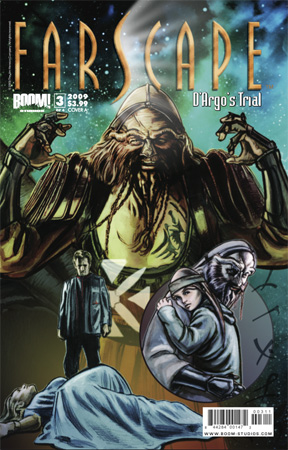 Issue: Farscape: D'Argo's Trial Part 3: The Long Tenka of the Law
Release Date: October 14, 2009
Writer(s): Keith R.A. DeCandido
Artist(s): Caleb Cleveland
Cover(s): Jason Palmer, Caleb Cleveland
Colors: Caleb Cleveland
Letterer: Ed Dukeshire
Publisher: BOOM! Studios
At this point, if you've been reading my reviews, you either have some experience with Farscape or you've keeping up-to-date with the D'Argo's Trial series. If that isn't the case, I warn you that SPOILERS LIE AHEAD:

Ka D'Argo enters his home, only to witness the sight that will be branded into his mind for the rest of his days: the sight of his wife, Lo'Laan, dead and lifeless on the floor, the knife blade protruding from her abdomen. Her brother, Macton Tal, looming over, his hands washed in blood. But his face cold and harsh. Accusing.
Macton has done the unthinkable – he's murdered his own sister. And, in keeping with his reputation thus far, is blaming the "accident" on her husband. The authorities are on their way. Their son, Jothee, bears witness to it all, his presence being the only thing that keeps D'Argo from snapping Macton's neck – something he could do so easily.

This is the turning point for Ka D'Argo. He's had enough trouble and tribulations in attempting to forge a life with Lo'Laan under the scrutiny and judging eyes of a dominant Peacekeeper society. He's attacked those who started a fight, stared down those who posed a threat, and tried his best to keep his wife safe and his marriage private.
Given everything, all that D'Argo has gone through, he thinks clearly in a situation that embroils more rage and anger than he could ever imagine. It's a testament to what his time with Lo'Laan meant. She constantly reminded him that he was in control, and that he could manage the deep-rooted violence and fury that Luxans are known so well for.

So, rather than ripping him limb from limb, D'Argo incapacitates Macton and flees for the mountains. Macton sends the arriving forces on a hunt, and thinks back to the events that led him to this moment – not regretfully, in the slightest, but we see what it took for him to track Lo'Laan down, the help he received, and his failed reasoning.
And failed it is, because in a incredibly skewed and distorted way, he loved his sister. He wanted to keep her safe, but gave no regard to what she wanted or what made her happy. His xenophobic mindset led him down a dark path that ultimately revealed the flaws of his character. But rather than try to make amends, he just delves even deeper into his hatred, driving him to destroy, in all likelihood, the one and only person who loved him.

D'Argo, however, sees reason in a situation where very little exists. Knowing the consequences of Jothee being captured, he contacts an old friend for help. And he's forced to make a decision that contradicts his warrior instincts. He chooses to run, rather than fight. Even Jothee wants to take up a Qualta blade and defend his mother's honor. But D'Argo knows that, facing insurmountable odds, the survival of his son if more important. So, with the help of another Luxan and a stealth ship, he sends him away.

And D'Argo waits. He waits to be captured. He waits for his trial. His probable execution. And he waits knowing that his wife is dead and his son is gone.
So there we have it. The moment we've been leading up to, the namesake of the series, is coming in the final issue. But I've enjoyed the subtle elements of a pre-established backstory. I'd love to see an issue that delves into what happens to Jothee, how he ends up a slave and the eventual resentment he feels towards his father.
As it stands, the D'Argo's Trial series has consisted of some solid storytelling, interwoven with predilection towards those that have watched the series. This issue is probably the best thus far, as it highlights the profound complexity of D'Argo's character.
Rating: 4 / 5 Stars