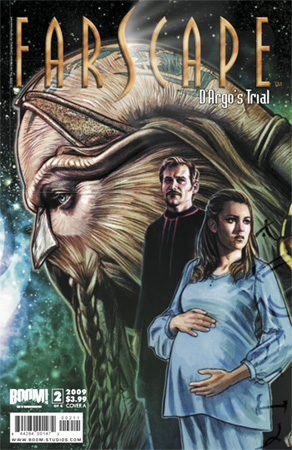 Review: Farscape: D'Argo's Trial Part 2: Brotherly Hate
Release Date: September 9, 2009
Writer(s): Keith R.A. DeCandido
Artist(s): Caleb Cleveland
Cover(s): Jason Palmer, Caleb Cleveland
Colors: Caleb Cleveland
Letterer: Ed Dukeshire
Publisher: BOOM! Studios
Picking up where issue one left off, D'Argo's Trial #2 delves into more back story and continues to flesh out the troubles of his interspecies relationship in a xenophobic society. While we haven't gotten to the actual trial yet (I know, I know), it's all fairly necessary exposition leading to the heart of the matter.
The issue opens again with a slightly strange third-person narrative. It has yet to be revealed who the disembodied speaker is, or if it's just D'Argo's strange way of thinking to himself. Regardless, he's still stoically staring into the far reaches of space, hoping that if he grimaces at the cosmos for long enough, it'll give him what he wants. And D'Argo really wants a Chik-Fil-A sandwich.

Caleb Cleveland does a fantastic job once again of illustrating D'Argo, accurately portraying his thoughtful and furious expressions. His use of color echoes the differences between a simple home and family life, with soft tonal grays and browns, and the hard-edged red and blacks of Peacekeeper society. I also enjoy the way he colors the panels during D'Argo's Hyper-rage; with a muted red overtone that prevents you from seeing the detail in the scenes, much like the frenzy D'Argo actually experiences.
Without spoiling anything (unlike my review of D'Argo's Trial #1), this issue deals with three key elements: the birth of D'Argo and Lo'Laan's son Jothee, their continued inability to sell home-grown space tomatoes without getting into a bazaar brawl, and the fact that Lo'Laan's brother, Macton, is still a selfish prick. These key elements spill over from the first issue, with Macton being the primary focus.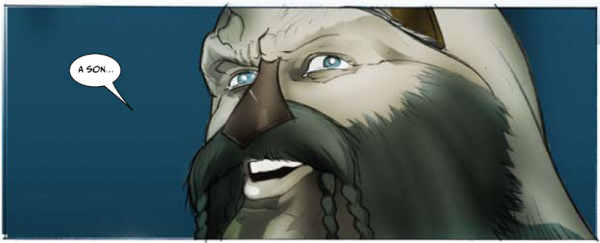 As presented in issue one, the inbred populous of Havenik, Alabama take great offense to their union. Whenever they head to market, they are verbally assaulted and lauded. But this time, after learning about the pregnancy, a few people get physically violent. This prompts D'Argo to cave faces in, break appendages, and pile drive someone on top of a Halosian bystander. Can't blame him though — I did the exact same thing when they cancelled Farscape.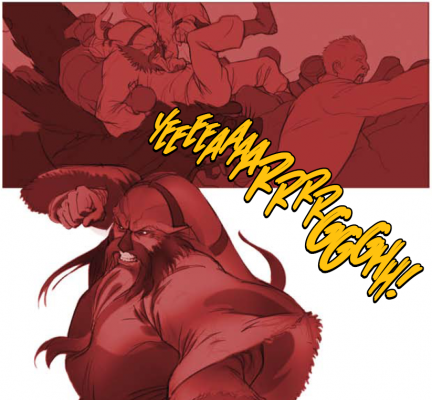 And frell — I don't know where Macton is getting the inside scoop about his sister's private life, but he's conveniently aware of their comings and goings. Lo'Laan must have forgotten to un-friend him on Sebacean Facebook. He also apparently has the easiest job in the Peacekeeper armada, because he doesn't appear to do much other than complain to his boss that his sister is pregnant with a half-breed. Because, you know, that's what I talk to my boss about.
But eventually his superior officers relents, because keeping the bloodlines pure appears to be Peacekeeper High Command Rule #7, right under "having an awesome goatee." Macton goes on the hunt for D'Argo and his family, who since fled to a remote, nameless world beyond the jurisdiction of awesome goatees.

And then… well, if you've watched Farscape, you know how these things go.
This was a good read, and so far the series is worth it if you want to know more about D'Argo. But personally, I'm ready for the meat and potatoes. There are several things I'm curious about that haven't been answered yet: how D'Argo was turned into Peacekeeper custody, his actual "trial" (given that he's guilty until proven innocent), what happened to him while he was in captivity, and how he eventually came aboard Moya and escaped/disemboweled his captors.
I know I ask a lot, but I hope these are answered in some capacity in the final two issues of this series, because I'm itching for some answers we haven't gotten before.