Review: Farscape: D'Argo's Trial Part 1: A Many-Splendor'd Thing
Release Date: August 12, 2009
Writer(s): Keith R.A. DeCandido
Artist(s): Caleb Cleveland
Cover(s): Jason Palmer, Caleb Cleveland
Colors: Caleb Cleveland
Letterer: Ed Dukeshire
Publisher: BOOM! Studios
This is the story of General Ka D'Argo. Son of Laytun. Grandson of Reske. Great-grandson of Ka D'Argo Treytal. Kicker of asses. One of the most feared and famous Luxan warriors.
While most of the Farscape television series was based around John Crichton, I always enjoyed the D'Argo-centric episodes. During the first season, we mainly see a strong, fierce member of a warrior race that lives to die in battle. Typical in science fiction.
But as time goes on, his back-story is fleshed out and the complexity of his character is explored. The bits and pieces drop — we learn that he had a wife named Lo'laan Tal, whom he loved deeply. They bore a half Luxan/half Sabacean son named Jothee, who makes an appearance in season two. We also that learn D'Argo was imprisoned by the Peacekeepers for the murder of Lo'laan — a crime he did not commit. Or, at least, he thinks he didn't.
By the time season four rolls around, the episode "Mental As Anything" attempts to tackle the dark portion of D'Argo's life that was hidden to the viewers for most of the series. In this episode, D'Argo comes face to face once again with Lo'laan's brother, Macton Tal. The man who imprisoned him.
D'Argo's Trial #1 reveals the events leading up to Lo'laan's death, and his eventual trial for her murder.
The comic begins with a bit of a primer. D'Argo is seen leaving Moya on his highly-advanced Luxan warship named after his wife. From the narration, it seems that the scene takes place right before "Mental As Anything." But before we learn more, we're led into a flashback that constitutes the rest of this issue, and maybe the series.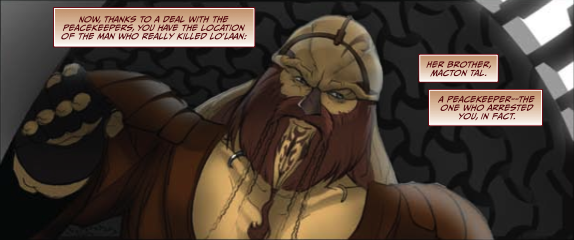 D'Argo awakes to find himself in a Diagnosan enclave — the healers of the Farscape universe. And is greeted by no other than Lo'laan. Working at the enclave, D'Argo questions why she is not a Peacekeeper, given that most Sabaceans are called into service when they are young. We learn that she decided not to join them — a decision which probably resulted in being cut off from daddy Tal.
We see that D'Argo is bruised and beaten from the time he spent being tortured by the Scorvians. Lo'laan points out a unique trait in Luxan physiology: while their skin is incredible difficult to pierce, their blood is highly sensitive — a trait that mirror's D'Argo's own personality. Conversational subtext abounds. Lo'laan eventually begins to admire the unexpected thoughtfulness of his demeanor, and a spark begins to form between them.
Time goes on. As D'Argo recovers from his injuries, his relationship with Lo'laan continues to blossom. And during his recovery comes an admission — he is not actually a general. As discussed in the television series, he explains how he bore a tattoo of his commanding officer in order to save him from Scorvian torture. This prompts a conversation about D'Argo's new outlook on life, not death, which is in no small part is due to Lo'laan. He wants to lead a simple life farming the land and growing space tomatoes.

Trust me, they're delicious.
Back in the enclave, a member of the Luxan army approaches D'Argo regarding the Scorvian incident. While commended for his act of bravery, he is also scorned. Impersonating a superior officer is a grave offense, and one that he can be court marshaled for. But before the discussion even begins, D'Argo resigns his commission, giving further reason to stay closer to Lo'laan.
And this is what exactly what she wants. With her tenure with the Diagnosians over, she's returning to her home world. A Sabacean colony, albeit under Peacekeeper protection, where they can start a new life together. Despite some initial reluctance, D'Argo heartedly agrees. The prospect of growing space tomatoes is too awesome to ignore.
They arrive on Havenik. With D'Argo's pension money, they purchase some land from a shady salesman who fears his presence and represents the general Sabacean xenophobic mindset. Lo'laan falls in love with D'Argo because of his awesome lute playing skills. Life is perfect, and everything is wonderful — that is, until the harvest rolls around. The harvest of BLOOD.
Rolling into market with a cart full of space tomatoes, D'Argo soon finds out that the planet is actually in the deep south, somewhere near Alabama. Everyone in the market starts murmuring about Lo'laan being with a filthy Luxan, and they begin to shout obscenities at him — which, really, is that a good idea?
No, it's not. And neither is refusing to buy D'Argo's fresh, ripe space tomatoes. Space tomatoes he hand-picked and grew to perfection. This blatant refusal from a merchant makes D'Argo angry. And the riling dissent from the crowd only heightens a volatile situation. Welcome to Hyper-Rage.
Hyper-Rage is the equivalent of going Incredible Hulk and obliterating anyone in a Luxan's path. It's an overwhelming anger that's completely uncontrollable and incredibly deadly. However, though Luxans don't turn big and green, this battle survival instinct causes complete memory loss of the event.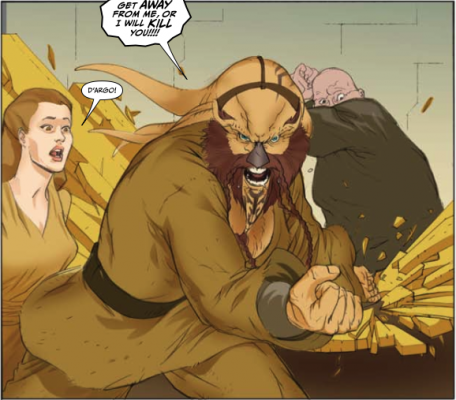 Unfortunately, no heads are severed or spines broken — only the merchant's finely-crafted Ikea Malm table. Lo'laan's calming presence snaps D'Argo out of his Hyper-Rage, and the Peacekeeper authorities ask the two to leave as a disgusted crowd disperses.
Back home, D'Argo finds a buyer for his crops, who turns out to be Cortana from Halo. However, his lifted spirits are quickly interrupted by the approach of a Peacekeeper Prowler. Lo and behold, out steps the 3-time winner for the "A-Hole of the Universe" award, Macton Tal.
Let's get one thing straight — Macton is a giant dick. Beyond the fact that he refuses to accept his sister in the arms of a non-Sabacean, he generally just doesn't frelling care if she's happy or not. He wants her to do what he says, no questions asked. Whether stemmed from the fact that she decided to not join the Peacekeepers, or some other underlying motive, Macton isn't going to rest until D'Argo is out of the way.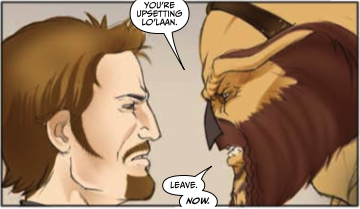 So, what's D'Argo's ultimate solution to the problem? He proposes to Lo'laan.
And thus ends act one. Overall, this issue was a good start to a potentially great storyline. For the Farscape fan though, there wasn't anything overtly surprising or shocking. If you watched the series, you pretty much put these pieces together yourself already.
But we haven't gotten to the meat and potatoes (or space tomatoes) yet. With this introduction out of the way, I'm really excited to see what's in store for the upcoming issues of this series, because there's a lot of potential to learn things we always wondered about D'Argo, but never knew.