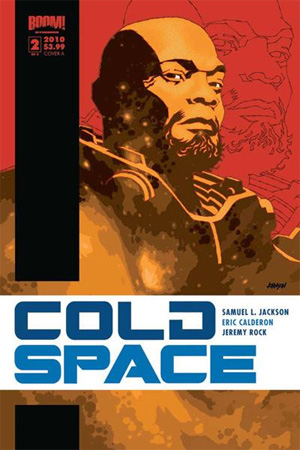 Issue: Cold Space #2
Release Date: May 26, 2010
Writer/Creator: Samuel L. Jackson and Eric Calderon
Artist: Jeremy Rock
Colorist: Juan Manuel Tumburús
Letterer: Troy Peteri
Cover A: Dave Johnson
Cover B: Jeffery Spokes
Publisher: BOOM! Studios
My husband and I loved Afro Samurai, so when the opportunity to read and review a comic created by the same team I jumped at it. I was lucky enough to get to read the first issue of the Cold Space four part series first, which made reading and following the storyline in the second issue so much easier.

The whole issue of Cold Space #2 has a Wild West, frontier town feel to it which meshes surprisingly well with space travel and futuristic armor and weaponry. It has many elements of an old Western: a small mining town controlled by powerful men and a struggle to maintain that power, gangs of thugs who follow orders, scantily clad women who can be paid for their time and attentions, and the new gun-slinging guy in town.
Mulberry, the main character drawn (quite well might I add) to look like Samuel L. Jackson, was hired by one of the two competing gang leaders at the end of issue one. Issue two starts right where the first left off, with Mario, a skeevy looking restaurant owner, introducing Mulberry to his gang. Mulberry is arrogant, sure of his strength and skill, which doesn't make him a lot of friends.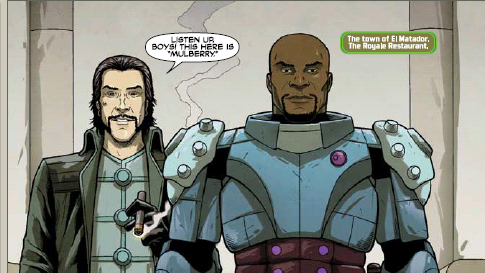 Just one little thing got on my nerves in this issue. Dee, the suggestively dressed redhead, throughout most of the issue is confident and obviously in charge of her little gang of outsiders. During a brief gun battle with Patience, a mysterious character we don't yet know much about, she is shown ducking out of the way and saying 'Eeek!' while on either side of her, men from her group are growling in anger. This didn't make any sense to me. Her character was built up as a tough chick and I just can't imagine her saying something so girly weak sounding as "Eeek." Other than that, this was a great issue.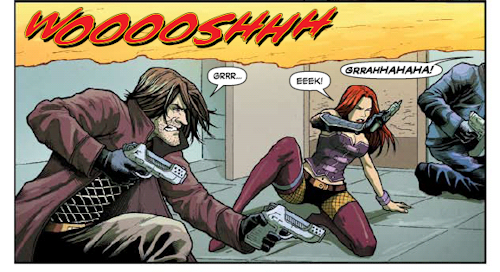 The little mining town of El Matador is filled with tension as seemly everyone vies for power and money. This issue has it all: futuristic gunplay, plotting and scheming, drug abuse and addiction, and even prostitution. The storyline progresses along nicely with lots of action. We learn a lot about the dynamic of the town and its major players. While some questions were answered, more were raised, and I'm looking forward to learning more.
I also wish I knew just what in the heck that chick was planning on doing with those octopi. Seriously, I can't even begin to imagine how that would go down. Maybe I don't want to know after all.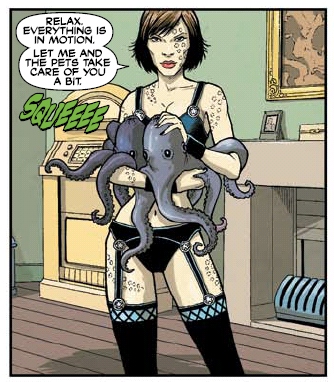 Rating: 4 / 5 Stars