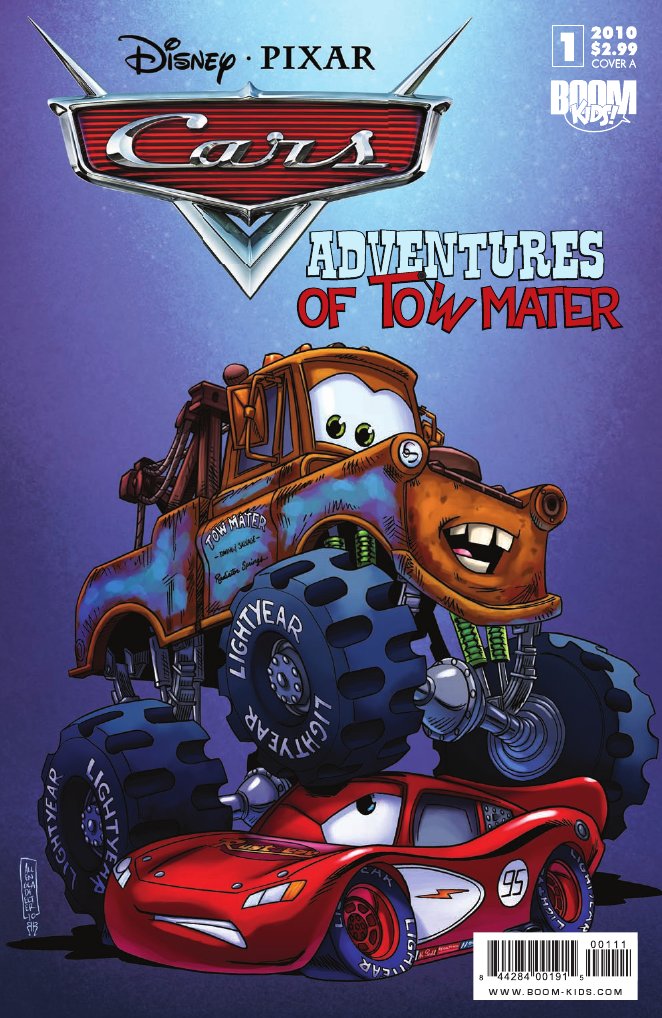 Issue: Cars: Adventures of Tow Mater #1
Release Date: August 4, 2010
Author: Keith R.A. DeCandido
Artist: Travis Hill
Colors: Rachelle Rosenberg
Letterer: Deron Bennett
Covers A & B: Allen Gladfelter (Colors: Rachelle Rosenberg)
Publisher: BOOM! Kids
I love the movie Cars, as does most of my family. Hands-down our favorite character was always Mater. And now he gets his own comic with Adventures of Tow Mater from BOOM! Kids! This comic is based on the Cars storybook Rust Bucket Derby by Chuck Wilson.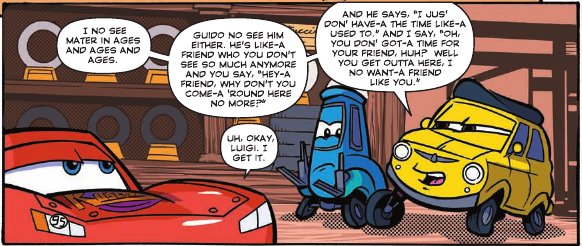 The comic has all your old favorites from Radiator Springs and starts off with Lightning McQueen looking for his M.I.A. friend Mater. He asks all over town and we as readers get glimpses of how much fun (or trouble) Mater gets up to in a normal day. When Lightning finally finds him — or more accurately, when Mater finds Lightning — the truth is discovered. Mater went off and built a stadium and everyone in town was keeping his secret so that he could surprise his dear friend with the completed project.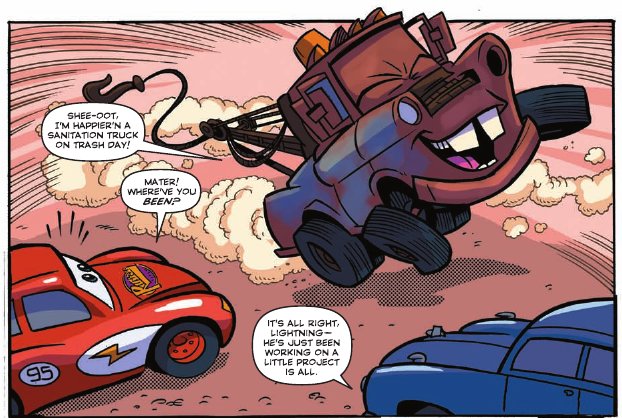 But, alas, the happiness is short-lived, as there are bullies who come around to taunt. Apparently, for the full story you'll have to get the trade paperbacks, but you can pretty much guess that since these guys were run out of town before, they're back for a little revenge. Turns out Mater made a little wager with Bubba just yesterday and the stakes are the stadium itself. Who's going to win? We won't know that until next time.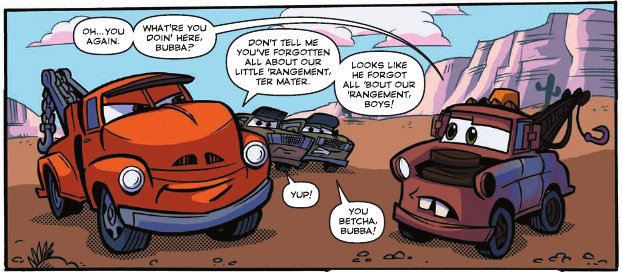 The secondary story centers around Sarge and his missing rearview mirrors. He claims to have proof that they were indeed stolen; in the form of video surveillance. By process of elimination, along with the stolen goods being found in the garage of the accused, one of the town's own is arrested for the crime. Did he do it? We'll have to come back next issue to find out.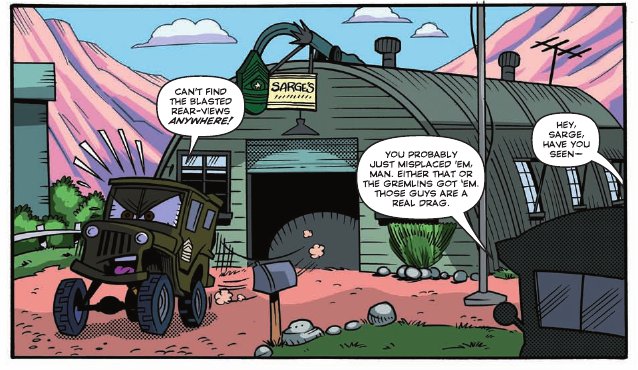 The comic is a treat for fellow Cars fans. As Lightning is going through town in search of Mater, you get character phrases from everyone that are so spot-on that you can almost hear the voices in your head. The only downside to the comic is that you have to buy the trade paperbacks to get the full story on these bullies, since they're in addition to the characters we know from the movie. But backstory is what it's all about when you're expanding the universe.
Rating: 3 / 5 Stars