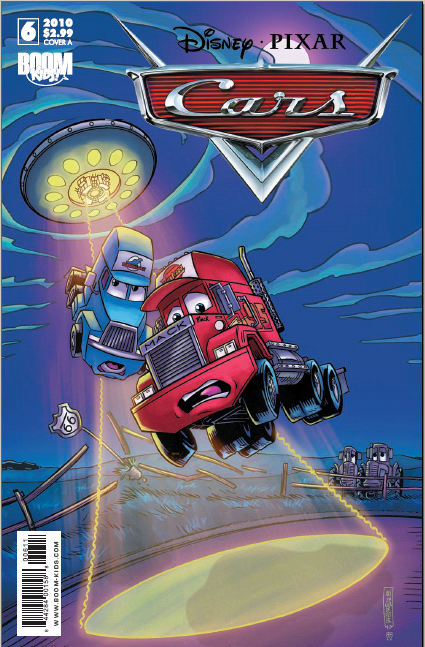 Issue: Cars #6
Release Date: June 9, 2010
Writer: Alan J. Porter
Artist: Allen Gladfelter
Colors: Rachelle Rosenberg
Letterer: Deron Bennett
Covers A & B: Allen Gladfelter (Colors: Rachelle Rosenberg)
Publisher: BOOM! Kids
To be honest, I wasn't terribly impressed with Cars issue 6. In fact, I really didn't enjoy it at all. I realize that it's a continuation of an ongoing story, being number six and all, but the whole thing seemed very bland and boring. It was like tuning in for the dullest part of a movie, filler, when nothing important is happening.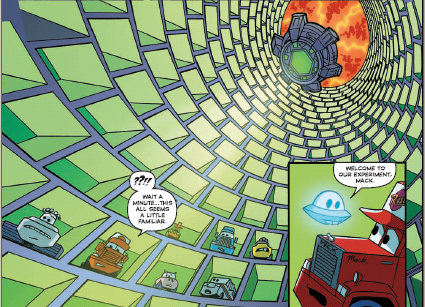 The cover shows semis being abducted by aliens, which I thought looked promising. The story starts there, with two semis discussing the plausibility of alien abduction only to then be abducted themselves. They wake in what looks like a cross between the honeycombs of a beehive and a giant concrete parking garage, and the little floating saucers tell Mack that they are going to take a look at his carburetor. He then wakes up screaming, parked at a truck stop. This was literally the most interesting part of the comic and it was two pages.
The rest of the comic is filled with way too much dull conversation as various teams of cars drive along. It feels like they're just trying to fill space and take up time, time I wish I could have back. I was halfway through the comic before I found out they were supposed to be in a race!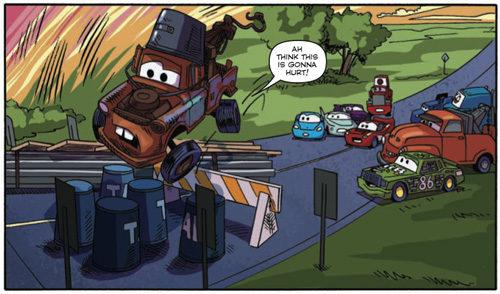 On the up side, it's pretty. The colors are bright and it looks just like the movie. Mater is cute, as always, and is a source of a little bit of grin-worthy comedy, as is the hippy VW bus, but that's about all I enjoyed. The overall storyline might have worked as a movie, but as a comic it just seems to drag on and on and all I wanted was for the cars to shut up or to get to the end. I'm rather disappointed because the movie was great, exciting with a lot of action. The comic just didn't live up to the characters in their original format.
Rating: 1 / 5 Stars