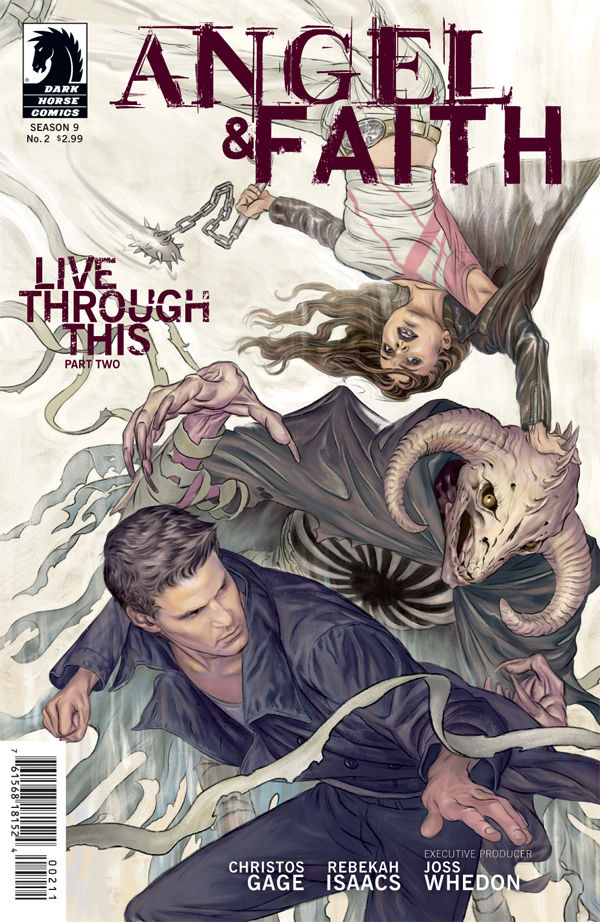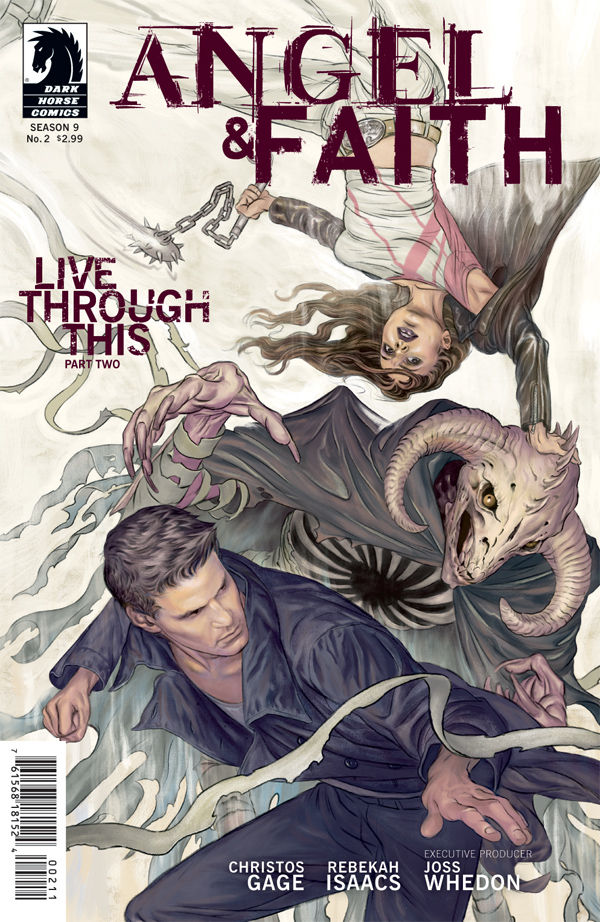 Issue: Angel and Faith #2
Release Date: September 2011
Writer: Christos Gage
Art: Rebekah Isaacs
Colors: Dan Jackson
Letters: Richard Starkings and COMICRAFT'S Jimmy Betancourt
Cover: Steve Morris
Alternate Cover: Rebekah Isaacs with Andy Owens and Dan Jackson
Publisher: Dark Horse Comics
Faith's out fighting and Angel's out plotting. It's another day in London. So begins the second issue of the Angel & Faith comic series. It's a nice dynamic between Faith and Angel as they fight the good fight. It's especially interesting to see Faith balancing between actions she knows are right and actions she knows are fueled by the need for redemption. I've become deeply engaged in this storyline, especially now that I know of Angel's mission to bring Giles back. Will he do it or is there anyone around to stop him? That's what we're going to find out.
We start this issue with Faith, Nadira, and the gang chasing vampires and some sort of skeleton demon creature. Ah, just like old times. But it seems like times are changing, as the vampires have moved from merely using a set of fangs to using a gun. These slayers need to learn to adapt or else they'll die. But they're also not privy to all that Faith knows: namely, that Angel is out there helping them with the fight without the slayers' knowledge.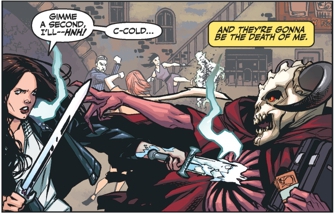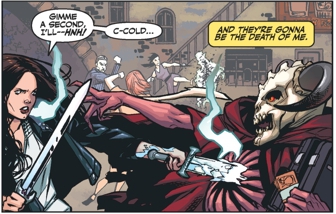 Oh, yes, Angel's still on his "let's resurrect Giles" kick, too, despite Faith repeatedly pointing out how crazy it is. Dealing with the dangerous magic that Angel is delving into could lead to a zombie Giles and nobody wants that. But Angel is trying to use tricky logic to justify his plan. You can save someone from magical death, Giles dealt with magic, ergo Angel can save him. Yeah, that math doesn't add up. And neither does Angel's assertion that Giles himself is guiding them through The Watcher's Files. I have to say, I'm on Faith's side on this one. Angel's devoted himself to undoing the terrible wrong that he did and it's become his reason for existing. No amount of logic is going to make him stop.
But Faith agrees to watch his back for the night, while they go out on patrol, and what a lovely situation they find themselves in. Not only is there a Demontown, there's a Demon Fight Club. And it seems that the demon world, or at least the more unsavory characters amongst them, haven't completely turned their backs on Angel for his actions. But they're not likely to trust him either, so it's a bit of a stalemate on getting any needed information. That is, until Angel starts ripping off body parts and then it's fair game for a fight. Angel's changed since "Twilight", as Faith points out. It was dangerous before because he got off on violence, which I was okay with. Now it's dangerous because Angel doesn't feel anything when he's wreaking havoc across town. But Angel doesn't have time for sharing and caring right now because he's on his mission and information has to be gathered. Whether he's sane when embarking on this cause is debatable, but we'll have to see where he goes with it.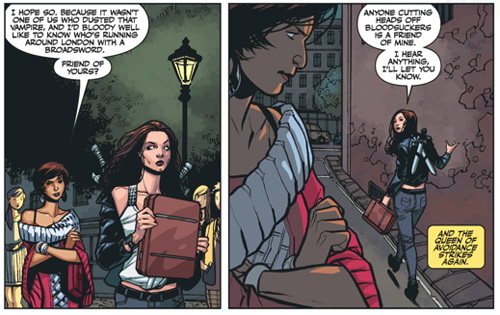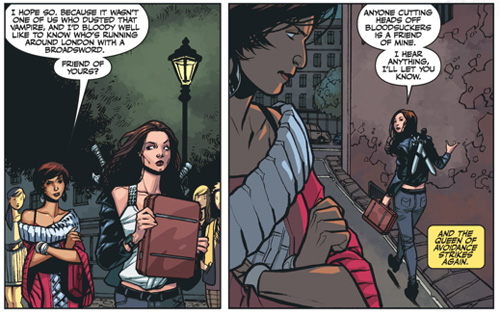 Meanwhile, we finally discover who that skeleton demon is that Faith was fighting earlier. His name's Baphon and he's been dealing in the blood of a Mohra demon. What's that? Oh, just a little something that can regenerate anything it touches, including dead people. It all makes sense now, Angel's going to dose Giles' dead body and hope he comes back okay. Well, it worked so well for Angel, right? I still don't trust this plan. Even Angel acknowledges that this will only raise his body and they'll have to figure out how to get the Watcher's soul back in some other way. But, a little monster fighting and they're on their way to seeing The Very Bad Plan get closer to reality.
We end this issue with a nice flashback to Giles, which I always love, and a return of Nash and Pearl. They want in on the Mohra demon blood action, too, and they're not above torturing to get it. So we end on a cliffhanger. What will Nash and Pearl do with the blood once they get it? Will Angel be stopped in his resurrection plan before it gets too far? And how far will Faith go in order to help him with his redemption efforts? Until next time, we're left to ponder.
Rating: 3 / 5 Stars