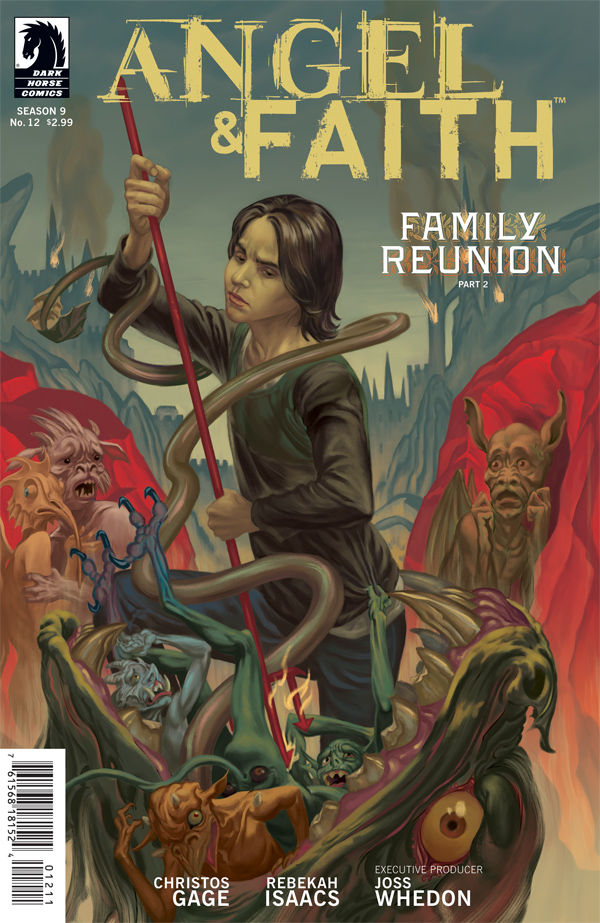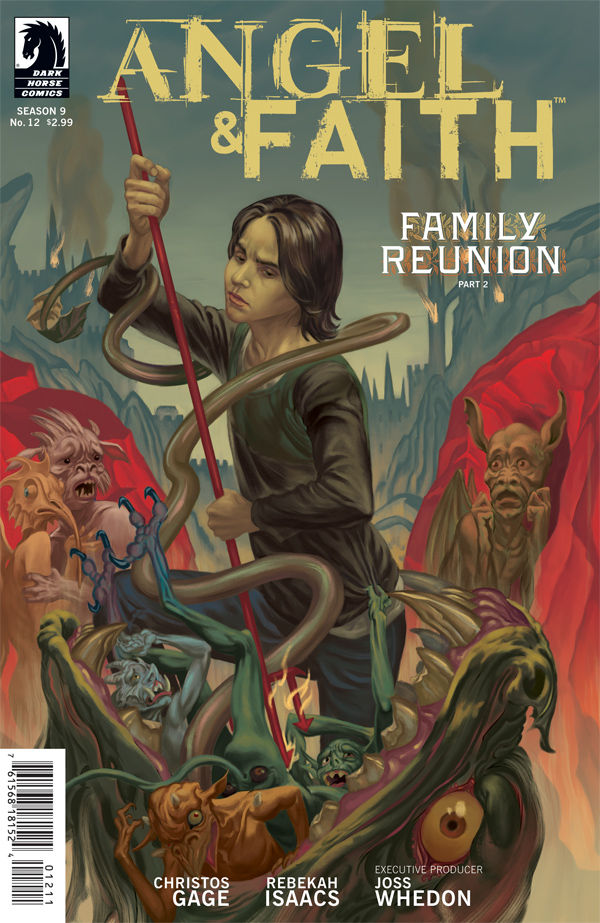 Issue: Angel and Faith #12
Release Date: July 2012
Writer: Christos Gage
Art: Rebekah Isaacs
Colors: Dan Jackson
Letters: Richard Starkings and COMICRAFT'S Jimmy Betancourt
Cover: Steve Morris
Alternate Cover: Rebekah Isaacs and Dan Jackson
Publisher: Dark Horse Comics
Welcome to Quor'toth, the gang's all here. When last we left the group, Angel, Faith, Connor, and Willow were just crossing over into the dimension. And now we get to see them explore the land that shaped Connor's upbringing. New truths come out, and new revelations are made. To get magic back into our world, it's going to take some planning and exploration. Willow has to gain the ability to open a rift to another, less dangerous, area. Can the group remain alive long enough for her to do so?
While the big drama is going on, there is smaller drama to deal with, too. While Angel and Connor have both matured and changed since the show's canon ended, there are still multiple issues that they have to deal with. First up is Angel's continuing need to apologize for Connor's childhood. Yes, we get it. Connor had a rough time when he was a child, Angel gave him better memories to make him well-adjusted, regret and sorrow follow Angel to the end of days. Except Connor's stronger than his father gives him credit for. It was hard, and it's been harder than even Angel realizes lately. When magic disappeared from the world, so too did Connor's fake memories of a happy childhood. But he's dealt with it and become a better man because of all his experiences. The events are in the past and Connor wants to just move on. Angel should take note.


While Connor's past in Quor'toth is something he might want to just forget, the residents of the dimension aren't so quick to do so. His reputation is still well intact, and perhaps grown even larger. To many who live in Quor'toth, Connor is the devil himself. Monsters flee at the sight of him, seeking to gain a larger army in order to take out the evil that has returned to their world. But just as there are those against him, there are also followers who have awaited their leader's return. To some he is the devil, to others he is the savior. These minions have sacrificed their safety and their lives as they awaited Connor's reappearance. It falls to the young man to save them in return. One by one, Angel, Faith, and Willow agree to stand by his side and fight for those who remained in danger.
We're left with questions as we leave this month's storyline. Will Faith's distrust of Angel create more problems than it already has? Will the group make it out of Quor'toth alive? And will the return of Giles play out like Angel plans? We'll have to wait until next time to hopefully get some answers.
Rating: 4 / 5 Stars