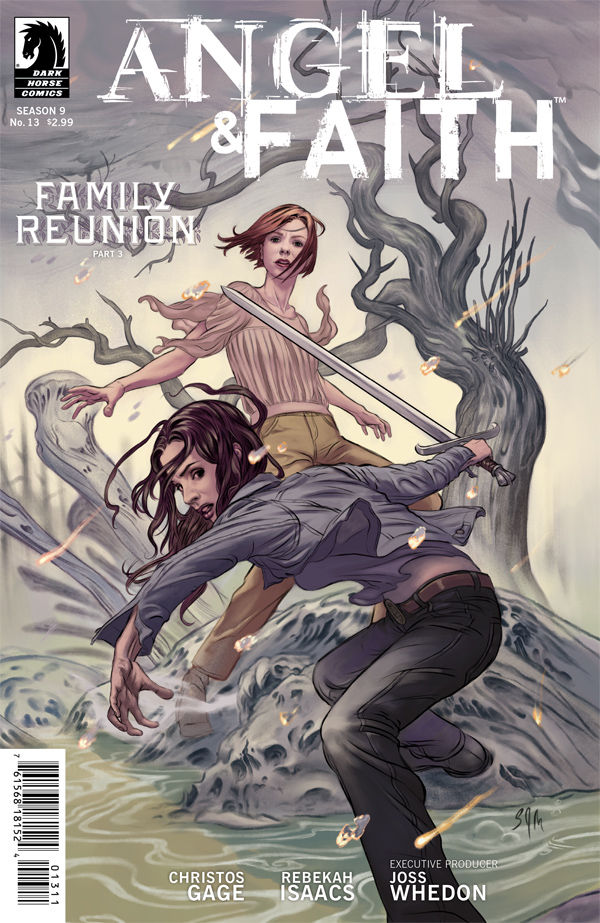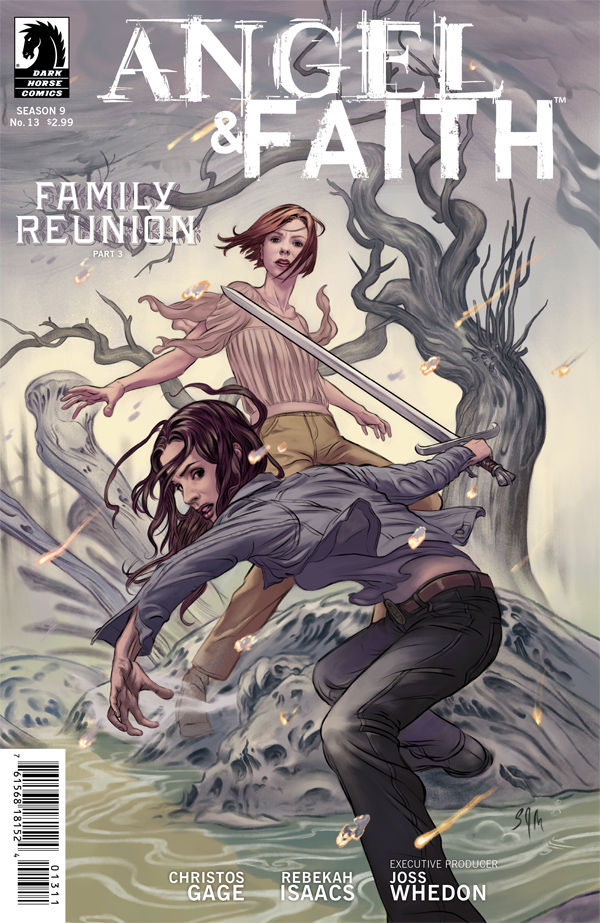 Issue: Angel and Faith #13
Release Date: August 2012
Writer: Christos Gage
Art: Rebekah Isaacs
Colors: Dan Jackson
Letters: Richard Starkings and COMICRAFT'S Jimmy Betancourt
Cover: Steve Morris
Alternate Cover: Rebekah Isaacs and Dan Jackson
Publisher: Dark Horse Comics
The gang's attempts to bring magic back to the world just got a whole lot more complicated this month. With emotional extremes, a monster with a planet as its namesake, and the lure of ultimate power, it's going to take more than just strong will and determination to make it off Quor'toth alive.
When last we left the group, they were making plans to bust Connor's followers out of prison. Ah, if only Angel's son didn't unwittingly teach love and compassion to a planet that was bred on hatred. Connor's got some regrets on that himself. He feels guilty that he basically condemned all these demons to death for going against the standard. But he knows that sometimes, even when it feels like life is against you, doing the right thing is worth it. Sounds like his old man's teachings rubbed off on him once or twice.
While the jail break is going on, we've got Faith doing her extreme mind flips between wanting to kill Angel and understanding his motivations. I know she blames the dimension's influence on making her indecision worse, but this has been going on throughout the course of the arc. Pick a side, stick with it. If she thinks Angel should be stopped, then stop him. If not, help him get Giles back. There's no more time for waffling.


Just when the gang thought their plan was a success, a bigger complication comes along. Yes, they broke out Connor's followers, but in order to get to safety they're going to have to fight "Quor'toth Itself." That's not a metaphor for braving the elements, there is literally a monster named Quor'toth. Looking at his size, you can well understand why he's got a whole world named after him. They've got few options remaining if they want to escape and it all falls onto Willow's shoulders to provide a solution. She's got the power, she knows how to use it, but these are not exactly the most forgiving of circumstances. In the end, Angel has to antagonize her enough to harness the power boost necessary for them to make a temporary getaway.
As we end the issue, we're left with a lot of unanswered questions. Should they choose to go back to Earth and forget the mission to regain magic? Or fight their way against Quor'toth in hopes of opening a rift to another, safer dimension? And are they going to be able to do any of that if Willow goes darkside, as she seems to be doing? They should have known that playing with that kind of power was going to come with repercussions. How many and how long-lasting, that's yet to be seen.
Rating: 4 / 5 Stars