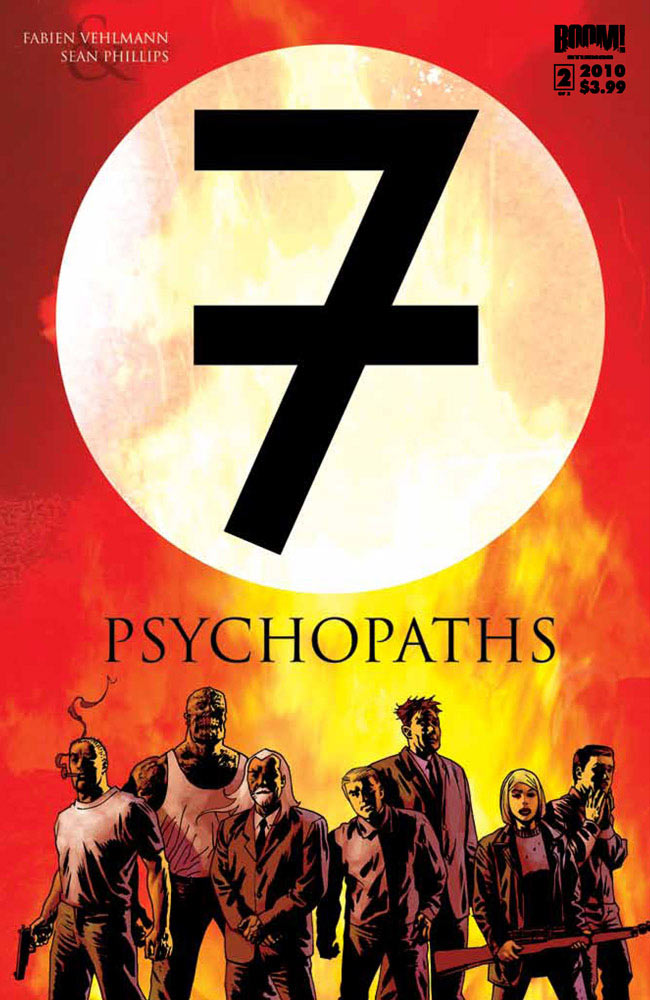 Issue: 7 Psychopaths #2
Release Date: June 23, 2010
Writer: Fabien Vehlmann
Artist: Sean Phillips
Colors: Hubert
Cover: Sean Phillips
Letterer: Deron Bennett
Translator: Dan Heching
Publisher: BOOM! Studios
Who doesn't love a good underdog story? Especially when the underdogs in question are attempting to kill Hitler. Madness? Well, yes, that is one of the requirements needed if you want to become a member of the 7 Psychopaths.
Issue #2 begins with the continued search for the last two candidates to complete the team. Colonel Thompson and Professor Goldschmidt find themselves interviewing a mental patient named James Smith. The two attempt to explain their plans to a madman and find out soon enough how mad Mr. Smith truly is. Turns out, he is completely lucid. He merely plays the part of a madman to work undercover in order to write a report on the conditions of mental patients.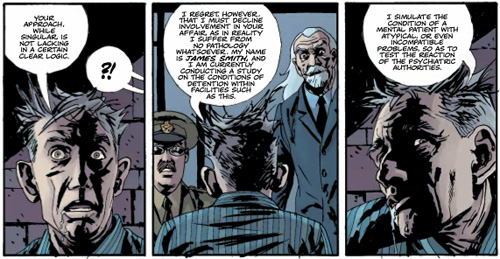 Mr. Smith declines their offer on the grounds of his lacking any real pathology and his desire to complete his report, even while under threat of a German blitz.
The next candidate is a soldier, an arsonist. Medically discharged after suffering horrific burns over the majority of his body, the soldier has not spoken a word since. His face is a permanent grimace that radiates a hysterical madness waiting to be unleashed.
Sean Phillips does a brilliant job of drawing a face filled with such horror and agony, it's hard to look at the panel. I found myself wincing in sympathy and wanting to avert my gaze out of politeness.
Soon the higher ups learn of Colonel Thompson's plan. They are not amused. Things don't look good for Colonel Thompson's career. Who shows up to save the day? None other than Mr. James Smith, the lucid madman from the mental institute.
Mr. Smith has some great connections. He spoke with Mr. Churchill about Colonel Thompson's plan and got it officially approved. And guess what? He's decided to join their merry band of psychopaths!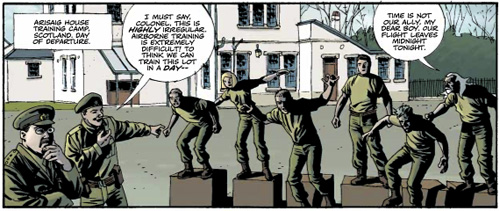 I understand this is only a three part series and certain aspects of the story need to go a bit more speedily than I would like, but there is something off about this scene. Maybe the theme of madness is getting to me. Problem on one page, followed by a quick solution by the next page. It feels too tidy and rushed.
In any case, with the addition of Mr. Smith that makes seven. Time for the team to assemble and train. The team meets and the training consists of what appears to be an afternoon seminar. This gives them just enough time to have an awkward dinner where Erik Starken has a hallucination. It's beautiful and mesmerizing to the point of distraction.
Apparently, Mr. Starken feels the same way for right in the middle of this trip, he goes catatonic. But Professor Goldschmidt doesn't let that stop his plans. Their plane leaves within the hour. They'll bring Starken with them. Goldschmidt is serious about the group sticking to seven.
Considering the mental state of the group, I am surprised it takes them this long for everyone to crack. Like dominoes falling into place, chaos ensues on the plane right before the drop is made, forcing the seven to scatter all over Germany.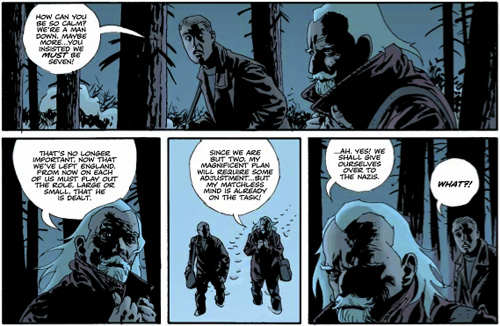 For some reason, Goldschmidt is fine with the seven being split in Germany. Each member knows their part. (This information was not revealed to the reader.) I am just going to assume that all will be tied together by the final issue of this story.
For now, issue #2 ends with the seven psychopaths scattered across Germany.
Issue #1 pulled me into the story and left me hungry for what issue #2 might offer. Issue #2 leaves me feeling slightly unsatisfied. I can only hope that the third installment pulls everything in for a clean finish.
Fabien Vehlmann did a fantastic job pulling me into this series. I will give the story the benefit of the doubt until I read the last installment.
Rating: 3.5 / 5 Stars