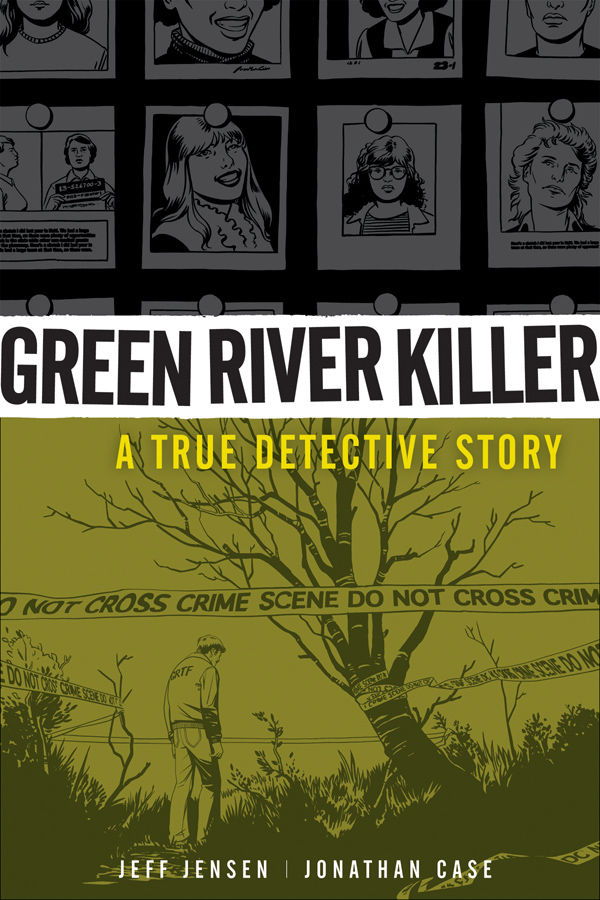 Issue: Green River Killer: A True Detective Story
Release Date: August 31, 2011
Author: Jeff Jensen
Artist: Jonathan Case
Letters: Nate Piekos of Blambot®
Publisher: Dark Horse Comics
Let me start off by stating this is my first comic book. I've been meaning to get into reading them and when I saw the title to this one I couldn't pass it up. I won't give away any spoilers because this is a stand-alone story and not part of a full series. My review will stick to general impressions of the writing, story and artwork.
The story jumps in time quite a lot. This made it hard to follow at times. I consulted my personal comic book expert (my daughter) about this. She explained that comic books often jump around. I do wonder if the author intended to give the reader a sense of the confusion and frustration that Detective Jensen must have felt in trying to solve this case. If so, he succeeded. This is certainly the story of one man's journey to not just find, but also understand the actions of a monster. Confusing or not, I do believe that Detective Jensen would think back to the early moments of the case.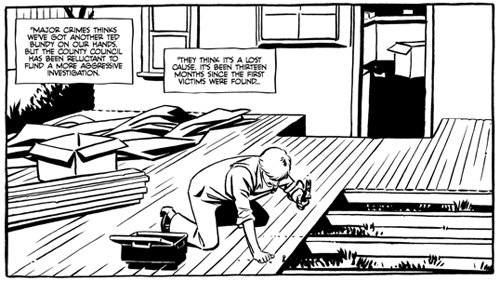 I have a background in psychology and have always been drawn to studying serial killers. I was already familiar with the Green River Killer case and found it intriguing when I learned that the detective's son wrote this story. For me, it brings a certain emotional aspect to the storytelling that wouldn't be there without the familial connection. I expected some sugar-coating as he detailed the events in the story but found that Jensen didn't gloss over any uncomfortable parts. He seems to tell the good, the bad and the ugly. I genuinely respect him for making that extra effort. I get to know Detective Jensen through his son's eyes and I have to say, I like this man. Detective Jensen is brave in that he attempts to go to that dark place in a quest for understanding why monsters do what they do.
Jensen says, "I wrote this book to gain a better understanding of my father and to express my love for him." It is clear to me that Jensen loves his father. He elegantly portrays a real man who is struggling to find and help convict a heinous killer. Detective Jensen is not a superhero. He is flawed and imperfect. Portraying him as perfect would be a disservice to him as well as make the story feel fake. I'm glad that Jensen shows his father's flaws. For me, Detective Jensen represents all those men and women who hunt down killers. The reader is given insight into the sacrifice of people like Detective Jensen. I've always felt the struggle with balancing work and life must not be an easy one. The author gives glimpses into how that struggle affects the family.
I feel I have a better appreciation for just how hard it is to catch a serial killer. The manner in which the Green River Task Force elicited information from the killer is controversial even to this day. After reading this story I have to say their methods may be hard to stomach and I am certainly glad I didn't have to do what they did. In my opinion, they did the right thing under the circumstances.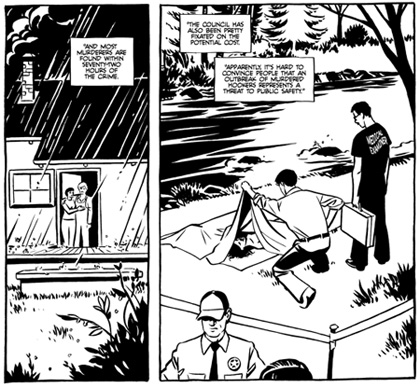 The artwork is done well. It helps give faces to the characters in the story. I'm not a fan of gore so I found the murder scenes palatable. They depicted the horror without being too graphic. It is definitely more impressionistic and simplistic by design. I think this goes well with the type of story being told. I think for more action and adventure stories, detailed art with lots of color would be better. However, here the art is a good fit because the story should stand out.
I enjoyed reading this story. I'm curious to see what other true stories are out there in the comic book world. I was familiar with this story and now have a different perspective on it. I recommend it to anyone who wishes to take a peek into the creepy world of a true life monster.
Rating: 4 / 5 Stars