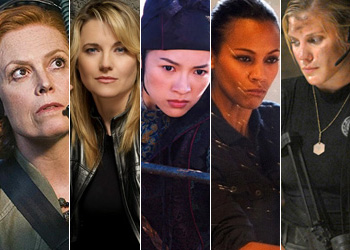 The Expendables represents one of the greatest unoriginal ideas of all time: Take all the best action heroes and put them in one movie. Of course, there's one fly in the ointment: they're all men. So let me present a somewhat more original and totally better idea: do a third movie, but fill the roles with women action heroes. Director Simon West has expressed interest in the idea, but let's face it, it probably won't happen because Hollywood doesn't work that way (I'd settle for a graphic novel, though, because comics DO work that way). But if it did work that way, this is what I would suggest.
Sigourney Weaver as Buffie Ross (Sylvester Stallone as Barney Ross)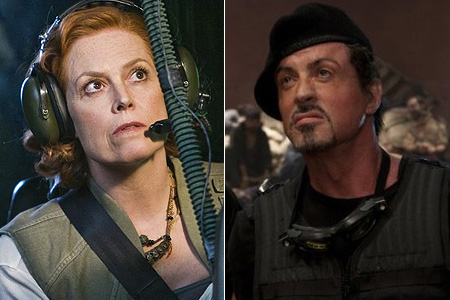 A super deep voice, poor enunciation, and classic one liners — actually one worders — like "ADDRIAANN!!" These are the images and sounds you think of when someone mentions Stallone. The character Stallone plays in The Expendables leans more towards the aged Rambo flavor, but Barney Ross also is a leader of people. He's a planner. The other key element regarding Barney Ross is that he's old. Admittedly, he doesn't strike you as being old right off the bat. He's strong and tough and knows how to lead a team of crack mercenaries, which is what you notice first. But he's old. No way around that.
That's not to say I cast Sigourney Weaver because she's old. I cast her as Buffie Ross because she's tough as nails, and she can lead people. Those are the primary two reasons. The tertiary reason is not that she's old. It's that she isn't young.
Lucy Lawless as Liz Christmas (Jason Statham as Lee Christmas)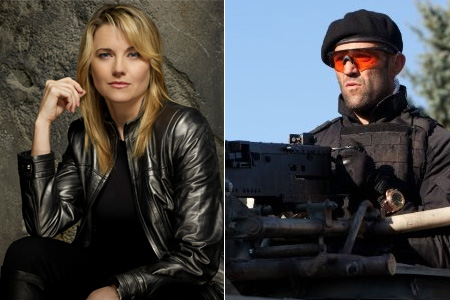 Lee Christmas is the knife expert who's pretty damn smart but mostly is Ross's right hand man. He's a good companion to Ross so that you can get some good dialogue going and hopefully the exposition the writers need to lay out will be interesting as a result of the interplay between Stallone and Statham. Plus, Jason Statham is a total badass that makes (1) everyone want to see him kill bad guys in all kinds of interesting and creative ways and (2) all the women and (depending on which study you read) about 12 percent of the men want to see him get his shirt ripped off in the middle of battle and watch him breathe heavy and be sweaty.
On that last point, Lucy Lawless is exactly the same. But more than that, as Christmas, Lawless would likely develop some excellent chemistry with Sigourney Weaver's Buffie Ross. Watching the two of them exchange one liners and try to make expositiony dialogue interesting would be worth price of admission. But if we also get to see them beating the snot out of a bunch of henchmen, then we are talking Oscar material.
Zhang Ziyi as Yin Yang (Jet Li as Yin Yang)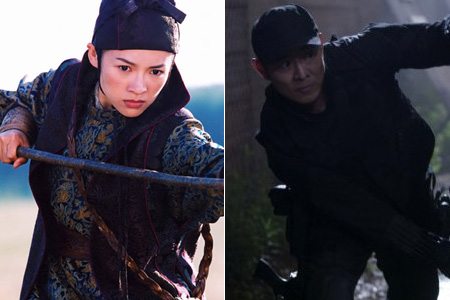 Jet Li basically plays the hand to hand combat expert whose function is to fill the required amount of excellently executed kung fu. Zhang Ziyi could serve the same role.
Ellen Page as Gigi Jensen (Dolph Lundgren as Gunnar Jensen)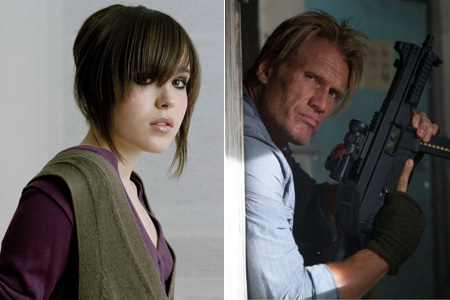 At first, you might think I've lost my mind: Dolph Lundgren is a ten-foot walking muscle who can barely get more than three poorly-enunciated sentences together before he has to smash something. Ellen Page, meanwhile, is a four-foot 80-pound chipmunk who can't get through more than 20 seconds of dialogue without channeling Robin Williams from his cocaine days. Why cast her in Lundgren's role?
Sometimes you have to go against type. Plus, Lundgren's role as Jensen in the first movie was to be the loyal guy from back in the day turned traitor who changes his mind in the end and comes back into the team. He does a great job in that role by portraying it as a guy who's just stumbling through life, trying to get it right, but not always succeeding (and who has jealousy issues).
Page could play it as a person who is too smart for her own good, and gets frustrated by people who take too long to figure out her pithy pop culture references and lewd double entendres.
Gina Carano as Toll Road (Randy Couture as Toll Road)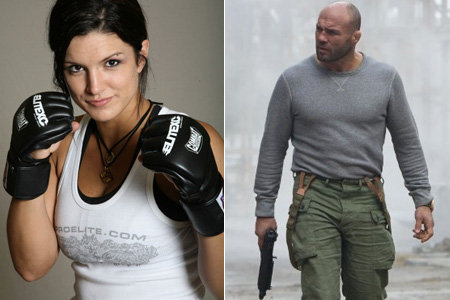 Randy Couture is a mean, ugly MMA fighter turned actor. His Toll Road is a tough guy with a big heart who's really easy to play jokes on.
Gina Carano is a totally hot and sexy MMA fighter turned actress. My preference would be that she play Road as big hearted but really easy to play jokes on like Couture did. I also think a scene where she dislocates some guy's elbow with a Kimura arm bar while dressed in a Brazilian dental floss style bikini would be an excellent way to further develop the character.
Expendables 2 has a few new additions, and expands the cameo roles of a few characters. I think their female equivalents should likewise appear in Expendables 3:
Olivia Munn as Billy the Kid (Liam Hemsworth as Billy the Kid)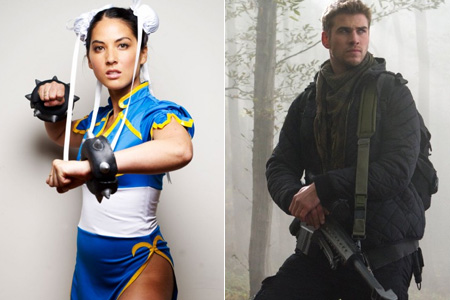 Take a pretty boy and teach him to be a sniper, but get him all disillusioned about it, and make him question whether he wants to make his living on that whole "killing and violence in the name of saving the world from a nuclear apocalypse" thing. That's a pretty good role for Hemsworth, since he's basically the pretty-boy sniper next door type.
So let's take the top sexy-geeky woman next door type, and watch her get disillusioned about it. Plus, let's see how she does opposite Weaver.
Zoë Saldaña as Hally Caesar (Terry Crews as Hale Caesar)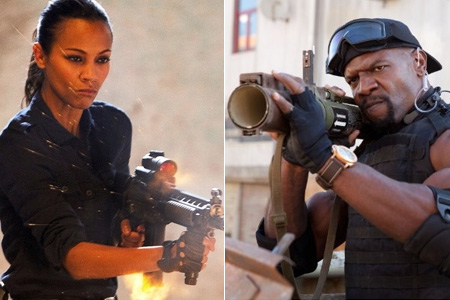 Terry Crews has both excellent comedic timing and tough guy credentials. After all, who else could singlehandedly save Old Spice from its status as old man piss? Only Crews could turn it into a singular statement of self confidence and manly poise and grace.
Zoë Saldaña might be able to do it. She's got the comedy cred from flicks like Guess Who and the action cred from films like Star Trek and Avatar. She could play it over the top, too. Besides, the thought of Saldaña playing a character that goes beyond the edge on everyone when it's totally inappropriate has a certain appeal to it.
Tilda Swinton as Tool (Mickey Rourke as Tool)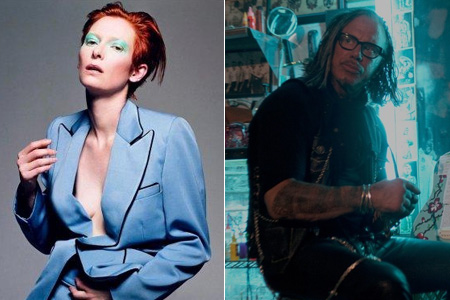 The Tool character plays to the the two phases of Mickey Rourke's career. The first phase was totally hot leading man who specializes in playing mysterious and slightly unbalanced sexual freaks that makes women want to do things they didn't know they wanted to do (9½ Weeks, Wild Orchids). The other phase is a totally weird dude with grit, iron-like toughness, and a fondness for tiny dogs.
So what woman can play a character that gives a hint of mysterious and slightly unbalanced sexual freakiness, but who makes women want to do things they didn't realize they wanted to do while also being a total weirdo with grit, iron-like toughness, and a fondness for tiny dogs? Tilda, of course.
Katee Sackhoff as Booker (Chuck Norris as Booker)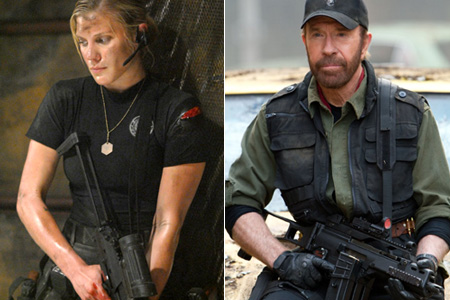 Chuck Norris is difficult to cast, because the first thing you think of regarding Chuck Norris is the fact he is so tough the grizzly bear rug in front of his fireplace isn't dead, it's just afraid to move. It's tough to cast anyone based on that standard, much less limit it to just over half the available population. Plus, the first two actresses you think of are Sigourney Weaver and Lucy Lawless, and I already cast them.
I'm not suggesting Sackhoff because she's so tough she uses the Earth's core as a sauna. Or because she's so tough she scared the laws of physics into letting her to divide by zero. That's the kind of stuff Chuck Norris likes to do. On the other hand, she did make the Bionic Woman abomination interesting (at least when she was on screen). And that takes plenty of power.
Yvonne Strahovski as Jenna Vilain (Jean-Claude Van Damme as Jean Vilain)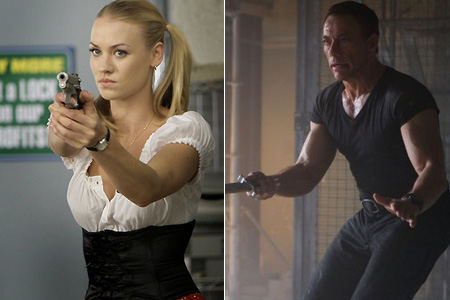 Strahovski's jumping roundhouse kicks to the head may not be as devastating as Van Damme's, but they are pretty good. At least, I assume they're pretty good. I never saw her throw one during her run on Chuck. I'm also pretty sure she can't do a split on two chairs in which her butt is lower than her legs, all while practicing wax-on-wax-off blocking techniques.
But she could probably do a decent French accent.
Kate Beckinsale as Madam Church (Bruce Willis as Mr. Church)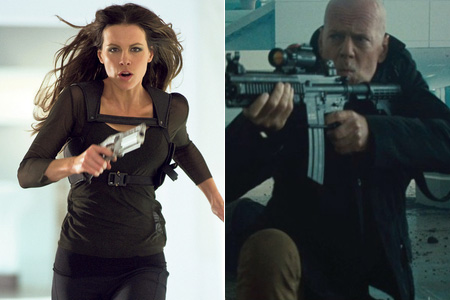 At first I thought to myself "which woman would I like to see with a shaved head?" But then the list got so long, I had to figure out a different criterion. Church is some kind of mysterious CIA agent who makes the audience think things like "he's quiet now, but he's probably already figured out three different ways to kill every person in the room (with his bare hands)". Beckinsale is really the only choice for that kind of role.
Angela Bassett as Trench (Arnold Schwarzenegger as Trench)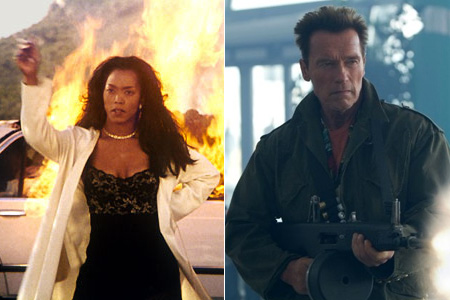 Schwarzenegger's Trench plays on Stallone and Schwarzenegger's ongoing rivalry to be the top action hero of all time (or at least of the '80s). If Trench and Ross are arch rivals, and Sigourney Weaver plays Ross, then you have to come up with another woman with enough presence and power in her performances to rival Weaver. If you've seen her in the role of Tina Turner, you know Bassett is the right woman for the job.
angela bassett
,
Ellen Page
,
gina carano
,
kate beckinsale
,
katee sackhoff
,
Lists
,
lucy lawless
,
Olivia Munn
,
sigourney weaver
,
The Expendables
,
tilda swinton
,
yvonne strahovski
,
zhang ziyi
,
Zoë Saldana