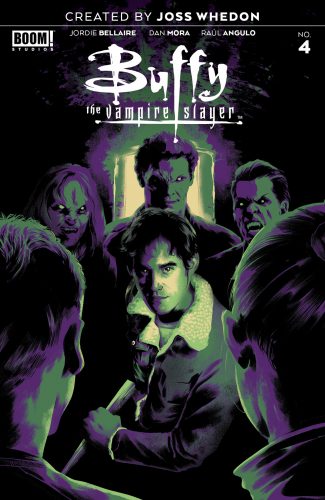 Xander seems to be the focus of this issue, with a few detours for his fellow Scoobies. However, danger lurks in the shadows and Xander might end up quite changed from the person we know from the original canon. Excitement abounds!
Note: This recap may contain spoilers!
The beginning narration was a bit confusing, as it first appeared Buffy was reminiscing about what's been going on in her life, but it actually turned out to be Xander. His life has certainly changed since he met up with Buffy. He and Willow are training and helping both Buffy and Giles out with the whole Slayer thing. High school is a lot more exciting now!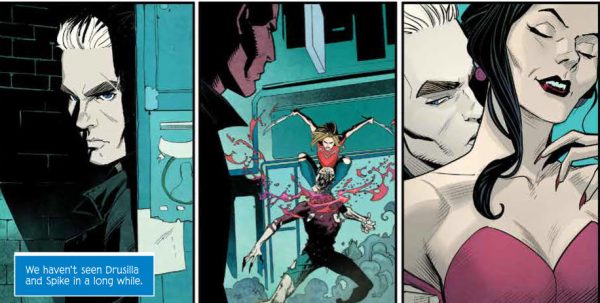 What's concerning is that, even though the usual round of vampires have been making their rounds, Spike and Drusilla have been strangely silent. Giles fears that this means they are going to create a bigger, more destructive plan in the near future, so the group needs to be ready. That's why he tells Buffy to take the night off, rest and recover to be ready for what the duo might be planning. Unfortunately, all Buffy hears is she's got a free pass to not work for the night. I do think she's committed to her role, but she's also a teenager, so it's an odd balance she has to keep.
A night out leads to some potential match-making by Willow. When Buffy suggests they invite Willow's girlfriend, Rose, to hang out with them since Willow hasn't gotten to spend a lot of time with her, Willow suggests inviting Robin Wood as well. They can make it a real group outing, with maybe some sparks to fly between Buffy and Robin, despite Buffy's resistance. We also find out that the original canon's still in place in terms of Xander's crush on Buffy. That is also his downfall and why he's thrown into danger this issue.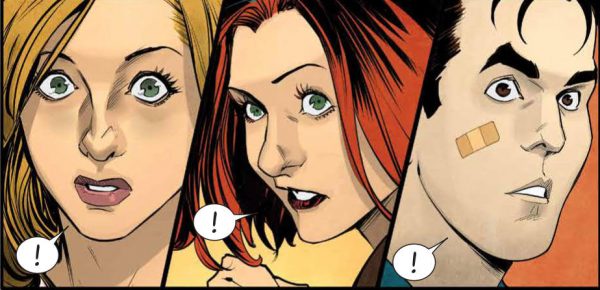 Buffy's phone has been missing for two weeks and she still cannot locate it, so it's rather strange that Xander gets a text from her to invite him out for some one-on-one togetherness. This does not raise the usual suspicions from Xander, perhaps because he's blinded by his crush, but the actual sender is soon revealed. Of course it's Spike and Dru behind the mysterious conversation, and they lure Xander out to a location so they can manipulate him. Dru is very alluring and very good at the mindgames. Xander could be free, stronger, if he just joins them and becomes a vampire. A tempting offer indeed.
So, we're left with a few questions as to where the storyline might go. Will Xander fall under Dru's spell? Will Buffy and Robin get a bit closer, joined by their Slayer histories? And will Buffy's extracurricular activities be discovered by her mom and mom's boyfriend? It's an intriguing retelling of the Buffy canon and one filled with multiple potential paths.
Rating: 4 / 5 Stars