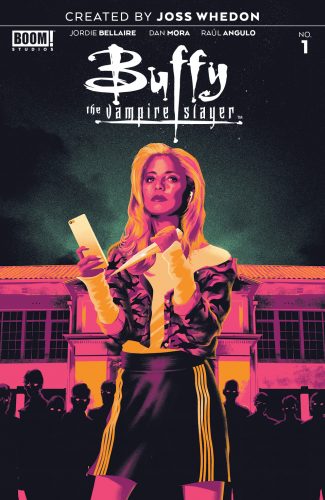 We're going back to the start. Boom! Studios is relaunching the Buffy series, picking up from the very beginning of canon with a few tweaks along the way. It's an adventure that feels both new and comfortable. I'm looking forward to seeing where we're headed.
Note: This recap may contain spoilers!
After seeing her evolve and mature throughout the show and then later the continuing comics, it's going to take some getting used to in order to wrap my head around Buffy Summers: high school student. However, it's something that was needed in the comics and will perhaps bring in a whole new set of fans while supporting those of us who have been around since the beginning.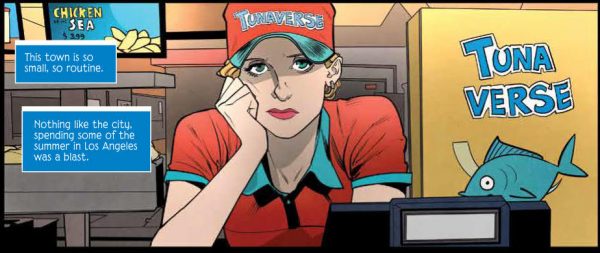 We start off the issue with Buffy working at Tuna Verse and lamenting the fact it's hard for her to make friends in such a small town. It's nothing like Los Angeles, where she spent part of her summer. As far as timelines go, she already knows her destiny and has taken on the role of Slayer, so this is about her balancing that with high school and trying to make it all work. It's a familiar road from Season One.
We're introduced to Xander and Willow when, after having dinner at the restaurant, they go outside and get attacked by a vampire. Of course Buffy comes in to save the day and that makes Xander both impressed and grateful to this girl who is obviously some sort of superhero. That fascination continues the next day at school, where Xander is curious to know more about the mysterious Buffy. The fact that she turns out to be a student at their school gives them all the more opportunity to follow her into the library and get a brief introduction to Giles.

I get that Buffy longs to be normal. Having to balance schoolwork, a part-time job, and an unpaid gig saving the world from monsters is a lot to handle. Giles ragging on her because she blew her cover and exposed herself to Xander and Willow just piles on the pressure. A very young and vibrant Joyce seems to be a nice touchstone for her, and I'm happy to see their relationship anew, but Willow and Xander are the ones she can lean on for a night of normality now and again. Glad to see they became friends and that Buffy can try to share stories about her destiny with them, even if they aren't true believers right from the start.
Two noticeable differences that I can pinpoint already are with Willow and Anya. Established right from the first issue, Willow has a girlfriend, so I guess Oz won't factor into this canon in the same manner as the original. And Anya is already a figure in town, running the shop which supplies supernatural items. Buffy's had minor run-ins with the repercussions of that already, since one of the vampire she tried to dust was wearing a protection medallion thanks to Anya.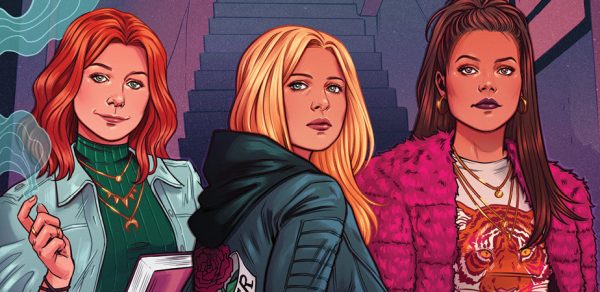 There are detours from the original canon, but this relaunch carries enough nostalgia for older fans to enjoy, while promising new adventures along the way. After living through seven seasons of the show, then five more of the comics canon, a reboot feels like a refreshing change. Wipe the slate clean and start again. Buffy's been reborn.
Rating: 4 / 5 Stars