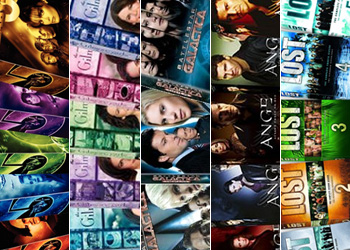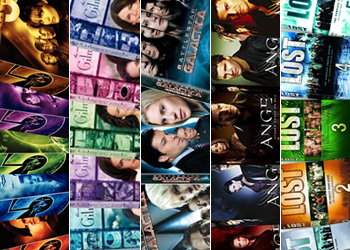 They say that knowledge is power, and to a certain degree I do agree with that sentiment but in certain circumstances, knowledge can lead to spoilers.
There are a number of shows that I watch on a weekly basis and after I've seen them, it's not uncommon to hit up Wikipedia to find out the name of a certain actor or actress, learn the name of a certain piece of music that was used during a monologue or see how a specific scene moves the overall plot forward. There's almost always something new to learn, and in this kind of situation, it retroactively enhances you enjoyment of what you've already seen.
Lately though, I've been avoiding doing this because it's far too tempting to do a quick search and check out what happens in the next episode of whatever series I've been watching by box set.
Over the last five years or so, I've learned to accept that my friends are possibly wiser than I generally give them credit for, and if they recommend a show to me they're generally right in their assumption that I will like it. At this stage, I should probably say that each and every show that's been recommended to me so far has been a show that I've ended up falling absolutely in love with. But no matter what the recommendation is or who the recommendation comes from, I always react to it with a little bit of skepticism. There's always a part of me that thinks that if the show was really as good as they say it is, I would have seen it by now.
Each and every time I've thought that, I've been wrong.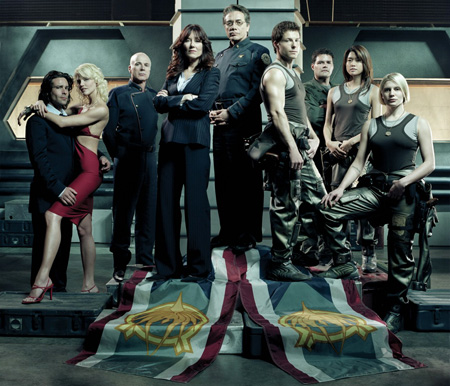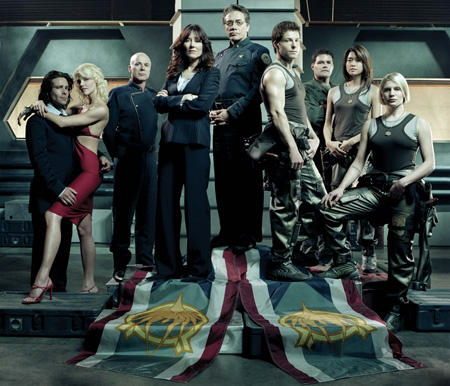 So far, shows that I've seen entirely through box sets include Sports Night, Dead Like Me, and Babylon 5. I caught up on five seasons of House and four seasons of Dexter through box sets and currently I'm in the middle of watching Battlestar Galactica and Gilmore Girls (don't judge until you've seen it).
In the circles that I move in, Battlestar Galactica has been widely talked about for quite a few years now, and even though I had no interest in the show at the time (a big mistake on my part), I couldn't help but pick up a little bit of information about the show by osmosis. Right now, I'm halfway through Season Three of the show, but I have a fair idea of what happens in the show's finale at the end of Season Five. I don't want to confirm any of what I've half-heard though, and luckily through the magic of the box set, I'm only going to have to wait maybe a month to find out what really happens at the end of Season Five. Two and a half years of viewing in the space of a month is quite a wonderful thing, and it does help me to resist temptation.
Gilmore Girls spoilers, however, are proving much harder to resist. I'm nearing the end of Season Six of the show and have just over one full season left to watch. I'm absolutely dying to know what happens at the end; specifically, what I want to know is who Lauren Graham's character Lorelai ends up with. The curiosity is killing me.
Out of all the shows that I've ended up watching through box set, Gilmore Girls was the show that I was most resistant to and if it wasn't for the fact that a friend of mine gave me a gift of the Season One box set just at a period in my life when I had nothing but free time, I would probably still be resisting the show and saying how bad I thought it was based on the half-viewed episode I saw about six years ago.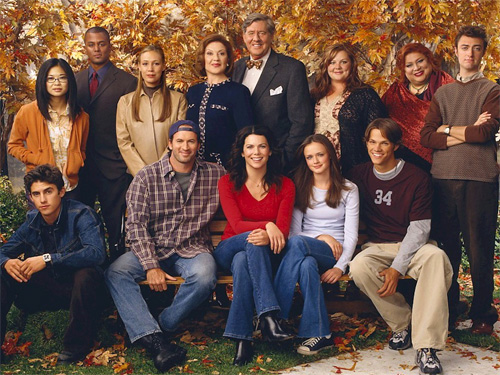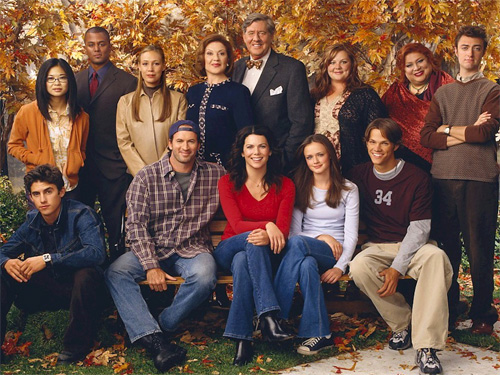 You may be wondering exactly what gives Gilmore Girls enough credibility to be mentioned at all on this website — I sure as hell know that I would have wondered that before I saw it. Apart from the fact that the writing and acting on the show is uniformly amazing, the fact that the show has one of the best supporting casts ever and the fact that Lauren Graham is gorgeous, the show legitimately has a lot to sell it to the average nerd (is there such a thing as an average nerd?). Jane Espenson and Allan Heinberg have both written for the show. The cast, which changes slightly from season to season, has included Jared Padalecki from Supernatural, Sherilyn Fenn from Twin Peaks, Michael York from just about everything ever made, and Milo Ventimiglia from Heroes.
It may seem like I'm a wee bit obsessed with Gilmore Girls at the moment, and that might be a fair assumption. But that's another thing that's good about watching an entire series, and something that I think appeals to the nature of the nerd. Nerds as a whole tend to be obsessive about they things that they love, and when you're watching a show the whole way through that originally ran for five or six years, you can be as obsessive as you like. It's still going to take you a while before you run out of episodes.
I have to admit that there was a time when I the idea of sitting in front of a television set for up to eight or nine hours in the space of one day watching episodes of one show would have been abhorrent to me. But at the same time, I wouldn't have had any problem at all with sitting in front of that same television set for hours at a time playing video games. A good television show always has the possibility of providing inspiration. I don't think there was a single episode of Straczynski's Babylon 5 that didn't have at least two or three great ideas in it, not to mention some amazingly inspirational speeches, the majority of which were written for Andreas Katsulas' character G'kar, who remains one of my favourite fictional characters from any medium. The only thing that Grand Theft Auto has inspired in me is a little bit of road rage.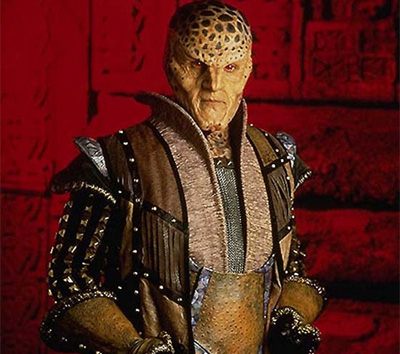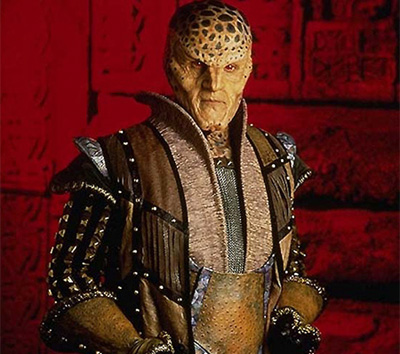 With Christmas just around the corner, there's certain things that I'm preparing myself for. There's going to be an endless amount of "festive" advertising that will change to summer-holiday advertising on Christmas Day. The stores are going to get progressively busier and the crowds more obnoxious, even though we're still knee deep in a recession. But the one thing that is unavoidable each and every year is the inevitable family reunion where you'll hear someone say about five or six times "you're getting old so quickly!!!" This… is the box set effect.
At is point in time, I've seen the trailer for Tron: Legacy a ridiculous amount of times and as delighted as I always am to see Bruce Boxleitner appear in the trailer as Alan Bradley, I'm continually shocked at how old he "suddenly" is. Boxleitner's first episode of Babylon 5 aired in late 1994, almost exactly sixteen years to the day from today. If that episode were a real person, it could drive a car, it could legally have sex and I could very probably get it into my favourite bar for a pint of Guinness. But the thing is, when you start watching a show and you know that you'll be watching the entire show in one run, your internal clock can't help but place the start of the show at "today." It took me a grand total of fifty-five days to watch all of the Babylon 5 series, all of the TV movies, and all of the spin-off series, Crusade. In those fifty-five days Boxleitner aged eight years. The last of the TV movies was produced in 2002, which I was prepared for, and since then he's evidently aged another eight years or so. This guy ages fast! Though if I'm lucky enough to meet Boxleitner face to face at MegaCon next year, I probably won't be saying any of this to him. But it's a part of the deal that you sign up to when watching a box set: time becomes distorted. If you were so inclined, you could watch the seventeen years of Stargate shows that have aired in the last thirteen years in the space of two or three months. You'll be amazed at how much Richard Dean Anderson can age in the space of twelve weeks and three shows.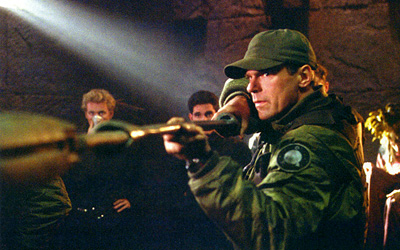 Another part of the deal is that cliffhangers remain every bit as dramatic as they were when the show originally aired, but they're nowhere near as frustrating as they were. Whether it's (possible spoilers ahead) a proposal of marriage to Luke from Lorelai, a gunshot to the stomach for Adama, House's loss of his entire team, or Delenn encasing herself inside a cocoon, you can recover from the shock very easily be simply putting in the next disc. Or if you want to drag it out a little bit and enjoy the mystery and the anticipation, you can make yourself a cup of tea in between episodes. But it will only take as long as you want it to take. You don't have to wait for air dates, you don't have to put up with vague teasers and news of guest stars for the upcoming year. Box sets are one of the few times in life that instant gratification is both possible and highly recommended.
One thing though that I have sometimes wondered about is what I might be missing while I'm immersed in the middle of a show and am dedicating many hours of many days to whatever fictional universe I've found myself in this time. What might be happening around me? What's going on that I might not be aware of? But of course, there's no need to worry about that, because if something really interesting or important comes along while I'm busy, it'll eventually be released in a box set.