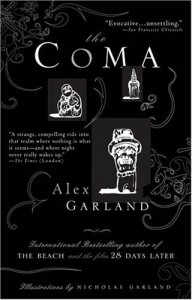 Have you ever woken up from a dream that seemed so real you had to check your surroundings to make sure you have really woken up? Now imagine that a series of troubling events has occurred and now you're at your best friend's house with no recollection of how you have gotten there. Are you losing your mind or have you really woken up at all? This is the question that Carl faces after being beaten into a coma on the London Underground, is he really awake but losing his mind, or is he in fact stuck in his mind?
The Coma was an intriguing, if short, read. The 200 pages took me a whopping two hours to breeze through, and it might not be the book for folks looking for writing of a literary scale. However, I was not disappointed, seeing as my initial interest in the book was, against all sage advice, the cover. (You might find that I pick a lot of books this way, guilty as charged) After picking it up and having an initial flip through I discovered that each chapter began with a black and white illustration which corresponded to what happened in the chapters. Now I know I'm an adult but I felt the illustrations weren't a bad touch. It added to the dreamlike feel of the book.
Now it's possible that Alex Garland, who wrote the screen play for 28 Days Later, had envisioned this to be in a medium other than print because while the details are sparse about the main character, some observations he makes are very visually enticing. If you like character development you may want to look elsewhere, but if you would like a book that reads like watching a movie this is perfect. You follow the action through Carl's eyes as he searches for "a catalyst". "Memory Lane… is that south of the river?" Does Carl even know where to look for this catalyst?
The stream of consciousness is easy to follow and isn't dragged down by too much self reflection on Carl's part. After all he can't even remember what he does for a living. (I try to forget myself the minute I walk out the front door, so maybe this isn't so strange after all) At first he is being controlled by his dreamscape but eventually, once he realizes he is in fact sleeping, he starts to drift through it to find what that memory he is looking for.
Overall, it's a book that while I was reading I didn't want to put down. This would be an excellent beach read or a read for a rainy afternoon. While not intellectually challenging it does leave you wondering throughout what the end will be. Will Carl find that catalyst and wake up from his coma, or is he doomed to spend the rest of his life in his own head? When does dreaming cease and waking begin?
"Waking up is rising, and dreaming is sinking. You wake up, you fall asleep."