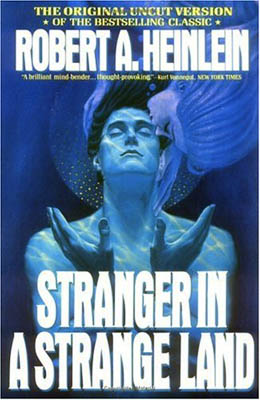 Please welcome Kelly Melcher to our writing staff here at Fandomania. Kelly is a lifelong lover of books and will be bringing us her reviews and thoughts on all sorts of novels, writers, characters, and stories, beginning with this classic. –Jason
I thought I would start with a science fiction classic and one of my all time favorites. Robert Heinlein is an interesting study. While his books are indeed science fiction they also seem to highlight an interesting social issue, and this book is absolutely no exception. What may initially appear to be a story about a man who was stranded on Mars as a baby, raised my Martians and the potentials of space travel is really a poke in the ribs to conventional organized religion and questions the correctness of family structure and politics. While it has all of the science fiction aspects, of a man from mars, flying cars, space travel, high tech gadgets and gizmos, as well as a "futuristic" society, I would argue that it isn't really science fiction at all.
Valentine Michael Smith, or Mike, looks like a man, but by all other standards he is clearly alien, or Martian really. After a turn of events that left the baby Mike stranded on Mars, he was subsequently raised by Martians. Years later, when another attempt to explore Mars is initiated the explorers find not only Martians, but the son of two of the original crew, has been living with them. Rather than leave him there, they decide to bring him back to Earth and Mike not knowing any better goes willingly. While this is an interesting set up, it's not the story. The story is not only how is he going to survive Earth's gravity and very different environment, but how he's going to survive Earth's customs.
In Mike's attempts to "grok", or reach a profound understanding, of the way humans live on Earth he makes one of the most heart breaking statements I have ever read or heard anywhere: "I grok people. I am people… so now I can say it in people talk. I've found out why people laugh. They laugh because it hurts so much… because it's the only thing that'll make it stop hurting." Rather than assimilate into the culture he found himself in, Mike remained true to how he was raised, on truth rather than belief, on knowledge rather than faith. After his new friends taught him how to be human, Mike taught them how to be Martian.
Heinlein creates a character that is unbiased in his open mindededness. Valentine Michael Smith looks at the way people live from a completely new perspective, questioning institutions like religion and politics, wanting to understand what makes them work. What he finds is that politicians and religious leaders are corrupt and unsavory characters. He questions monogamy, if one can love so many people, why only love one? In his mind family is not the one you're born into, after all he was raised by Martians, but those you choose to love. After all "Love is that condition in which the happiness of another person is essential to your own". Mike's views don't only question the society presented in the narrative of the book, but also the one we're living in now, and the one that Heinlein was living in.
Overall this is a book of science fiction for the purpose of social commentary. Does one have blind faith, or does one open their eyes and try to grok the truth? Does one act in a way because it is tradition, or because it is truly right? "There was so much to grok, so little to grok from." This book is truly one of the best books Heinlein has written, and while it is often heralded as one the science fiction classics, it's so much more. Stranger in a Strange Land is just as relevant now as it was when Heinlein originally published it back in 1961. I would recommend this book to anyone who is willing to look at the world through Martian eyes.
"May you always drink deep. May you never be thirsty"
-Kelly Melcher